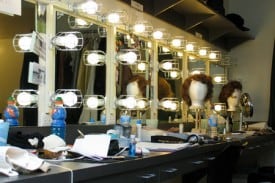 As two shows seen on its stage rock Broadway, one extends its stay off Broadway, and another just wrapped a local run that grabbed national headlines, Berkeley Repertory Theatre announced a new year of plays.
For its 2011-12 Main Season, the Tony Award-winning nonprofit promises a line-up that includes three world premieres, a classic Molière comedy, the legendary Rita Moreno, and a remarkable script that recently won the Tony Award for Best Play.
In September, the five-play Main Season begins with a stunning series of world premieres. First it's Rita Moreno: Life Without Makeup, a captivating show created specifically for this outstanding actress; next Kent Nicholson directs How to Write a New Book for the Bible, Bill Cain's poignant new play about caregiving, followed by Ghost Light, a haunting fable about San Francisco written by Artistic Director Tony Taccone and staged by Jonathan Moscone. Then Steven Epp returns to unleash another Molière masterpiece with A Doctor in Spite of Himself, and Associate Artistic Director Les Waters tackles John Logan's Tony Award-winning Red. Two additional shows that complement this compelling collection of work will be announced later for Berkeley Rep's Limited Season.
"Berkeley Rep has a long history of presenting work that is fresh and alive and engaged in meaningful dialogue with the contemporary world," Taccone comments. "That takes a certain amount of vigilance on our part, and it relies on our relationships with many extraordinary artists. We're excited to move that agenda forward. We continue to stretch ourselves with this new season, and I look forward to sharing this eclectic selection of shows with our audience."
Thanks to its adventurous audience, Berkeley Rep has grown from a storefront stage to a national leader in innovative theatre. Since 1968, it has provided a welcoming home for emerging and established artists, encouraging them to lovingly revive classics and increasingly to create bold new work. The total number of premieres through the years tops 100 – 60 world premieres, 41 West Coast premieres, and four American premieres – with nearly half of those debuting in the last decade. This devotion to imagination and excellence has delivered 19 shows to New York for 19 straight years.
At the moment, two shows cultivated at the Rep are on the Great White Way: Green Day's American Idiot, which won two Tony Awards and the Grammy Award for Best Cast Album, and John Leguizamo's Ghetto Klown. All told, six shows have moved from Berkeley Rep to Broadway in the last six years. This list of hits also includes Bridge & Tunnel, In the Next Room (or the vibrator play), Passing Strange, and Wishful Drinking. The latter two were even released as films.
In the last several months, Berkeley Rep enjoyed its second transatlantic transfer when Tiny Kushner traveled to London's Tricycle Theatre, and two shows enjoyed off-Broadway runs at The Public Theater in Manhattan: Lisa Kron's In the Wake, which was a finalist for the Susan Smith Blackburn Prize, and Rinne Groff's Compulsion, a commission that just made the short list for the Steinberg New Play Award as Mandy Patinkin reprises his leading role in New York alongside a marionette of Anne Frank. Now the curtain rises on another year of inventive and intelligent plays back in Berkeley…
The season kicks off in September with a long-awaited world premiere in the Roda Theatre. During her spectacular career, Rita Moreno has portrayed some tough women, from Anita in West Side Story to Maria Callas in Master Class. Now this legendary performer takes on the toughest woman of all – herself. The star of stage and screen returns to Berkeley Rep for the first time since her sold-out run in The Glass Menagerie. She recounts her improbable life in Rita Moreno: Life Without Makeup, an irreverent and entertaining new show that features a lively band and two expert dancers. Expect another breathtaking performance from the lady who won the Oscar, the Tony, the Grammy, and two Emmys.
Then, in October, it's the world premiere of How to Write a New Book for the Bible. Every family creates a sacred story out of love. In Bill Cain's poignant new play, a man moves in with his mother when she becomes too frail to care for herself. Their reunion heals old wounds, opening a heartfelt and humorous new chapter in their relationship. This timeless tale from the award-winning author of Equivocation and 9 Circles celebrates a mother's love and a son's devotion. Kent Nicholson comes back to the Bay Area to stage this show on the intimate Thrust Stage.
In January, the Thrust Stage hosts another play penned by Artistic Director Tony Taccone, this one entitled Ghost Light. In this evocative new work, he imagines a fable for San Francisco based on the assassination of Mayor George Moscone. When Jon was a boy, his father was shot – and suddenly their lives were part of history. Years later, when staging a production of Hamlet, the son must confront his buried feelings about a crime that shocked the nation. The ghost of the king stalks the battlements of a boy's mind – and speaks to all of us about love and loss. A poetic collage of fiction and memory, this world-premiere production is staged by none other than Jonathan Moscone.  A co-production with the Oregon Shakespeare Festival, Ghost Light also appears in Ashland this summer.
February takes a lighter tone with a classic comedy in the Roda Theatre: Molière comes to uproarious new life in a clever and contemporary adaptation from one of Berkeley Rep's favorite artists. Steven Epp delighted audiences as Figaro and The Miser – now he's back with A Doctor in Spite of Himself. The traditional story of a girl feigning illness to avoid an unwanted wedding erupts into hilarity when Epp decides to play doctor. In a pitch-perfect production punctuated with live music, this ridiculous physician proves that love and laughter remain life's best medicine.
Then it's time to paint it Red. In March, the passionate play that swept Broadway comes to Berkeley Rep, staged by acclaimed Associate Artistic Director Les Waters. At the height of his fame, Mark Rothko struggles in his studio to finish a major series of murals. The brilliant master wrestles with his new apprentice in a battle of wits over a bucket of paint. John Logan, the Oscar-nominated author of Aviator and Gladiator, won Tony and Drama Desk Awards for this feverish 90-minute drama that spans the spectrum of human emotion. From grief and fury to joy and hope, it's all covered in Red.
In four decades, four million people have enjoyed more than 300 shows at Berkeley Rep. These shows have gone on to earn five Tony Awards, six Obie Awards, eight Drama Desk Awards, four Lucille Lortel Awards, and many other honors. In recognition of its place on the national stage, Berkeley Rep was honored with the Tony Award for Outstanding Regional Theatre in 1997. Its vital and versatile facility – which includes the 400-seat Thrust Stage, the 600-seat Roda Theatre, and the Berkeley Rep School of Theatre – is the linchpin of a bustling arts district that is helping to revitalize downtown Berkeley. A not-for-profit organization, the theatre welcomes an annual audience of 180,000, serves 20,000 students, and hosts dozens of community groups, thanks to 1,000 volunteers and more than 400 artists, artisans, and administrators.
BERKELEY REPERTORY THEATRE

2011-12 SEASON SCHEDULE

Rita Moreno: Life Without Makeup
Main Season Play #1 – Roda Theatre
World premiere
Written by Tony Taccone
Directed by David Galligan
September 2 – October 30, 2011
Opening night: September 7, 2011

How to Write a New Book for the Bible
Main Season Play #2 – Thrust Stage
World premiere
Written by Bill Cain
Directed by Kent Nicholson
October 7 – November 20, 2011
Opening night: October 12, 2011

To Be Announced
Limited Season Play #1 – Roda Theatre
December 3, 2011 – January 1, 2012
Opening night: December 7, 2011

Ghost Light
Main Season Play #3 – Thrust Stage
World-premiere production
Conceived and developed by Jonathan Moscone and Tony Taccone
Written by Tony Taccone
Directed by Jonathan Moscone
January 6 – February 19, 2012
Opening night: January 11, 2012

A Doctor in Spite of Himself
Main Season Play #4 – Roda Theatre
Written by Molière
Adapted by Christopher Bayes and Steven Epp
Directed by Christopher Bayes
February 10 – March 25, 2012
Opening night: February 15, 2012

Red
Main Season Play #5 – Thrust Stage
Written by John Logan
Directed by Les Waters
March 16 – April 29, 2012
Opening night: March 22, 2012

To Be Announced
Limited Season Play #2 – Thrust Stage
May 26 – June 24, 2012
Opening night: May 30, 2012