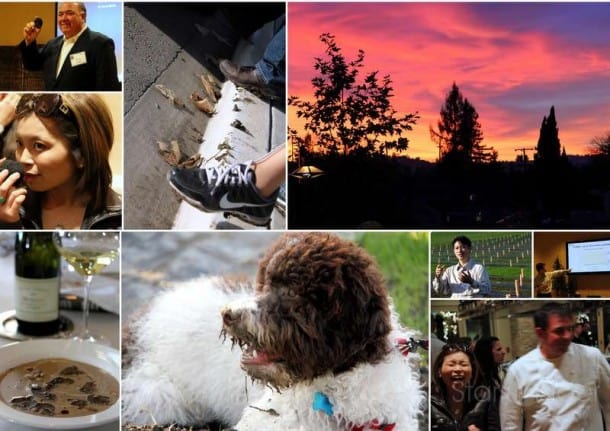 True, the real truffle adventure is perhaps yet to come… after all, here I was in Napa chatting about truffles in the warmth and comfort of the Westin conference center. But later we did head out to Robert Sinskey Vineyards to see an example of a young truffle orchard. It was a muddy, muddy, muddy outing.
Rain had dampened the ground across Napa. As we ventured out to the vineyards we became one with the soil. Later, we all did a shoe stomp outside the Westin leaving mud tracks all over the streets and walkways–but not in the hotel!
I previously wrote up some notes on truffles including the my thoughts on the potential economics, the future of the truffle in Napa, and the Napa Truffle Festival event itself. There was lots to learn so you might be interested to click on over to that post: Scent of a Truffle. Meantime here's the chat I had with the knowledgeable and warm Doug Duda of A&E's television show The Well-Seasoned Traveler. Plus clips from the many sessions held throughout the Napa Valley Festival and the trip out to Sinskey.
More:
If there's one guy who knows about truffles it's Doug. He's been on the ground in France and Italy exploring the truffle markets, and trying to unlock the mystique that is the truffle. It was a pleasure to spend some time learning from him the ins and outs of this (expensive) edible body of fungi.
Quick tip for those looking to whip up a truffle-inspired recipe: as Doug suggests, this is the time to buy the expensive butter. In reference to his truffle omelet recipe he says, "This to me is like a trip back to Provence."
Also: cute dog warning!
For digging up truffles, I learned that pigs have been replaced by dogs… at least in the U.S. Here you'll see Bill Collins' adorably cute little dog from Sicily.
Stark Insider TV: Truffle Adventure in Napa with A&E's Doug Duda