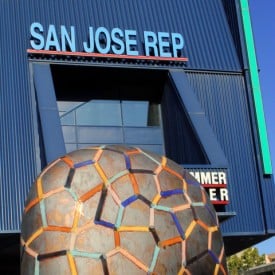 San Jose Repertory Theatre's Artistic Director Rick Lombardo today announced the Rep's highly anticipated 2011-2012 Season, with seven productions starting September 2011 through July 2012. This season includes two major Broadway hits, a World Premiere and several Bay Area Premieres. The shows will appeal to an especially wide range of audiences, with drama, alternative rock, comedy and challenging themes.
"Our 30th Anniversary Season is creating a wonderful sense of the future," states Lombardo, who will also direct several of the productions. "Next season, we'll explore the inner complexities of teen sexuality, we'll delve into the plot of one of the sexiest examples of 'noir' fiction, we'll be charmed all over again by Charles Dickens' timeless evocation of regret and redemption, we'll laugh and be horrified by the rough edges of 'civilized behavior,' and we'll revel in the hottest choreography around."
The season begins with Spring Awakening, the winner of eight Tony Awards, including Best Musical. This production will be directed by Lombardo. Entertainment Weekly called it "the most gorgeous Broadway score this decade." Set in repressive 19th-century Germany, the play explores the journey from adolescence to adulthood with poignancy and passion. This electrifying fusion of morality, sexuality and rock 'n' roll has exhilarated audiences across the nation like no other musical in years. The Rep production will be choreographed by renowned So You Think You Can Dance choreographer Sonya Tayeh.
"I'm especially thrilled to create this entirely new staging of Spring Awakening with choreographer Sonya Tayeh, one of the most creative and exciting talents working in the world of dance," Lombardo said. "This production also debuts our new and important affiliation with San Jose State University, as several of their finest young actors will have the opportunity to participate in this show—and what better way than through this musical that explores coming-of-age in all its glories and agonies?"
The second production will be the Regional Premiere of The Last Romance, an ageless story about taking a chance on love later in life. Life is suddenly a thrill again as 83-year-old Ralph takes a detour from his everyday routine and stumbles headlong into romance. As Ralph attempts to woo the attractive and reluctant Carol with the persistence of a smitten teenager, he finds that love's last round comes with its own set of obstacles. Variety exclaimed "… the golden years love story casts a bewitching spell …"
For the holidays, Lombardo brings his special directorial touch to Dickens' classic, A Christmas Carol, which recently enjoyed a multi-year run in Boston. The theme is transformation—not just within the character of Ebenezer Scrooge—but even on the stage itself as the tale of personal redemption unfolds with drama, music and charm. This lavish production is sure to be a feast for the senses full of customary Victorian carols, period costumes and actors playing more than a dozen traditional instruments.
In January, the World Premiere of the stage adaptation of Double Indemnity does what was thought impossible—makes insurance fraud during the Great Depression interesting and sexy. This play is based not on the 1944 Billy Wilder movie but on the original novel by James M. Cain. The full "film noir" tradition holds, with some intriguing plot twists that will make movie fans sit up and gasp. This co-production with A Contemporary Theatre in Seattle will be directed by Kurt Beattie, artistic director of ACT Seattle.
In March, Lombardo will direct the Bay Area Premiere of God of Carnage, a play by French playwright Yasmina Reza and translated by Christopher Hampton, that has enjoyed success in London and on Broadway. Four parents meet for a thoughtful and concerned discussion of a playground fight between their two 11-year-old boys. What begins as a calm, rational debate between adults turns into a journey into the heart of human chaos and savage instinct. The International Herald Tribune called the play "an expert piece of stagecraft, and savagely funny."
"God of Carnage is one of a handful of new plays that has taken the world by storm in the last few years, and I'm so pleased to present its Bay Area Premiere, as we previously did with Yasmina's well-beloved ART some years back," said Lombardo.
"This production is another co-production with our good colleagues at the Arizona Theatre Company, and I'm thrilled that this production will also be the Southwest Premiere of this hilarious and savage play."
In May, Pulitzer Prize nominee Theresa Rebeck, one of the most produced female playwrights in America, will return to the Rep stage with her latest off-Broadway hit, The Understudy. This laugh-out-loud look at the battle for stage credibility between a typecast action movie star and a "real" actor with a very large chip on his shoulder will give audiences an honest look at the complicated relationships that form in the stressful and emotional world backstage. The Philadelphia Inquirer described it as "Ragingly funny … big-time laughs! The Understudy hits the mark from its first surprising minute to the last scene!"
The season closes with the West Coast Premiere of Bill W. and Dr. Bob, a play that enjoyed an extended run off-Broadway in 2007, to critical acclaim. It's the story of one of our culture's most intriguing collaborations—between the men responsible for founding Alcoholics Anonymous. Bill W. and Dr. Bob has been produced in 25 states to sold-out houses and rave reviews, breaking box-office records from Massachusetts to California, Florida to Minnesota—as well as in England, Scotland and Canada, and has been translated into Russian, Portuguese (for Brazil), Spanish and French.
The 2010-2011 season saw the establishment of another of Lombardo's loves—teaching a new audience about live theatre through San Jose Rep on Tour. For 2011-2012, the featured performance will be Of Mice and Men. San Jose Rep on Tour was introduced to overcome the lack of school funding for field trips and transportation, bringing professional productions of classic plays directly to high schools throughout the region.
Featuring the talents of some of the finest professional artists and leading performing actors in the Bay Area, the program showcased 22 performances of Tennessee Williams' The Glass Menagerie in fall 2010, visiting 18 schools with a total student audience of 5,662.
"We are very grateful to our multiple funders who have rallied around this idea of deepening the work we already do with local schools, especially Bank of America and the Packard Foundation," Lombardo said. "Our surveys showed us that 60 percent of the students had their very first live theater experience when we visited their school this year—a testament to the importance of continuing and growing this vital program."
In addition to San Jose Rep on Tour, the Rep offers engaging Post Show Discussions and Ghostlight Insight Nights, engaging patrons in lively discussions about the productions with the artists and community leaders. The Creative Playshop series offers a place for children to learn and explore the themes of the main-stage productions through improvisational workshops, while their parents watch the performances. The Rep provides an American Sign Language interpreted series for its hearing-impaired subscribers on the final Saturday matinee during the run of each show.
Subscriptions are now available. Subscription prices range from $125 to $383 for a six-or seven-play package.
San Jose Repertory Theatre's 2011-2012 Season

Spring Awakening

Music by Duncan Sheik
Book and lyrics by Steven Sater
Based on the play by Frank Wedekind
Directed by Rick Lombardo
Choreographed by Sonya Tayeh
September 1-September 25, 2011

The Last Romance

Regional Premiere
By Joe DiPietro
October 13-November 6, 2011

A Christmas Carol

By Charles Dickens
Adapted for the stage and directed by Rick Lombardo
Original music by Anna Lackaff and Rick Lombardo
November 23-December 24, 2011

Double Indemnity

World Premiere
Based on the James M. Cain novel
Adapted for the stage by David Pichette and R. Hamilton Wright
Directed by Kurt Beattie
Co-production with A Contemporary Theatre in Seattle
January 12-February 5, 2012

God of Carnage

Bay Area Premiere
By Yasmina Reza
Translated by Christopher Hampton
Directed by Rick Lombardo
Co-production with the Arizona Theatre Company
March 22-April 15, 2012

The Understudy

By Theresa Rebeck
May 10-June 3, 2012

Bill W. and Dr. Bob

Bay Area Premiere
By Samuel Shem and Janet Surrey
June 21-July 15, 2012
This work does not imply affiliation with or endorsement from Alcoholics Anonymous World Service, Inc.