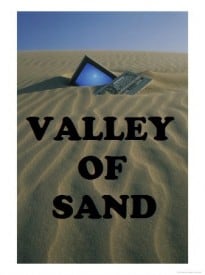 San Jose Repertory Theatre, as part of its mission to enrich the creative life of the community, has co-commissioned a new work about the remarkable transformation of Santa Clara County from the "Valley of Heart's Delight" to the fast-paced urban center called Silicon Valley. The playwright is Trevor Allen, a San Jose native and company member of the Bay Area playwright incubator PlayGround, which is co-commissioning the new work.
A dark, digital comedy, Valley of Sand explores the historical events, discoveries and cultural diversity that transformed Santa Clara Valley into the capital of technology, through the dot-com bust and recovery.
"As a newcomer to this region, I am fascinated by the dramatic 'reinvention' and 'revolution' culture here, and by how this once sleepy agricultural community has been transformed, in dramatic and fundamental ways, by the growth of technology," stated Rick Lombardo, San Jose Rep's Artistic Director. "Trevor and I felt a play that explored this territory had the potential to get at the pulse of what we are all experiencing today."
San Jose Rep prides itself in telling stories relevant to the community it serves. Recent new works commissioned by the Rep include Philip Kan Gotanda's The Wind Cries Mary, The Last of the Boys by Steven Dietz and The Haunting of Winchester, a musical by the award-winning team of Craig Bohmler and Mary Bracken Phillips.
The Valley of Sand explores the life of Joseph Bailey, a fifth-generation Californian and aging computer industry pioneer, who creates a groundbreaking, handheld quantum computer called "Black Box." He gives his son, Peter, the beta prototype embedded with a special memory chip for his birthday. The Black Box takes Peter on a virtual journey through the lives of his ancestors in Santa Clara County from the times of the Spanish missions and quicksilver mines to the creation of the Hayes Mansion and destruction of the fruit orchards to the cosmic discoveries at the Lick Observatory and rise of the Information Age.
"The Valley is a unique crucible for innovation, and I was raised here to believe in the blue-sky possibilities of gadgets that obeyed Moore's law, where everything always gets better and faster," Allen said. "I want to shine a light on how that kind of frenetic progress shapes people; how planned and unplanned obsolescence can affect a family."
Allen cut his theatrical teeth at Oak Grove High School in San Jose. He was recently a Playwright in Residence at the Djerassi Resident Artists Program in Woodside. His past productions include The Creature (Black Box Theatre Company, nominated for five Bay Area Theatre Critics Circle Awards, including Best Script), Tenders in the Fog (San Jose Stage Company, commissioned by PlayGround and winner of the Dean Goodman Award for Best Original Script), Working for the Mouse! (Impact Theatre), 49 Miles (Crowded Fire Theater Company) and Chain Reactions (Theatre of Yugen, CAFÉ and The Cutting Ball Theater). He received a San Francisco Arts Commission grant for Zoo Logic, which was presented as part of the Magic Theatre's Z/Magic Monday series and was further developed by Crowded Fire.
Allen received PlayGround's Emerging Playwright Award, Playwriting Fellowship and two Alumni full-length play commissions for Lolita Roadtrip and Golden Gate Fair. Allen's Lolita Roadtrip will receive its premiere at San Jose Stage Company April 6-May 1, 2011 in a PlayGround co-production. He holds a BA in Theatre from the University of California, Los Angeles and an MFA in Creative Writing from San Francisco State University.
"As great fans of the San Jose Rep and Trevor, we're extremely proud to partner with both on the creation of this important new work," PlayGround Artistic Director Jim Kleinmann stated. "Our support for Trevor and his work is longstanding—covering 15 years, 13 short plays and three previous full-length commissions."
Founded in 1994, PlayGround is the Bay Area's leading playwright incubator, having developed more than 570 original short plays by more than 160 Bay Area emerging playwrights and 38 full-length commissions.