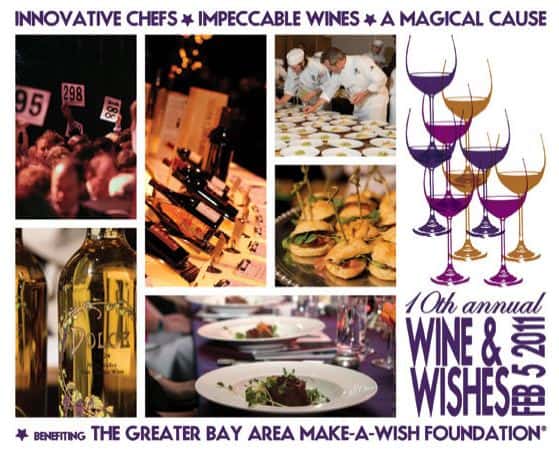 Focusing on the best talents the Bay Area culinary world has to offer while celebrating and supporting the powerful impact that a magical wish has on a child, Wine and Wishes, located in a new downtown location, City View on the 4th Floor of the Metreon, benefits the Greater Bay Area Make-A-Wish Foundation.
The quality of food and wine vendors featured at the Gourmet Food & Wine Tasting is unsurpassed. The Winemaker Dinner features four courses prepared by 12 renowned local chefs, with quality sommelier service pairing specially-selected wines to accompany each course.
This year's sommeliers are: Jesse Becker, Master Sommelier at périphériquewine; Rebecca Chapa, Tanin Management; Christie Dufault, RN74 & the Culinary Institute of America, Greystone; Paul Einbund, Wine Director for the Slanted Door Restaurant Group; Shelley Lindgren, A16 and SPQR; Debbie Zachareas, Ferry Plaza Wine Merchant & Oxbow Wine and Cheese Market.
Eighteen-year-old Aaron Alexander will serve as this year's Wish Ambassador. Aaron was just five years old in 1997 when he wished to be a cowboy. Now Aaron has a new career goal – he wants to be a chef!
The program will include highlights from the 10-year history of Wine and Wishes, visits from additional wish children and a private concert by Jonathan Cain of Journey, singing with wish child Shelby Miguel.
The Greater Bay Area Make-A-Wish Foundation grants the wishes of children with life-threatening medical conditions to enrich the human experience with hope, strength and joy. In 2010 the Foundation embarks on 26 years of fulfilling magical wishes. During its first year of operation, in 1984, the Foundation granted 27 wishes. Now one of the largest chapters nationwide, the Greater Bay Area chapter grants over 300 wishes per year and has granted over 5,000 wishes.
10th Annual Wine and Wishes Benefiting the Greater Bay Area Make-A-Wish Foundation

WHERE: City View on the 4th floor of the Metreon, 101 4th St, San Francisco

WHEN: Saturday, February 5, 2011

5:00 – 7:30 pm  Gourmet Food and Wine Tasting

Over 60 restaurants and wineries gather under one roof to offer lavish samplings of signature hors d'oeuvres and tastings of the finest Bay Area wines.  Seven hundred people have already purchased tickets for this event.  For a list of participating restaurants and wineries, click here.

8:00 pm  Winemaker Dinner

The more intimate Winemaker Dinner features four courses, showcasing the talents of 12 renowned local chefs: Mark Dommen, One Market Restaurant; Lissa Doumani & Hiro Sone, Terra/Ame; Jean-Pierre Dubray, The Resort at Pelican Hill; Joseph Humphrey, Murray Circle; Hubert Keller, Fleur de Lys; Emily Luchetti & Terri Wu, Farallon; Nancy Oakes, Boulevard; Sean O'Toole, Quince; Roland Passot, La Folie Restaurant and Xavier Salomon, Navio at the Ritz-Carlton, Half Moon Bay