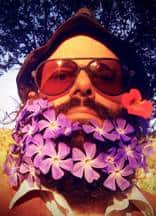 Their government wouldn't let them come to the SF Fringe last year. But this year, they will be onstage. It's Trup Sapsiway from Maritius, the island nation in the Indian Ocean best known as the habitat of the last living dodo.
Last year, Mauritian government officials decided not to let the group come to San Francisco to perform The Madogs of Diego. Officials felt the play would offend the United States, because it deals with the forced relocation of native Mauritians to allow for the construction of the giant U.S. airbase at Diego Garcia. Bay Area opponents of urban gentrification should find interesting parallels in the story.
The 39 other shows chosen by lottery to be in the 2011 San Francisco Fringe Festival include 25 from the Bay Area and features companies from San Francisco, Oakland, Berkeley, San Rafael, Castro Valley, Richmond, Albany, and Tiburon.
From San Jose comes a show called The Secret Adventures of Fat Woman and Remedial Girl, and from Berkeley, a piece titled Hitler's Li'l Abomination.
Non-Local productions come from Nashville, TN, Portland, ME, Seattle, and Springfield, MO, with two from New York. Los Angeles leads the number of out-of-towners, with a total of seven entrants for the 2011 Festival. The Skinny Improv Company from Missouri brings Hamlet vs Zombies, which promises to explore what might really be rotten in the state of Denmark. Portland, Maine's Good Theatre Company should strike a chord with nutritionistas on the Board of Supervisors with Is There Fat in That? From Los Angeles comes The Meanest Guy That Ever Lived. And what would a Fringe Festival be without a show employing the F-word in its title? This year, the company is from Nashville.
The San Francisco Fringe Festival is an open-access, non-juried, uncensored theatre festival where performers are selected through a lottery. The SF Fringe returns 100% of box office earnings to the performing company. 20% of the Standard Venue shows may be up to 90 minutes in length; the others are limited to a 60-minute maximum.
The EXIT Theatreplex (three stages at 156 Eddy St., one at 277 Taylor St.) supports 40 shows at this year's Fringe, explains SF Fringe producer Christina Augello.
"By placing the shows in one central location, we can better serve both the artists and the audience," Augello says.
To compliment the 40 Standard Venue shows, the festival will include a number of Non-Traditional Fringe Venue (NTFV) performances. NTFVs are for site-specific work, and in previous Festivals artists have performed on moving buses, in local parks, museums, bars, and other locations outside the traditional theatre setting. Shows designed for Non-Traditional Venues may be of any length.
Artists applying to perform their work at Non-Traditional Fringe Venues must arrange for a site and meet NTFV guidelines. NTFV shows are not chosen by lottery. Deadline for submitting an NTFV application is midnight (PST) May 31, 2011.
The 2011 Fringe Festival Shows – Selected by Lottery Feb. 12, 2011

Local Theatre Companies (Bay Area) Company/Performer Show Title Home City

Laura Austin Wiley                             Panic!                                                     Castro Valley, CA

Kurt Bodden                                         Steve Seabrook: Better Than You     San Francisco

Sarah Lau                                              The Secret Adventures of

Fat Woman and Remedial Girl            San Jose, CA

Malcolm Grissom                                 Differently-ABLED                              San Francisco

Joseph Atmore                                     Joseph Atmore is Dunninger             San Jose, CA

Catherine Debon                                  Alma Colorada                                      Oakland, CA

Indistage                                               30 Days in September                          Richmond, CA

Angela Neff                                          Beached                                                 San Francisco

Cassandra's Call Productions            Radiostar Improv                                 San Francisco

Phoenix Arts Association

Theatre                                              AFIELD                                                 San Francisco

Dirty Swan Projects                             Quatre-Vingt-Quatre                            San Francisco

George Dykstra                                    No Kidding, The Meaning of Life     Tiburon, CA

Monday night group                           A Piece of Work                                   Albany, CA

J. B. Enterprises                                    What to Do Til the Dogcatcher

Comes                                                   San Francisco

The Visible Theatre                             Breaking the Cassia Bough                Berkeley, CA

DAVID AND BRADY                         The David and Brady Show               San Francisco

Grooviness Productions                     Mercy Buckets                                     Oakland, CA

Emprise/AFG Productions                  Here To See the World                       San Francisco

Miles Pawski                                         Heartbeat                                               San Francisco

Alison Whittaker                                 Vital Signs                                             San Rafael, CA

Jill Bourque                                           Please Don't Wake the Baby             San Francisco

The Crew                                               Submarine                                             Oakland, CA

Annette Roman                                    Hitler's Li'l Abomination                    Berkeley, CA

Genevieve Jessee                                 Girl In, But Not Of, the Hood             Oakland, CA

Pulizzano/Forte' Productions             Attachments: "FIT"/

"ON A BENCH"                                   San Francisco

Non-Local Theatre Companies (U.S., etc.)

TRUP SAPSIWAY                              The Madogs of Diego                         Rose Hill, Mauritius

Shameka Cunningham                         L.A.nguage                                           Los Angeles

Shelby Company                                  Sousepaw: A Baseball Story              New York, NY

Community Collage                             MAYBELAND                                     Los Angeles

Lily Spottiswoode                                The Meanest Guy That Ever Lived   Los Angeles

Kevin J. Thornton                                I Love You, We're F*#ked Nashville, TN

John Paul Karliak                                 Donna/Madonna                                 Los Angeles

Combined Art Form                             BLINK and You Might Miss Me       Los Angeles

The Skinny Improv                              Hamlet vs Zombies, AKA

Something Rotten in the State

of Denmark                                            Springfield.MO

Murray Meyer                                      IT'S CRIMINAL: the Comedy           Los Angeles

60 Miles North Productions/

P. J. Walsh                                            Over There: Comedy Is His

Best Weapon                                        Brewster, NY

Good Theater/Ellen Domingos          Is There Fat In That?                           Portland, ME

4 Clowns                                                4 Clowns                                                Los Angeles

Bill Bernat                                              Microvation                                          Seattle, WA

Rupert Wates and Friends                 Joe's Café                                              New York, NY
The Way the Fringe Works – and Why
The San Francisco Fringe Festival presents live theatre in an informal, accessible and inexpensive environment. It strives to break down traditional boundaries between audience and artist, encouraging open dialogue between theatre-goers and theatre-creators. Local and national performing companies benefit from working together and learning from each other in a vibrant and exciting festival atmosphere.
Audiences are invited to experience the work of seasoned veterans alongside that of emerging artists. Fringe-goers are encouraged to post reviews of the shows they see on the SF Fringe web site.
In order to stimulate artistic innovation, applications for participation in the Fringe Festival are accepted through a non-juried lottery. Traditional economic boundaries are broken down as well, with 100% of the box office going to the performers.
The 2011 San Francisco Fringe Festival will bring over 200 performances of more than 40 new shows to the EXIT Theatreplex, plus site-specific venues, over its 12-day run. The Fringe Festival features fresh, exciting theatre of all kinds for open-minded audiences of all persuasions.
NOW AND COMING UP AT EXIT Theatre, 156 Eddy St., SF

April 29 – May 28. 10th Annual DIVAfest, dedicated to new work by women writers.

September 7-18. 20th Annual San Francisco Fringe Festival. Over 250 performances of 40+ shows in 12 days. Features U.S., and Bay Area theater companies and performers in new, cutting edge, and often experimental works.

Sept 30 – Oct 1. The Best of the Fringe

Selected Thursdays, All Year Long. Mark Romyn's Thursday Night Combo. Theatre artists, musicians, and other performers try out new material at the EXIT Café.