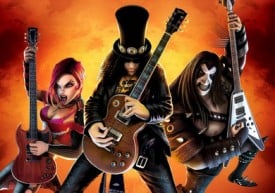 Well that was fun while it lasted! Sort of. Activision announced earlier this week that it's breaking up the division responsible for the mega-selling franchise 'Guitar Hero' widely known across living rooms as karaoke hell, but with plastic guitars. The news was part of a quarterly report ($1.43 billion revenue / $233 million loss) that saw the company reduce its outlook, and announce a plan to layoff about 500 employees.
For every Super Bowl party, Thanksgiving or New Years get together there was a wannabe rockstar itching to show their moves and bring down the party. The solo performance would seem impressive of course because of the massive backing track, and rocking graphics.
Guitar Hero struck a chord with the nation when it debuted in 2005, and has earned over $2 billion in revenue. Say what you will about family room concerts, but the sales potential for game developers is — or was — huge.
Part of the problem, however, in maintaining the juggernaut was the saturation of additional titles in the marketplace — such as Rock Band — that followed in the tracks of Guitar Hero.
"It was essentially a case of too much too soon, and what happened is the supply of these titles far outstripped demand. There were just too many music games in too short a time, many of which appealed to niche audiences." Scott Steinberg told USA Today in an article analyzing the market.
Turn out the lights, the party's over — at least until the comeback tours begin.
Photo credit: Gamewallpapers.com