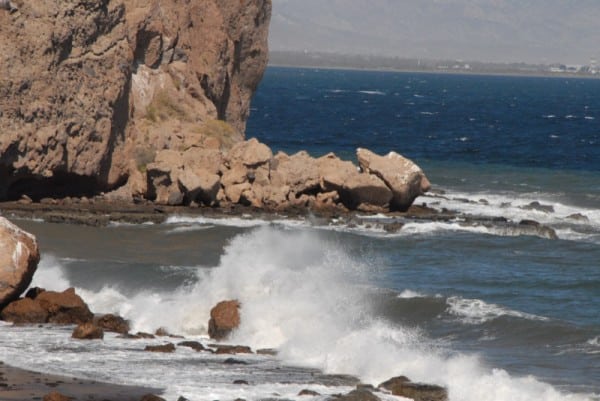 The Loreto Bay Sub Regimes are holding their annual "assemblies" this week and to help things along, Homex contractors have begun working on the Paseo. As with any "new" construction, it comes with good news and bad. Thus far the water lines have been cut at least twice as has the Road9 conduit providing Internet service. Compounding the service interruptions, the wind has come up and is providing dust storms all over the region.
The wind however, has been great for providing some very dramatic wave action. There are 4-5 foot swells normally and some even larger which makes for some very picturesque scenes at the rocky shore south of the Inn. If this keeps up I may brave the 65 degree water and try my hand at surfing again.
The best sights however have been all the heavy road equipment working on the Paseo. The Avenue or South Entrance was completed just before Christmas. Now that the crews are back from Holiday Break and have put some minor labor "disputes" behind them, work is moving along quite fast. The final section of the Paseo from FN358 to FN390 has been leveled and rolled in the past 3 days. If the pace keeps up, curbs will be poured over the next couple of weeks in preparation for asphalt.
The section north of FN358 to the middle of the AV "circle" has been rolled and oiled. It appears to be ready for asphalt to be put down. The rest of the AV roads have been leveled and curbs installed all the way to the new section that Homex purchased. It remains to be seen what will happen with the road through AV2 but there are sections that have been dug up hopefully with the intention to pave to the Tennis Center. The road from the Tennis Center to the Highway received a light topping of asphalt late last year.
Meanwhile Homex has been grading and building up the land north of the existing AV homes. While Homex has not formally said anything, the rumors are that more "model" homes are in the planning stages and 7+ more will be constructed shortly. This is hopefully good news for the area. With the planned opening of Ensenada Blanca over 20 miles south of Loreto Bay, we are sure to see more tourist traffic in the area as the warmth of spring and summer approach.