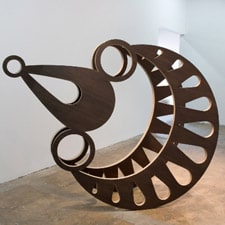 San Francisco contemporary and modern art gallery Frey Norris has announced the launch of the San Francisco Artist Award (SFAA) in conjunction with the grand opening of their new Gensler-designed gallery. Created as a biannual juried award to honor and support local Bay Area artists, SFAA will acknowledge a deserving and under-recognized local artist with a solo exhibition at Frey Norris.
"The San Francisco Artist Award seeks to help make San Francisco a more attractive home base for artists who traditionally relocate to Los Angeles or New York in pursuit of their careers," says Wendi Norris, co-owner of Frey Norris. "Since our founding in 2003, Frey Norris has championed San Francisco artists to the global art community. Our goal with SFAA is to create further opportunities for artists to realize their artistic pursuits nationally and internationally while remaining in and contributing to the cultural vitality of the Bay Area."
The San Francisco Artist Award will provide the recipient artist, who must reside in San Francisco or Northern California at least six months out of each year, with a solo exhibition at Frey Norris commensurate with the level and sophistication of all programs at the gallery. Selected from an open call for submissions and nominations from art professionals, an independent jury will nominate and announce the five semi-finalists in July 2011.
Jury members for the first biannual SFAA, selected by Frey Norris, include Enrique Chagoya, Artist & Professor at Stanford University; Brian Karl, Program Director at Headlands Center for the Arts; Patricia Maloney, Publisher of Art Practical; Deborah Rappaport, Collector; and Robert Shimshak, Collector. Acting as Award Director for the SFAA prize is Melissa Bernabei of Frey Norris.
Gallery support for the SFAA recipient artist will include an official opening, an exhibition catalogue featuring a critical essay of the work, visibility on the gallery's website, and press support. Frey Norris' dedicated team will also aim to place the exhibited artwork in public and private collections around the world.
Frey Norris will formally announced SFAA to the public on February 26,2011 during the Grand Opening of Frey Norris' new Gensler-designed gallery. Call for SFAA nominations will begin March 1, 2011. The five SFAA semi-finalists will be announced July 31, 2011 and the SFAA 2011 recipient will be named October 1, 2011, with a solo exhibition slated for June 2012.