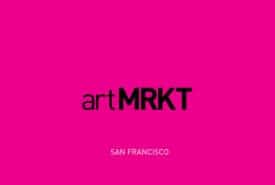 artMRKT, a newly formed Brooklyn based organizer of art fairs, co-founded by third generation gallerist Max Fishko and longtime business partner Jeffrey Wainhause, will debut their first official artMRKT modern and contemporary fair this May 19-22, 2011 at San Francisco's Concourse Exhibition Center. Featuring 65 contemporary and modern art galleries from around the world, including New York's Nancy Hoffman Gallery and Forum Gallery, London's Other Criteria and San Francisco mainstays Catharine Clark Gallery, Hackett|Mill, and Gallery Paule Anglim, artMRKT will bring some of the art world's most intriguing artists and galleries to the Bay Area, and many for the first time.
Commenting on the growing number of Bay Area collectors and the West Coast's art market potential, Fishko shares, "In many ways we are trying to push the boundaries of what it means to create a temporary marketplace for fine art. Foremost artMRKT is about the art, however it is also about the ideas, the energy, and the excitement that are harnessed and shared by everyone involved. Ultimately we hope that the transactions that occur at our event are more than simply economic. We intend artMRKT's atmosphere and approach to foster cultural, educational and intellectual transactions – and this responsibility we take seriously."
artMRKT will kick off the fair's 2011 debut with a two-tiered Opening Preview Party on Thursday, May 19th. Proceeds from the first half of the evening will benefit the art program for the University of California, San Francisco's new benchmark children's, women's and cancer hospital complex in the Mission Bay neighborhood of San Francisco. Currently in development, the 'Art Program at UCSF Medical Center at Mission Bay' will feature commissioned artworks by emerging and established contemporary artists, and will support the world-renowned hospital's overall mission of "caring, healing, teaching, and discovering." Taking place during the first two hours of the fair, this exclusive event, followed by a VIP Preview Party, offers attendees first access to the fair, intimate opportunities to interact with gallerists and artists, and the ability to assist in funding the placement of significant artworks in the new UCSF Medical Center at Mission Bay.
Further invigorating the excitement created by the San Francisco debut of artMRKT, co-founders Fishko and Wainhause have set out to create a platform for recognizing the strengths of the Bay Area's arts organizations and community of supporters. Notes Fishko, "San Francisco has a number of elements that define its arts culture and while it would be impetuous to say that we can encapsulate them all, we can say that each year we will provide a vehicle for the exploration of the work, movements, institutions and individuals that drive this unique creative and philanthropic environment." One of these vehicles will be achieved via MRKTworks, an online and live auction created to benefit a selection of local arts nonprofits paired with participating artMRKT galleries who will each donate one work to the program.
Notes co-founder Wainhause, "Working closely with a city that so fervently embraces our goals as we prepare to host 65 contemporary and modern art galleries from the US and abroad in an amazing 57,000 sq. ft. refurbished railroad station, allows us to attend to the details at hand with ease and remain completely focused on putting the emphasis on the art and curating a seamless viewing experience. San Francisco is the quintessential location for the 2011 launch of artMRKT."
artMRKT

WHEN:          Thursday, May 19 – Sunday, May 22, 2011
WHERE:        Concourse Exhibition Center
635 8thStreet (at Brannan)
San Francisco, CA  94103

HOURS:         Friday:  11AM–7PM
Saturday: 11AM–7PM
Sunday: 11AM–6PM

www.art-MRKT.com