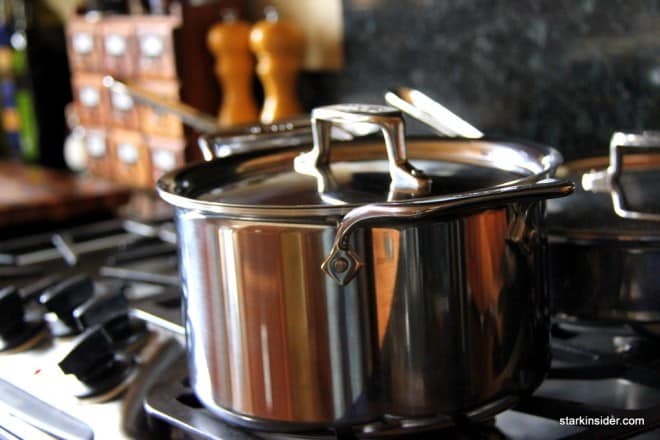 Addiction (noun): the state of being enslaved to a habit or practice or to something that is psychologically or physically habit-forming, as narcotics, to such an extent that its cessation causes severe trauma. [Source: Dictionary.com]
Perhaps the "severe trauma" is a bit of an exaggeration, but it seems my initial purchase of All-clad d5 at Williams Sonoma was just that, my initial purchase. After taking each piece out of the box, caressing them and later finding an excuse to cook something with them, I found myself wandering back onto the WS website to closely examine all the other pieces of d5 cookware they had.
Shouldn't I evaluate each piece in the collection to verify that indeed there isn't an All-clad piece I may have overlooked? I must be open-minded about these things you know.
It wasn't long before I decided that although I didn't need a stockpot, I was without the most essential "soup pot". The 4 quart size seemed perfect, and again, it was on sale.
Unbeknown to Clint, last Saturday, I once again dragged him to WS on our weekend errand run and sure enough, there, leaning against one of the warm maple shelves was the All-clad d5 soup pot. A couple of shelves down was a 3 qt pot with a steamer insert which caught my attention for a few minutes. Finally, I decided the 4 qt soup pot was the "necessity", plus, I have always wanted a bamboo steamer instead of a stainless steel one.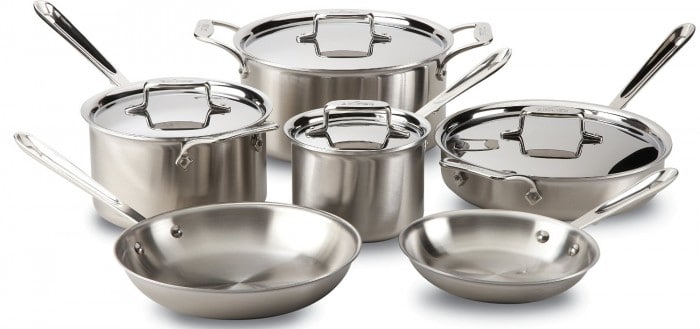 Just as I was leaving the store, proudly carrying the latest piece in my All-clad collection, I caught at the corner of my eye, the Copper Core saute pan. My d5 saute pan is performing well, but who knows what a layer of copper could do? For once, I was starting to understand Clint's fascination with sports cars…and "turbo-charged" sports cars. Would the heat acceleration and top heat level be superior with the copper core line?
I looked down at my WS bag and smiled with satisfaction at my latest acquisition.
An addiction? You be the judge. I am the subject and not capable of being objective here.
Learn and research more: All-Clad D5 Cookware Set