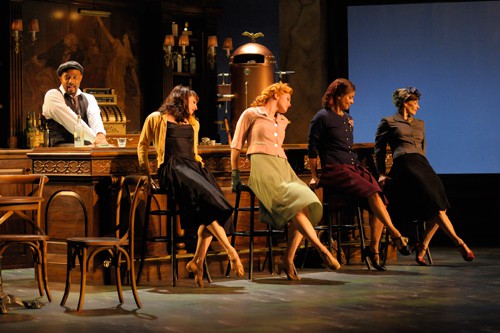 American Conservatory Theater (A.C.T.) announced that its world premiere production of The Tosca Project (new title: The Tosca Cafe) will receive its Canadian premiere at Theatre Calgary this fall.
Created and staged by A.C.T. Artistic Director Carey Perloff and San Francisco Ballet's Val Caniparoli, the extended world premiere run of the show at A.C.T. was an audience and critical favorite and earned rave reviews.
The Canadian production will feature several members of the original cast: A.C.T. core acting company member Gregory Wallace, Canadian physical-theater actor Peter Anderson (star of The Overcoat at Theatre Calgary and at A.C.T.), former San Francisco Ballet principal dancer Sabina Allemann, award-winning modern dancer Nol Simonse, and A.C.T. Master of Fine Arts Program alumni Kyle Schaefer and Sara Hogrefe.
In preparation for the new incarnation of the production, Perloff and Caniparoli have gone back into the studio and made significant changes to the characters and the structure of the piece.
Conjuring a world in which love, betrayal, and hope emerge from the shadows and disappear with the clink of a glass, this gorgeously choreographed and achingly moving dance-theater piece was inspired by San Francisco's legendary Tosca Cafe, which bore witness to every shift in the city's history over the past century.
"We partner for the first time with an American company on this fresh new piece of dance theater," said Theatre Calgary Artistic Director Dennis Garnhum. "I was at the world premiere in San Francisco last year, and I jumped to my feet and cheered—like the rest of the sold-out crowd. Be transported to one of my favorite cities for an evening of pure joy."
Perloff adds, "We are absolutely thrilled that this unique collaboration is going to have such a robust future life, and particularly excited to have a chance to work on the show again with Canadian partners whom we admire so much. A.C.T. has had a strong relationship with Canadian artists over the past decade, and Theatre Calgary is going to give the whole creative team of The Tosca Cafe a chance to refine and reimagine the piece in wonderful new ways."
The Tosca Cafe

September 13–October 2, 2011,

Theatre Calgary (at EPCOR CENTRE for the Performing Arts, 829 Macleod Trail SE, Calgary, Alberta, Canada).

For tickets and more information, please visit www.theatrecalgary.com.