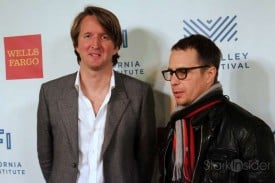 "This is a story of a man who did not want to be King," says director Tom Hooper. "Privilege is a complicated notion. It's only a privilege if you're pleased to be there."
And we're guessing the cast and crew of 'The King's Speech' are very pleased to be there–as in the eyes of the Academy and the movie-going public who are reacting very favorably to the historical piece.
'The King's Speech' is based on the true account of King George VI or "Bertie" (Colin Firth) whose terrible stammer renders his royal duty as a public speaker deeply challenging and terribly embarrassing. An Australian maverick (Geoffrey Rush), a genius in speech therapy–albeit unorthodox–works to solve the King's problem as the country prepares for World War II.
Hooper spent a generous amount of time with Stark Insider to talk about the film, the historical importance of the events depicted, and, probably most importantly, the 30-second anecdote rule he had to enforce during shooting. Turns out, Oscar-nominated actor Colin Firth is among the "world's great raconteurs."
'The King's Speech' leads all films this year with twelve Oscar nominations, including director (Tom Hooper), actor (Colin Firth), supporting actor (Geoffrey Rush), supporting actress (Helena Bonham Carter), and, of course, picture.
Here's hoping the cast don't find themselves with marbles in their mouths come acceptance time!
Tom Hooper – director The King's Speech