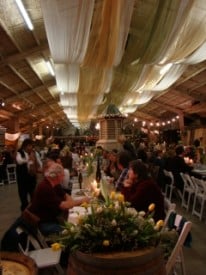 Anderson Valley, an AVA located less than 100 miles north of San Francisco, will host its sixth annual Alsace Varietals Festival next month in Boonville. The event which takes place over two days includes a technical conference, a grand tasting, a winemakers dinner, and winery open houses.
Classified in viticultural terms as a Region 1 growing area, the Anderson Valley is the coolest climate in which grapes may be commercially grown with any success.
The combination of warm sunny days and cool foggy nights and mornings allow the grapes from this region to mature slowly and to develop to the height of their varietal character.The planted acreage in the Anderson Valley consists primarily of Pinot Noir, Chardonnay, Gewürztraminer and Riesling. There are also small acreages of other varietals such as Sauvignon Blanc, Pinot Gris, Cabernet Sauvignon and Zinfandel.
According to Wikipedia, "John Gschwend established the first water powered lumber mill along the Navarro River in 1857, and Thomas Hiatt built the first steam powered lumber mill in 1877 near present day Boonville […] A wine boom began in the 1980s. This led to the establishment of the Anderson Valley AVA, specializing in Alsatian varietals, Pinot Noir and sparkling wine.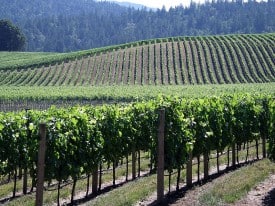 The topic at this year's technical conference is "OLD WORLD/NEW WORLD." Discussions will be held on the comparative techniques and trends in growing and producing Alsace Varietals wines in Europe and North America. Featured speakers include Arnaud Baur (Vins Charles Baur), Nancy Peach (Valckenberg), Fred Buonanno (Philo Ridge Winery), and Robert Madill (Sheldrdake Wines).
Participating Wineries: Alderbrook Winery, Breggo Cellars, Brooks, Chateau Grand Traverse, Claiborne & Churchill, Claudia Springs Winery, Domaine Charles Baur, Domaine Shlumberger, Domaine Weinbach, Esterlina, Foris, Foursight Wines, Graziano, Greenwood Ridge Vineyards, Hagafen Cellars, Handley Cellars, Husch Vineyards, Lazy Creek Vineyards, Londer Vineyards, McFadden Farm, Navarro Vineyards, NY Finger Lakes Wine Alliance, New Zealand Winegrowers, Philo Ridge Vineyards,Toulouse Vineyards, Valkenberg, Zina Hyde Cunningham, Robert Sinskey Vineyards, Thomas Fogarty Winery and many more.
International Alsace Varietals Festival

Boonville, Mendocino County

February 12 – 13, 2011

Technical Conference

Date: February 12, 2011
Time: 9:00am – 11:30a.m.
Listen to and interact with winemakers and wine experts from around the globe.

More Details…

Price: $45.00

6th annual Int'l Alsace Varietals Grand Tasting

Date: February 12, 2011
Time: 1:00p.m – 4:00p.m
Meet the winemakers and taste Alsace-style white wines from around the world, including Riesling, Gewurztraminer, Pinot Gris, Pinot Blanc and Muscat! Enjoy music by local artists and perfectly paired bites crafted by a local purveyor. It's an event that will brighten even the darkest winter month.

More Details…

Price: $65.00

Alsace Varietals Grand Tasting – Designated Driver

Date: February 12, 2011
Time: 1:00 – 4:00 p.m.
For designated drivers – a reduced-price ticket and all the food and entertainment you can enjoy while learning more about this fast rising star of wine lovers around the world.

More Details…

Price: $50.00

Alsace Varietals Technical Conference & Grand Tasting Festival Combination

Date: February 12, 2011
Time: 9:00a.m. – 4:00p.m.
Participate in both the technical conference and the Alsace Varietals Grand Tasting at a discounted price!

More Details…

Price: $95.00

Winemakers Dinner

Date: February 12, 2011
Time: 6:30 p.m.
Enjoy dinner with the winemakers and learn more about their wines in the elegant private dining room at Scharffenberger Cellars. You will be surrounded by local works of art while savoring the warm, cozy atmosphere. A sumptuous, sit-down dinner will be prepared by a renowned local chef and each course will be perfectly paired with wines featured at the festival or locally produced.

Almost Sold-Out! More Details…

Price: $125.00

Anderson Valley Winery Open Houses – Sunday February 13

Date: February 13, 2011
Time: 11:00 am – 5:00pm
Spend the day touring the many winery open houses on Sunday. Savor tasty pairings – Enjoy live music – and taste unique and vintage Alsace Varietal wines.

More Details…