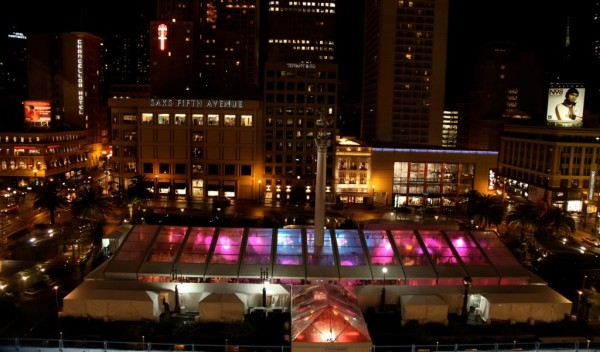 On Thursday, February 10 San Francisco General Hospital Foundation (SFGHF) will host its second annual Hearts After Dark, a tented party and fundraiser in Union Square with hors d'oeuvres, cocktails and live entertainment from Chris Clouse and DJ Solomon.
Ticket proceeds help fund life-saving programs at San Francisco General Hospital and Trauma Center, and can be purchased at sfghf.net.
Hearts After Dark is an extension of SFGHF's successful Heroes & Hearts Luncheon, which premieres the 2011 Hearts in San Francisco series and celebrates local heroes.
Since 2006, the annual luncheon and artworks have raised nearly $6 million for the hospital.
The concept for Hearts After Dark originated from SFGHF Board Member and co-founder of the Heroes & Hearts Luncheon, Pam Baer.
"Since the Foundation was formed in 1994, it has raised life-saving funds for the hospital to provide excellent care to everyone, even the most vulnerable populations," said Baer. "The Foundation and the hospital depend on the generosity of individuals and corporate sponsors throughout the Bay Area to continue this mission. Hearts After Dark provides a way for a younger generation to learn about, get involved and contribute to that mission."
Stark Insider was at the inaugural 2010 edition of the fundraiser, and here's some footage of the successful event:
We hope see you there to support this great cause!
Hearts After Dark

Party and fundraiser in Union Square, San Francisco

Thursday, February 10 from 7 – 10 p.m

Ticket proceeds help fund life-saving programs at San Francisco General Hospital and Trauma Center

sfghf.net