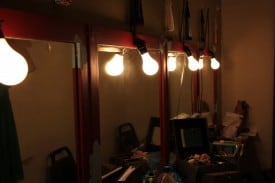 No Nude Men Productions of San Francisco and director Tore Ingersoll-Thorp are collaborating together for the world premiere of Bennett Fisher's new play Hermes about four derivative traders seeking to benefit from the Greek financial meltdown.
Their acts of greed and deceit bring unforeseeable consequences and an unexpected visitor: Hermes, god of commerce and thieves, the physical manifestation of fraud, who goads the group into bolder action with slippery logic, tantalizing visions of immense wealth, and the occasional punch in the balls.
Inspired in part by the Lehman Brothers' role in the current Greek economic collapse, Hermes paints an impishly comic and glorifying portrait of equivocation, exploitation, disinformation, misappropriation, deregulation, ruination, large corporations, financial machinations, and the age of globalization while exploring man's godlike ability to profit off what is truly worthless.
It marks the first full production of a show premiered in last year's San Francisco Olympians Festival.
The play stars Juliana Egley, Geoffrey Nolan, Carl Lucania, Brian Markley, Lauren Spencer and Brian Tryborn.
Hermes

Who: Produced by No Nude Men Productions
Written by Bennett Fisher
Directed by Tore Ingersoll-Thorpe
Starring: Juliana Egley, Geoffrey Nolan, Carl Lucania, Brian Markley,
Lauren Spencer and Brian Tryborn
When: March 3-26th (Thursday, Friday, Saturday, run)
Where: Exit Stage Left (156 Eddy Street, San Francisco, 94102
Cost: $12-25
How: www.brownpapertickets.com
Contact: www.sfolympians.com