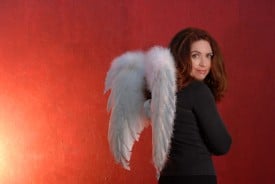 Three lucky couples will win the chance to tell the story of their first encounter before hundreds of people when How We First Met, the hit improv comedy show inspired by real-life tales of romance, descends like Cupid through the clouds on San Francisco's historic Herbst Theatre for one night only on February 12, 2011.
Now in its tenth year, the show is described as an "uplifting, one-of-a-kind theatrical experience." According to organizers it has been making Valentine's Day memorable for audiences in cities as diverse as San Francisco, New York, Tokyo and Melbourne since 2001.
"How We First Met is the perfect way to celebrate Valentine's Day whether you're on a blind date, going steady or have been married for longer than you can possibly imagine," said San Francisco comedienne Jill Bourque, who dreamed up the idea for the show and serves as its feisty emcee.
In each performance, Jill interviews three couples live on stage about how they got together while a team of performers transforms pivotal moments from each real-life romantic rendezvous into improvised sketches and songs.
The show features the talents of improv actors Laura Derry, Paul Erskine, Scott Keck, and Deborah Wade, keyboardist Jerome Rossen, and technical improvisor Damon Paiz.
Selection for How We First Met is extremely competitive, with more than 70 couples vying for a coveted spot on stage in 2010. Would-be participants submit their profiles to www.howwefirstmet.com up to two days ahead of the performance. The selection is narrowed down to 10 couples through online voting and audiences choose their favorite three pairs of lovebirds on the night of the performance itself.
"From the moment we put our story together, added our picture and then had our friends join in the voting, it was fun. Then, to be picked to be on the show at the glorious Herbst Theatre was a lifetime highlight," said Carol Peterson, who participated in How We First Met with her husband Art Peterson in 2010.
"On stage, the questions Jill put to us which were then acted out by the improv group had us and the audience hysterically laughing. There could never be another Valentine's Day to match our How We First Met night."
The show came into being as a one-off Valentine's Day event at San Francisco's Bayfront Theatre in 2001 and has grown to play in dozens of cities worldwide. Over the years, the show has featured a vast array of couples representing all walks of life — from gay to straight, liberal to conservative and new to longtime — all united by a common desire to celebrate through laughter what makes love come alive.
How We First Met

Features creator/host Jill Bourque, improv actors Laura Derry, Paul Erskine, Scott Keck and Deborah Wade, musical director Jerome Rossen, and technical improvisor Damon Paiz.

WHEN:
Saturday, February 12, 2010 at 8pm

WHERE:
Herbst Theatre, 401 Van Ness Avenue, San Francisco, CA

TICKETS:
For tickets ($25-59) and information, the public may call 415-392-4400 or visit www.howwefirstmet.com