Welcome to a new year of incredible theater across the Bay Area from San Francisco to Berkeley and Palo Alto to San Jose and just about everywhere in between. We're glad you're along for the ride.
The Last Cargo Cult, opening this week at Berkeley Repertory Theatre, tells the most improbable of stories. Monologuist Mike Daisey (who's been called a "master storyteller" by The New York Times) visits a remote island in the South Pacific whose inhabitants worship America and its goods at the base of an erupting volcano.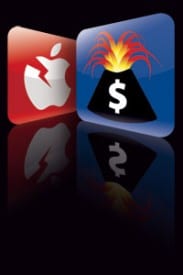 He witnesses their rituals as the world's financial system collapses, spurring a soul-searching assessment of what money means and who is paying the price.
Sitting at a simple desk, Daisey tells stories that mesmerize and entertain audiences. So far he's produced 15 monologues.
His latest two The Last Cargo Cult and The Agony and the Ecstasy of Steve Jobs will play in repertory at the Berkeley Rep. It's a wonderful way to experience the works of this "expert raconteur." The two adventure stories will be presented on different days.
In a prologue, artistic director Tony Taccone writes, "Mike Daisey is a master at the art of exposing himself. Perched behind his little table, armed with only a few pints of water and the torrent of words that swim around in his considerable head, his performance feels utterly authentic and raw—combining the hysteria of a comedian, the intelligence of an essayist, the intensity of an actor and the desperation of a raconteur."
Note that a monologuist is not necessarily a monogamist. Just to be clear, you know.
And, of course, it wouldn't be a proper opening night @ Berkeley Rep without cocktails to match the evening. For this run, the extra colorful libation choices are:
The Appletini, A.K.A. the apple martini, takes Absolut vodka, apple schnapps and sweet & sour mix and delivers a singular creative epiphany.

The Flaming Volcano blends Bacardi rum, Korbel brandy, pineapple juice and almond syrup into a genuine tropical explosion. No, purists, we're not lighting it on fire, but be careful—you can still get lit.
See you in Berkeley, and, as always, we'll see you back soon for the review, and more coverage across the incredible San Francisco Bay Area theater scene.
The Last Cargo Cult

Berkeley Repertory Theatre, Thrust Stage

Created and performed by Mike Daisey

JANUARY 11–FEBRUARY 27, 2011

Opening night: Wednesday, January 12, 2011

2 hours, no intermission
(With Clinton Stark contributing from Berkeley, California)