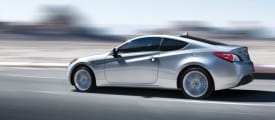 Can Hyundai move up-market? That is the question that has been dogging the South Korean auto-maker for years. Known for value-priced cars (The 3-door Accent starts at $9,985 in the US), recently Hyundai has begun placing more emphasis on design and quality.
At the North American Auto Show in Detroit today, Hyundai unveiled its new slogan. "New thinking, new possibilities" will replace the old one, "Drive Your Way." The move is part of a strategy to replicate Apple's branding success with products such as the iPhone, in an attempt to become perceived as a "modern premium" product.
"We are targeting somewhere between the mass market and luxury segments," said Cho Wong-hong, executive vice president and head of Hyundai's marketing division. "It is a market that has not been tapped by other car makers before."
According to Reuters Hyundai Motor sold 3.6 million cars in 2010, while Kia boosted sales by 40 percent to 2.1 million vehicles. Hyundai and Kia said they would target sales of 6.33 million cars in 2011, up 10 percent from a combined 5.75 million units sold in 2010.
Moving a brand up-market, if even just a bit as is the case here with Hyundai, is a long, tough haul. Most consumers have deeply ingrained perceptions of the existing brand, and see it as a value play.
The improving quality of product (Sonata and Genesis, for example) should help though, as word-of-mouth could eventually be the best marketing weapon available to the company, especially if they can entice key influencers on social networking sites such as Facebook and Twitter.
What do you think… will the new slogan help Hyundai, and can it move up-market?