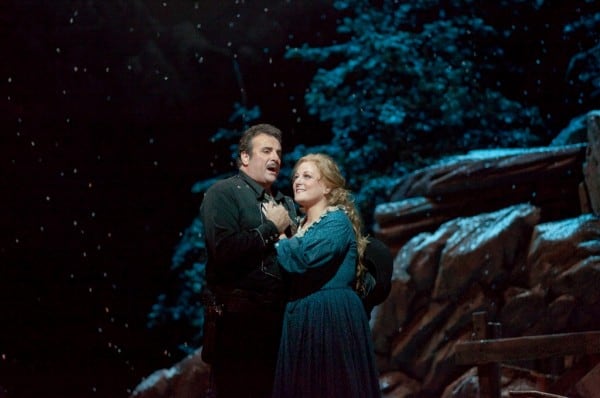 The Metropolitan Opera's 100th anniversary revival of Puccini's Wild West opera, La Fanciulla del West, will be transmitted to movie theaters across the country and around the world on Saturday, January 8 at 1:00 pm ET as part of The Met: Live in HD initiative.
Deborah Voigt, Marcello Giordani, and Lucio Gallo star in the action-packed live performance, which features a barroom brawl, live horses, a blizzard, and a poker game with unusually high stakes. Nicola Luisotti, who conducts the opera, has a long history with Fanciulla — his first performance of the opera was in the chorus when he was a teenager in 1985; and he has been the chorus master for Fanciulla as well.
This Metropolitan Opera production is his seventh run of the opera and his third time conducting the work.
La Fanciulla del West

Show times and information on screenings in your area can be accessed by clicking these links:

United States, International Locations

Live performance: Saturday, January 8, 2011 at 1:00 pm ET
U.S. Encore: Wednesday, Jan. 26, 2011 6:30 p.m. local time
Canada Encore: Saturday, Feb. 19, 2011, 1 p.m. ET
Expected Running time: 3 hours, 30 minutes
Photo: Ken Howard/Metropolitan Opera