Slap, slap… clap, clap. Born to hand jive baby. Don't you want to know how to hand jive, baby? The cast of Grease, the Broadway production now touring the country, teaches the famous 1950s dance moves in a few "simple" steps in this sun-drenched Stark Insider TV segment.
Whether you can keep the steps in order or not is probably a matter of practice. A milkshake, some pomade and bubblegum (or substitute a cigarette) probably wouldn't hurt either. It's all about attitude and throwing caution (and vanity possibly too) to the wind.
Shot on location at Santana Row in San Jose — which is kind of like the track at Rydell High but with fancier shoes — these T-Birds and Pink Ladies how it's done, with a little bit of swagger to boot. Apologies in advance for Loni's free form, ad lib, out-of-control rendition that perhaps channels Elaine Benes more than Olivia Newton-John. We try.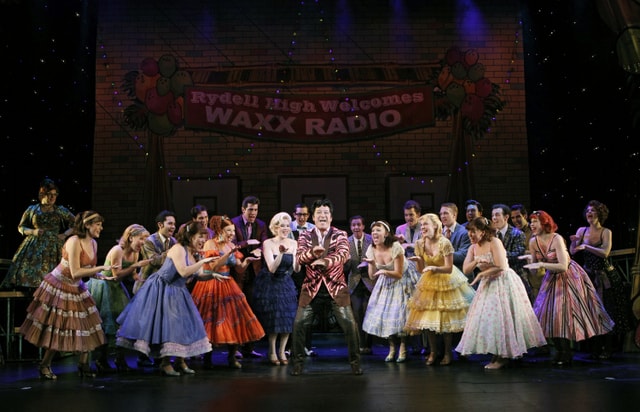 According to Wikipedia, the hand jive was particularly popularized by Johnny Otis's 1958 hit "Willie and the Hand Jive". Eric Clapton did a version of the song in 1974 that reached the Top 40.
But its the version in the film version of Grease starring John Travolta and Olivia Newton-John that is probably most famous of all. Sung by Sha Na Na, it reminded us that sometimes life doesn't need to be taken too seriously. The song exhibited the "Bo Diddley beat," a rhythm that originated in Latin music and brought into mainstream American music by Bo Diddley. It has since influenced generations of musicians.
The big question, however, remains: Will Loni be worthy of The Pink Ladies? Or is she simply too Sandra (Tiger) Dee?
(Thanks to Clinton Stark)
Photo credit: Joan Marcus.
WATCH: How to Hand Jive with Loni Stark and the Cast of 'Grease'