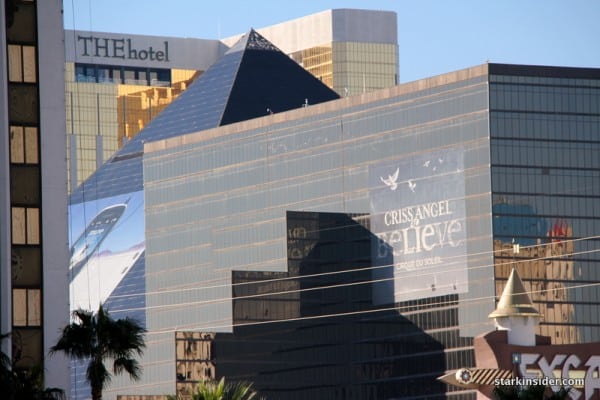 It looks like Cricket is taking a page out of old school billboard-style advertising and bringing Samsung along for the ride… and we like it. Somehow they've been able to even out-size and out-smart street musician Criss Angel whose poster is lost in the shadows.
Has anyone seen the giant ad for their all in one phone plans with streaming music service "Muve Music" hanging off the Luxor?
It's likely located so it can be seen from a plane when coming into Las Vegas McCarran airport. We couldn't get a clean shot, and Clint sent this one over… you can just see it peeking through behind the the main Luxor casino building and in front of Mandalay Bay (one of our favorite cocunut-smelling hotels).
Cricket Wireless's unlimited Muve Music service, which is packaged with a wireless plan, will be coming to LG Optimus earlier this year. Currently it is only available for the Samsung Suede (possibly the smartphone seen in the photo above?).
There are no specifics on launch dates (and its been delayed at least once), but early word on the service is good, and the staff were seen at the CES "Unveiled" event for press handing out swag bags.