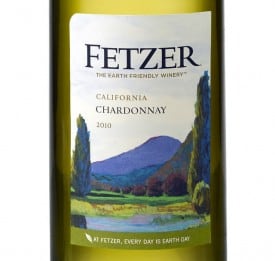 Fetzer Vineyards is celebrating 25 years of pioneering earth-friendly winemaking practices, by releasing a limited edition Earth Day bottle featuring a striking new label designed by a renowned local artist. Additionally, in honor of Earth Day and its 25 years of sustainability initiatives, Fetzer is donating $10,000 to Leave No Trace, an organization dedicated to the responsible enjoyment and active stewardship of the outdoors.
"Achieving a quarter of a century of pioneering earth-friendly winemaking practices is a special accomplishment, so it was only fitting that we celebrate this year with a special bottling," said Mike Haering, Fetzer brand manager. "We're excited to introduce the Earth Day bottle because the label artwork beautifully captures the California landscape, which is home to our winery, and showcases our amazing outdoors, which inspires and drives our commitment to conservation."
Fetzer's 2010 Chardonnay will be released in the commemorative Earth Day bottle, in limited quantities beginning April 2011 for a SRP of $8.99. The Earth Day label features artwork by Anne Kessler. Based in Mendocino, California (also the home of Fetzer) Kessler is known for her rich impressionist interpretations of California landscapes. Her talent and love of nature is captured on the Fetzer commemorative label and truly celebrates the spirit of Earth Day.
"I am pleased to celebrate Fetzer's green initiatives by sharing my artwork on the commemorative Earth Day label," said Fetzer label artist, Anne Kessler. "This Earth Day, I hope my art reminds people of what they love about life on this wonderful planet: the gift of the vine, the shade of an oak, the smell of late afternoon in the Mendocino hills."
As a long-time supporter of environmental organizations, Fetzer chose to support Leave No Trace through its Earth Day Bottle Artist Series as the non-profit organization shares Fetzer's passion for taking care of the environment. Fetzer is donating $10,000 to Leave No Trace Center for Outdoor Ethics to commemorate Earth Day and the special bottle release. To learn more, visit facebook.com/Fetzerwines.
"It was an easy decision to make a donation to Leave No Trace as this organization shares many similar beliefs as we do at Fetzer, as our love of nature and the outdoors is why we're so dedicated to sustainable practices," said Haering.
Fetzer initiated its sustainable business practices in 1986 as it began to learn about the benefits of sustainability and conservation techniques yielded on vineyard management and winemaking. This began a quest to continually improve the winery's energy efficiency, winery practices, and sustainability of general business operations. From the time this initiative began, Fetzer Vineyards has focused on energy conservation and carbon emission reduction, natural pest control in its own vineyards, waste reduction, water conservation and recycled materials packaging.
Fetzer's commitment extends into every aspect of the winery's operations. Fetzer was the first to power winery operations by purchasing and using only renewable sources of energy such as solar, wind and geothermal, including one of the wine industry's largest solar installations. Landfill waste has been reduced by 96% since 1990, even as the wine's popularity doubled production. Fetzer's wine bottles are made from 35% recycled glass, and portions of each case carton are 100% post-consumer chipboard. Today, Fetzer is a recognized leader in the wine industry having won numerous state and federally-awarded honors for its efforts, including the EPA's Best of the Best Ozone Protection Award last year.