Celebrate with Disney On Ice and turn an ordinary day into an extraordinary one. Feld Entertainment's new ice production, Disney On Ice presents Let's Celebrate! glides into San Jose at the HP Pavilion February 23-27 and Oakland at the Oracle Arena March 2-6, featuring a magical montage of Disney characters celebrating holidays and festivals from around the world.
The show will be the first time audiences see live on-ice Princess Tiana and Prince Naveen from Walt Disney Pictures' The Princess and the Frog.
Classic and contemporary Disney songs, an original storyline, brilliant costumes and high energy action will have audiences celebrating some of the world's most popular events right in their hometown — from a Valentine's Day Royal Ball, featuring the Disney Princesses to a Mardi Gras celebration with Princess Tiana to Halloween with Jack Skellington and the Disney Villains. In a fun-packed ice extravaganza, more than 50 characters from 16 Disney stories will converge and take audiences on a thrilling world tour to exotic destinations like Brazil for a Carnivale parade, Hawaii for a luau party and Japan for a Cherry Blossom festival.
"Disney On Ice presents Let's Celebrate! gives families a reason to celebrate no matter what time of year it is," says Producer Kenneth Feld. "This uplifting and unforgettable spectacle showcases different celebrations around the globe, and families will walk away remembering to celebrate the everyday joys and successes in their lives."
"Audiences are going to love this colossal celebration," says Producer Nicole Feld. "We take the most exciting holidays and special events and pack them into one monumental show. You can travel the world in style and experience all the fun and excitement with your favorite Disney characters, including the newest Disney Princess, Tiana."
To create this party on ice, Kenneth Feld and Nicole Feld led a creative team of industry experts consisting of:
· Patty Vincent (Director) – Directed numerous Feld Entertainment ice and stage shows including Disney On Ice presents Disney/Pixar's Finding Nemo and Playhouse Disney Live!; began her career at Feld Entertainment as a skater 26 years ago, and has advanced in the company to become Character Development Director for all touring Disney On Ice and Disney Live! productions
· Jerry Bilik (Creative Director and Writer) – Creative team member of every Disney On Ice show throughout its thirty-year history; arranged music for a number of television series, including "Starsky and Hutch" and "Charlie's Angels"
· Cindy Stuart (Choreographer) – Collaborated with Olympic Gold Medalist Robin Cousins on multiple projects; choreographed for Katarina Witt, Brian Orser, Olympic Silver Medalist Rosalyn Sumners, World and Olympic Champions Xue Shen and Hongbo Zhao, and Olympic Champions Jamie Salé and David Pelletier; lead choreographer for several Disney On Ice productions, including Disney On Ice presents Disney/Pixar's Finding Nemo and Disney's High School Musical: The Ice Tour
· Vanessa Leuck (Costume Designer) – Collaborated on costume design for Disney On Ice presents Worlds of Fantasy, Disney Live! presents Three Classic Fairy Tales, Ringling Bros. and Barnum & Bailey®, Broadway's The Little Mermaid and several Off-Broadway productions
· Robert Little (Scenic Designer) – Scenic designer for Disney On Ice presents Beauty and the Beast, Disney On Ice presents Princess Wishes and multiple Ringling Bros. and Barnum & Bailey® productions; designed musicals for Utah Festival Opera Theater and Goodspeed Musicals, along with operas for Tri-Cities Opera Company
· Alex Reardon (Lighting Designer) – Lighting designer for Ringling Bros. and Barnum & Bailey® Presents Barnum's FUNundrum!SM; designed concert lighting for artists including the Dixie Chicks, LeAnn Rimes, Motley Crue and Paul Simon; created lighting for the premieres of motion pictures The Hulk and Terminator 3: Rise of the Machines
· Doug Webster (Associate Choreographer): Former national competitor who has since choreographed for skaters on the national, international and professional levels; worked with such outstanding skaters as Olympic medalist Lu Chen and World Professional Champions Elena Leonova and Andrei Khvalko; developed a Theatre on Ice program for the Skating Club of New York; collaborated on the choreography for Disney On Ice presents Princess Wishes and Disney's High School Musical: The Ice Tour
· David Pelletier (Technical Pair Coach) – 2002 Olympic Champion and 2001 World Champion with partner and wife Jamie Salé; won three consecutive Canadian Championships with Salé and became the first pairs team to receive five perfect 6.0 scores in the history of the competition; inducted into the Canadian Figure Skating Hall of Fame and, in 2009, the Canadian Olympic Hall of Fame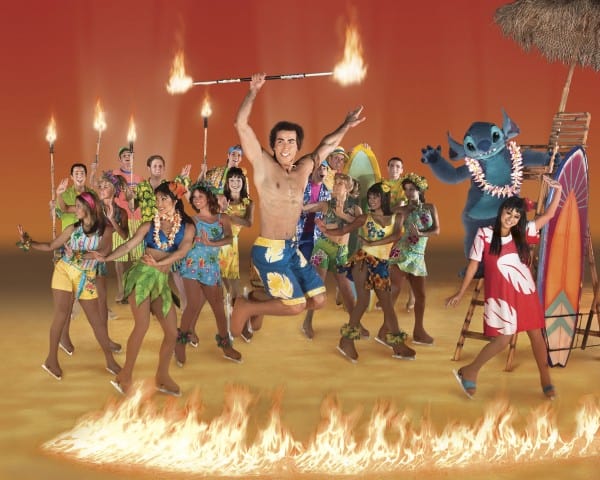 Disney on Ice presents Let's Celebrate!

Audiences will join Mickey Mouse and Minnie Mouse as they celebrate Mardi Gras with Princess Tiana and Prince Naveen; a Royal Valentine's Day Ball with the Disney Princesses; a Very Merry Unbirthday Party with Alice and the Mad Hatter; a Hawaiian luau with Lilo & Stitch; a winter wonderland with Woody, Jessie and Buzz Lightyear; a Halloween haunt with Jack Skellington and the Disney Villains and more in a magical medley of holidays, celebrations and festivals from around the globe.

S A N  J O S E

WHEN:
February 23-27, 2011
Wednesday, Feb. 23 – 7:30pm
Thursday, Feb. 24 – 7:30pm
Friday, Feb. 25 – 10:30am and 7:30pm
Saturday, Feb. 26 – 11:00am, 3:00pm and 7:00pm
Sunday, Feb. 27 – 11:00am, 3:00pm and 7:00pm

WHERE: HP Pavilion at San Jose – 525 West Santa Clara Street, San Jose

PRICES: Tickets are $16, $25, $45 (VIP), $75 (Front Row)

OPENING NIGHT TICKETS – ALL SEATS ONLY $15.00*
*does not apply to VIP tickets or premium seating

O A K L A N D

WHEN:
March 2-6, 2011
Wednesday, March 2 – 7:30pm
Thursday, March 3 – 7:30pm
Friday, March 4 – 10:30am and 7:30pm
Saturday, March 5 – 11:00am, 3:00pm and 7:00pm
Sunday, March 6 – 11:00am, 3:00pm and 7:00pm

WHERE: Oracle Arena – 7000 Coliseum Way, Oakland

PRICES: Tickets are $16, $25, $45 (VIP), $75 (Front Row)

OPENING NIGHT TICKETS – ALL SEATS ONLY $15.00*
*does not apply to VIP tickets or premium seating