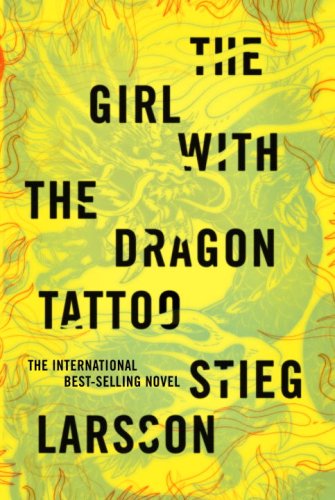 The first time I came across the title, The Girl with the Dragon Tattoo was at Cinequest 2010. It was a Swedish movie with English subtitles featured at the film festival. Unfortunately, there was only one screening and I wasn't able to make it. I heard after wards that those that saw it really enjoyed it.
It was only later that I realized the film was based on the first novel of an already popular Swedish trilogy written by Stieg Larsson. When I made the switch from paperbacks to an Amazon Kindle, I decided to kick off my digital book adventures with The Girl with the Dragon Tattoo.
From the onset, this novel is a thrilling page-turner. The initial hook is the fate of Mikael Blomkvist, a well-respected business journalist, who finds his reputation compromised when he is not able to substantiate claims he has makes against a high-profiled financier.
Just as I start to think that this is what the novel is about, Stieg raises the stakes and lures the reader in with the suspense of the most unusual disappearance of Harriet, the great niece of Henrik Vanger, the old and eccentric head of a formidable family-owned corporate empire.
Ultimately though, it is none of these plots that had me engrossed until late hours reading in bed. Instead, it was the fascination I had with the character of Lisbeth Salander, the skinny, socially awkward girl with the dragon tattoo. I just couldn't put down my Kindle as it fueled my voracious curiousity.
It was like being at a late night party with a group of fascinating people you have just met. You believe that somehow, if you fight off sleep and spend more time with them, you will get to really understand them.
This is what makes this book unusually delicious. There are many novels filled with action and it is the dominant force that draws you in. There are numerous works which are delicate and slow-paced that provide insightful character vignettes.
Stieg's trump card though is he has you coming and going. On one hand, The Girl with the Dragon Tattoo is an action-packed mystery thriller peppered with some jabs of sex and violence to boot. On the other hand, Lisbeth is a multifaceted jewel and onion all in on. She is quirky enough to be fascinating, yet human enough that you could relate to her at an emotional level.
I highly recommend this novel if you are looking for a story that pulls you in, captivates you with excitement and unpredictable adventure and doesn't let you go until the very last page.
The Girl With the Dragon Tattoo
by Stieg Larsson
4.5 out of 5 stars
$14.95