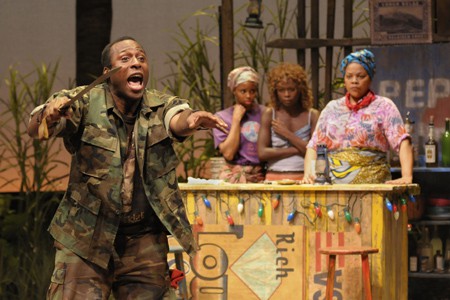 This March, Berkeley Repertory Theatre proudly presents Ruined, winner of the Pulitzer Prize for Drama. A powerful new play about the harrowing lives of women in Africa, Ruined is written by Lynn Nottage and directed by Liesl Tommy. A collaboration between Berkeley Rep, Huntington Theatre Company, and La Jolla Playhouse, this production has already earned seven awards – including Outstanding Dramatic Production – from the San Diego Critics Circle. It begins previews in the state-of-the-art Roda Theatre on February 25, opens March 2, and closes April 10.
"In Ruined, the women do a fragile dance between hope and disillusionment in an attempt to navigate life on the edge of an unforgiving conflict," Nottage remarks. "I was fueled by my desire to tell the story of war, but through the eyes of women, who as we know rarely start conflicts, but inevitably find themselves right smack in the middle of them. I was interested in giving voice and audience to African women living in the shadows of war."
"With this play, Lynn Nottage transforms cataclysmic historic events into stunning drama," says Tony Taccone, artistic director of Berkeley Rep. "She creates an astonishing array of characters and imbues them with a life force that is powerful and ultimately triumphant. By the end we are released, liberated from our preconceived ideas, and connected to people we don't know. This script combines with compelling performances and the exquisite work of our creative team to create a transcendent experience that I am honored to share with our audiences."
Ruined provides a bleak yet beautiful look at the lives of women in a land ruled by whiskey and bayonets. As civil war ravages the Congo, the lucky ones find a home – and a regular meal – in a ramshackle building that serves as both brothel and refuge. Whether merchant, miner, or soldier, the man you meet in the morning may be your enemy by sundown. Yet all of them come through Mama's door for booze and a bit of comfort. Mama Nadi protects her girls with rough compassion, even as she profits from their bodies. This timely script tells an intense and important tale filled with humanity, hope, and unexpected humor. When Mama talks, you'd better listen.
"Sincere, passionate, courageous, and acutely argued, Ruined is a remarkable theatrical accomplishment [with] a strongly affirmative sense," the Chicago Tribune reports. "This is both a celebration of the endurance and vitality of African women and an unstinting call for us to keep them safer." As the Wall Street Journal says, "Ruined, in which she shows us what things have come to in the bloody, brutal land that dares to call itself the Democratic Republic of Congo, leaves no doubt that the author of Intimate Apparel and Crumbs from the Table of Joy is one of the best playwrights that we have."
Ruined is supported by many generous sponsors. BART and Wells Fargo have renewed their commitment as season sponsors at Berkeley Rep, and the 2010-11 season producers are Marjorie Randolph and Wayne Jordan and Quinn Delaney. The executive producers for the local run of Ruined are Bill Falik and Diana Cohen, Jack and Betty Schafer, Shirley D. and Philip D. Schild, the Strauch Kulhanjian Family, and Jean and Michael Strunsky. The production sponsor is the Ira and Leonore Gershwin Philanthropic Fund.
Lynn Nottage's play Ruined won the Pulitzer Prize for drama, as well as the Drama Desk Award, the inaugural Horton Foote Prize for Outstanding New American Play, the Lucille Lortel Award, the New York Drama Critics' Circle Award, an Obie Award, and the Outer Critics Circle Award for Best Play. It made its world premiere at the Goodman Theater and its London premiere at the Almeida Theatre, and is playing at numerous regional theatres in the United States this year. Nottage's other plays include Crumbs from the Table of Joy; Fabulation, or The Re-Education of Undine, which received an Obie Award; Intimate Apparel, which received the New York Drama Critics' Circle Award for Best Play and became the nation's most produced play in 2005-06; Las Meninas; Mud, River, Stone; Por'knockers; and POOF! Her many other honors include the August Wilson Playwriting Award, the Dramatists Guild's Hull-Warriner Award, the Guggenheim Grant for Playwriting, the MacArthur "Genius" Award, the PEN/Laura Pels Award for Drama, and the Steinberg Distinguished Playwright Award. She is a graduate of Brown University and Yale School of Drama.
A South African native who grew up under apartheid, Liesl Tommy is known for working with young African-American writers like Eisa Davis, Danai Gurira, and Tracey Scott Wilson. She has directed two plays by Lynn Nottage: Ruined at the Huntington, La Jolla Playhouse, and the Oregon Shakespeare Festival and the world premiere of A Stone's Throw at Women's Project. She also recently directed the world premiere of Angela's Mixtape for Synchronicity Performance Group and New Georges; Bus and Family Ties with Cristian Panaite Play Company for the Romania Kiss Me! Festival; the world premiere of Eclipsed for the McCarter Theatre Center, Woolly Mammoth Theatre Company, and Yale Repertory Theatre; Flight at City Theatre in Pittsburgh; the world premiere of The Good Negro with Dallas Theater Center, The Public Theater, and Sundance Theatre Institute; the world premiere of A History of Light, Stick Fly, and Yankee Tavern at the Contemporary American Theatre Festival; In the Continuum at Playmakers Repertory Company; and the world premiere of Peggy Pickett Sees the Face of God by Roland Schimmelpfennig at the Luminato Festival/Volcano Theatre. Tommy was awarded the NEA/TCG Directors Grant and the New York Theatre Workshop Casting/Directing Fellowship. She is one of NYTW's Usual Suspects, and has also been a guest director and teacher at Juilliard, NYU's Tisch School of the Arts, and Trinity Rep/Brown University's MFA Directing and Acting Program.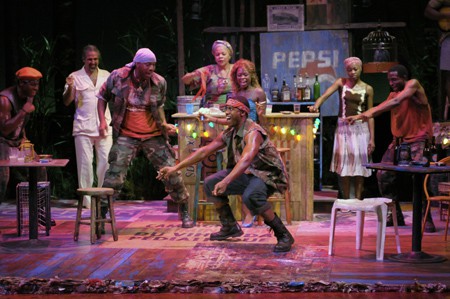 To deliver its unique mix of music and drama, Ruined relies on an energetic ensemble of 13 talented performers:

·         Oberon K. A. Adjepong (Christian) has performed off Broadway at Classic Stage Com­pany, Classical Theatre of Harlem, the Flea Theater, La MaMa Experimental Theatre Club, the Hip-Hop Theater Festival, the National Black Theatre, and the Ohio Theatre.

·         Pascale Armand (Salima) has been seen off Broadway in Breath, Boom, and Four, as well as at regional theatres such as Actors Theatre of Louisville, American Repertory Theater, Arena Stage, Centerstage, Kansas City Repertory Theater, McCarter, Syracuse Stage, and Yale Rep.

·         Jason Bowen (Fortune) has worked with Actors' Shakespeare Project, Commonwealth Shakespeare Company, the Huntington, Lyric Stage Company of Boston, and Underground Railway Theater.

·         Carla Duren (Sophie) performed on Broadway as L'il Inez in Hairspray and Snookie in 110 in the Shade. Her regional credits include Give it Up at Dallas Theater Center and High School Musical 2 at North Shore Music Theatre.

·         Wendell B. Franklin (Jerome Kisembe) has worked with the Billie Holiday Theatre and Culture Project in New York. His regional credits include Arkansas Repertory Theatre, Cleveland Play House, Illinois Shakespeare Festival, Pennsylvania Center Stage, Virginia Stage Company, and Weston Playhouse Theatre Company.

·         Zainab Jah (Josephine) had principle roles in the films 100 Center Street and Dinner Rush. Her theatre credits include work at Classical Theatre of Harlem, Merrimack Repertory Theatre, the Queen's Company, The Public, Wellfleet Harbor Actors Theater, and Yale Rep.

·         Joseph Kamal (Mr. Harari) has been seen at Berkeley Rep in Culture Clash's Zorro in Hell and Fêtes de la Nuit.  In addition to roles at many regional theatres, he appeared on Broadway in Dinner at Eight and off Broadway in Bengal Tiger at the Baghdad Zoo, The Brave, Ecco Porco, Guantanamo,Homebody/Kabul, and Roar.

·         Adesoji Odukogbe (Musician 2) has recorded and performed with renowned artists such as Orlando Julius Ekemoode, Fela Anikulapo Kuti, Femi Kuti, Baba Ken Okulolo, and Babtunde Olatunji. He is a founding member of three musical groups: Afrobeat Connexion, the Nigerian Brothers, and the West African Highlife Band.

·         Kola Ogundiran (Laurent) has been seen in Babel at the Avignon International Theatre Festival, Dreamplay at the Cleveland Play House, and The God Botherers at 59E59, as well as in the films Bella, Fair Game, From Other Worlds, and Siri Oko Fo.

·         Okieriete Onaodowan (Simon) performed with F. Murray Abraham and Joanna Gleason in Sons of the Prophet at New York Stage & Film. He has also appeared at the Kitchen Theatre Company, New Jersey Performing Arts Center, The Public, Richmond Shepard Theatre, and Urban Stages Theater.

·         Tonye Patano (Mama Nadi) last appeared at Berkeley Rep in Polk County. She has been seen on Broadway in 45 Seconds from Broadway, off Broadway in Neighbors at The Public, in many films such as Fresh and The Taking of Pelham 123, and in numerous TV shows, including her memorable performance as Heylia James on Weeds.

·         Adrian Roberts (Commander Osembenga) is a graduate of A.C.T.'s MFA program and has been seen locally in First Person Shooter at SF Playhouse,Tough Titty at Magic Theater, and Topdog/Underdog at Sacramento Theatre Company. His credits also include Playboy of the West Indies at Lincoln Center and two seasons at OSF.

·         Alvin Terry (Musician 1) has performed with artists such as Horace C. Boyer, Leonard Brown, John Faddis, Ricky Ford, Bill Lowe, Valerie Pomaroff, Avery Sharpe, and Archie Shepp. His recordings include The Art of Boston, Bipology, and Common Denominator.