American Conservatory Theater (A.C.T.) continues its 2010–11 season with a revival of Nobel Laureate Harold Pinter's most provocative play, The Homecoming, directed by A.C.T. Artistic Director and longtime Pinter collaborator Carey Perloff. Award-winning actress René Augesen celebrates her tenth anniversary with the A.C.T. core acting company as she takes on the enigmatic central role of Ruth.
In The Homecoming, a long-absent son and his attractive wife, Ruth, return to his contentious childhood home in London's East End. Caught in a grueling power struggle, father and sons vie for Ruth's attention and affection with outrageous consequences in a play that changed the face of 20th-century drama.
Along with the production, A.C.T. will host Pursuing Pinter on March 20, 2011 following the 2 p.m. performance, a celebration of the life and work of Harold Pinter, in performance and discussion. Perloff will lead a discussion with Austin E. Quigley, author of The Pinter Problem andThe Modern Stage and Other Worlds and former dean of Columbia College at Columbia University, and Michael Krasny, host of KQED Radio'sForum program. Following the discussion, actors from A.C.T.'s core company and the A.C.T. Master of Fine Arts Program will read from a wide range of Pinter's work in various venues at the theater.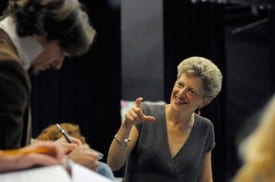 Perloff began her artistic relationship with Pinter while she was the artistic director of Classic Stage Company in New York City, where she worked closely with the writer in staging his plays The Birthday Party and Mountain Language (American premiere). At A.C.T. she directed Old Timesin 1998, as well as a double bill of Celebration (American premiere) and The Room in 2001, which prompted the San Francisco Examiner to exclaim:"[Perloff has] produced the most compelling Pinter I've seen anywhere, including London." Perloff says of Pinter: "A writer of acute observation and meticulous precision, the late, great Harold Pinter is missed by all lucky souls who had the pleasure of working with him. Pinter's theater, like his pauses, always leaves room for the audience to fill in the gaps with their own secrets, their own dreams, their own fears, their own imaginations. He was the least manipulative and, in some sense, the most generous (and wickedly funny) of playwrights. I cannot imagine a better way to celebrate his legacy than exploring The Homecoming, my favorite of all of Pinter's plays, with our amazing core acting company."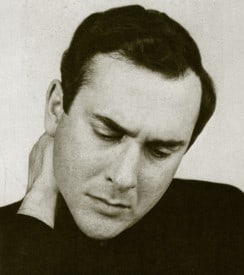 Pinter, who got his start as an actor, is known for writing great roles for great actors. Thus it's only fitting that the Homecoming cast is populated with acclaimed actors from the Bay Area and beyond. René Augesen, who began her A.C.T. career as Célimène in The Misanthrope, has been an audience and critical favorite since she first hit the A.C.T. stage in October 2000, taking on some of theater's most iconic roles in such classical and modern plays as Ford's 'Tis Pity She's a Whore, Ibsen's A Doll's House and Hedda Gabler, and Stoppard's Rock 'n' Roll. Augesen was recently awarded a Lunt-Fontanne Fellowship by the Ten Chimneys Foundation, which honors America's best regional theater actors. Perloff says: "I'm thrilled to be able to celebrate René's anniversary with this role she was born to play. René has astonishing range—there is almost no one of her generation that I can think of who is like her. She has a body of work that is unique in the American theater." Perloff also speaks to the effect Augesen has had on the entire A.C.T. community: "Along with her beautiful work on our stages, she has also had an enormous impact on a whole generation of M.F.A. students, who have been trained by her, acted with her, directed by her, and really mentored by her." Joining Augesen are A.C.T. core acting company members Anthony Fusco (Clybourne Park, November, The Caucasian Chalk Circle, Edward Albee's At Home at the Zoo at A.C.T.) andJack Willis (The Tosca Project, The Caucasian Chalk Circle, Rock 'n' Roll, Blood Knot at A.C.T.); A.C.T. favorite Andrew Polk (David Mamet'sNovember and Speed-the-Plow at A.C.T.); award-winning Canadian actor Kenneth Welsh (Grey Gardens on HBO and The Real Thing on Broadway); and Adam O'Byrne (Bloody Bloody Andrew Jackson at Center Theatre Group in Los Angeles and Henry IV, Part 1 and London Assurance at the Stratford Shakespeare Festival).
A celebrated playwright, actor, director, and political activist, Pinter has been a defining force in modern theater with such plays as The Caretaker, Betrayal, Celebration, The Birthday Party, and Old Times. In addition to winning the Nobel Prize for Literature in 2005, Pinter received a Tony Award (for The Homecoming in 1967) and lifetime achievement recognition with the David Cohen Prize, the Laurence Olivier Special Award, the World Leaders Award for "Creative Genius," and the European Theatre Award. His screenwriting was recognized with two Academy Award nominations, for Betrayal and The French Lieutenant's Woman.
The Homecoming

A.C.T. celebrates Nobel Prize–winning playwright Harold Pinter's legacy with his most sexually provocative play. A long-absent son and his attractive wife, Ruth, return to his contentious childhood home in London's East End. Caught in a grueling power struggle, father and sons vie for Ruth's attention and affection with outrageous consequences in a play that changed the face of 20th-century drama. Longtime Pinter collaborator and A.C.T. Artistic Director Carey Perloff directs this brilliant classic featuring René Augesen, who celebrates her tenth-anniversary season as part of the A.C.T. core acting company.

WHO: by Harold Pinter

Directed by Carey Perloff

Designed by Cliff Caruthers (sound designer), Alex Jaeger (costume designer), Alexander V. Nichols (lighting designer),Dan Ostling (scenic designer)

Featuring René Augesen* (Ruth), Anthony Fusco* (Teddy), Adam O'Byrne (Joey), Andrew Polk (Lenny), Kenneth Welsh (Sam), Jack Willis*(Max)

*A.C.T. core acting company member

WHERE: American Conservatory Theater, 415 Geary Street, San Francisco, CA 94108

WHEN: March 3–27, 2011

TICKETS: Tickets start from $10. (Current pricing $10–$85)

Tue.–Sat. at 8 p.m. (3/15 performance at 7 p.m.)

Wed., Sat. & Sun. at 2 p.m. (no matinee performances on 3/9)

Additional 7 p.m. performance on 3/13

InterACT Events

Low-Price Preview Performances……………………….   3/3 (8 p.m.), 3/4 (8 p.m.),

3/5 (2 p.m. & 8 p.m.), 3/8 (8 p.m.)

10UP: World-Class Theater at Happy-Hour Prices……… All performances 3/3–3/13

Audience Prologue with Carey Perloff……….………….  3/8 (5:30 p.m.)

Bring What You Can/Pay What You Wish………………..        3/10 (8 p.m.)

Theater on the Couch………………………………………         3/11 (8 p.m.)

Audience Exchanges……………………………………..  3/15 (7 p.m.), 3/23 (8 p.m.),

OUT with A.C.T………………………………………….    3/16 (8 p.m.)

Pursuing Pinter…………………………………………….   3/20 (2 p.m.)