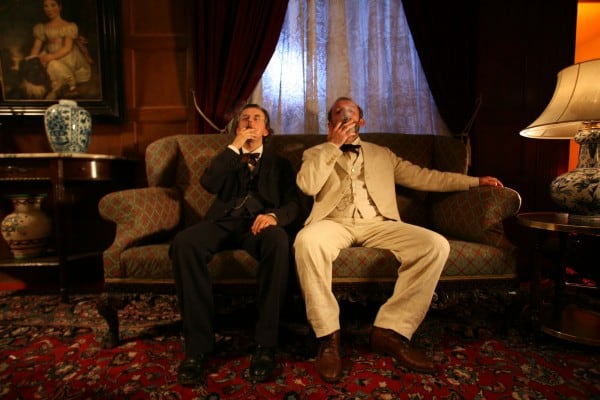 Ingrid Eggers and the GERMAN GEMS film festival is set to return to the Castro Theatre according to organizers.
After its overwhelmingly successful debut last winter, German Gems' one-day experiment grows to three days. For a weekend, the Castro Theatre, San Francisco's citadel of cinema, again becomes the home of new films from Germany, Austria and Switzerland.
A portion of the program will also be shown Saturday, January 22, in Point Arena, Mendocino County.
All films are in German with English subtitles. General admission is $11 and $9 for seniors and students; discounted packages are available; All Festival pass is $70, Opening Night film & party $20. Advance tickets will be available at brownpapertickets.com. For more information, please check www.germangems.com or go to the Castro calendar.
GERMAN GEMS is proud to feature a number of first-time filmmakers along with the work of familiar masters like Percy Adlon, whose new film MAHLER ON THE COUCH opens the festival. Adlon (SUGARBABY, BAGHDAD CAFÉ, SALMONBERRIES) and his son Felix collaborate on MAHLER ON THE COUCH, a narrative fiction about composer Gustav Mahler meeting Sigmund Freud. First features include a breathtaking film about river surfing in the middle of Munich (KEEP SURFING, dir. by Björn Richie Lob), a highly entertaining film about David Lynch and the Transcendental Meditation movement (DAVID WANTS TO FLY, dir. by David Sieveking), and a touching portrait of a veteran Swedish pilot near the age of eighty, who is pursuing his dream of building his own plane (CELEBRATION OF FLIGHT, dir. by Lara Juliette Sanders).
For traditionalists, add in the historical drama MOUNTAIN BLOOD, a debut feature by Philipp J. Pamer, in the long tradition of German mountain films. GERMAN GEMS illustrates the wide breadth of narratives and styles that define new German Cinema.
German Gems Film Festival

Spotlights the Best of New German Cinema

Friday, January 14, to Sunday, January 16, 2011
Castro Theatre, 429 Castro St, San Francisco, CA

Friday, January 14, Opening Night
7:00 pm – MAHLER ON THE COUCH (Mahler auf der Couch), directed by Percy and Felix Adlon, Germany/Austria, 2010, 97 min. In German with English subtitles.
In 1910, Gustav Mahler met Sigmund Freud. Paralyzed by despair over his cheating wife, the maestro sought the help of the father of psychoanalysis. Their famous four-hour encounter at a Dutch seaside resort is the framing device for this delightful, witty and artistically rigorous collaboration by the father and son team Percy (BAGDAD CAFÉ, SALMONBERRIES) and Felix Adlon. The film ties together Mahler's musical genius and his doomed love for his vivacious, young and creative wife Alma. With brilliant performances by Johannes Silberschneider (Mahler) and Barbara Romaner (Alma).

Saturday, January 15
2:00 pm – KEEP SURFING, directed by Björn Richie Lob, Germany, 2009, 91 min. In German with English subtitles.
Björn Richie Lob's exhilarating film debut took 10 years to complete. An avid river-surfer himself, he spent years convincing his friends to be on camera. The result is a kinetic and fast-paced documentary that will put you right on the Eisbach in the heart of Munich, the river-surfing mecca of the world. The film is a portrait of six surfers, among them river-surfing pioneer Dieter "The Eater," who still rides the waves every day with his two grown daughters, and Walter, "The Janitor of the Eisbach," a working-class philosopher who actually figured out how to keep the waves surging for 24 hours a day.

IN PERSON, Björn Richie Lob

4:30 pm – INTERN FOR LIFE (Ein Praktikant fürs Leben), directed by Ingo Rasper, Germany, 2010, 90 min. In German with English subtitles. NO SCREENERS.
Ben Kremer has been an intern for 3 years at the same company and hopes it will eventually lead to a paid position with them. So far he has heard nothing but empty promises. To make ends meet, he works as a bartender at night where he meets Jana, the receptionist of another big company. They hit it off and when he applies for a job at her company he again ends up as an intern. By accident though, Ben meets the boss of the company who offers him a job as his personal assistant, a promotion but also a step in the wrong direction. Now Ben has to pour drinks at parties, take care of his boss' tipsy wife and even of the young woman his boss is dating secretly. That woman turns out to be Jana…

Ingo Rasper (FASHION VICTIMS), former Goethe-Institut intern, will attend.

7:00 pm – THE ARCHITECT (Der Architekt), directed by Ina Weisse, Germany, 2008, 93 min. In German with English subtitles.
At an award ceremony, architect Georg Winter explains that an architect has the good fortune of walking through his ideas-a completed building can be measured by the original idea. Soon Georg himself is forced to take stock of the achievements and mistakes he has made in his personal life. THE ARCHITECT is an intense drama, in which the four members of the family travel to a mountain village to bury Georg's mother. Stranded in a snowstorm, the unexpected isolation throws new light on the past and present life of the parents and the two almost-adult children. Gripping performances by a stellar cast in this intense feature debut by Ina Weisse.

9:00 pm – SHE DESERVED IT (Sie hat es verdient), directed by Thomas Stiller, 2010, 89 min. In German with English subtitles.
"She deserved it," says 17-year-old Linda after she viciously killed one of her classmates. Thomas Stiller's film about young adults who, for no obvious reasons, turn into cold-blooded killers, is based on a true story. Susanne, protected, spoiled and loved by her parents, has a crush on one of her classmates who, however, "belongs" to Linda, the big-mouthed bully, who can't stand Susanne. Jealous and furious, Linda thinks up a plan of cold revenge. A very topical subject, the film contains graphic violence.

IN PERSON, Thomas Stiller

Sunday, January 16
2:00 pm – CELEBRATION OF FLIGHT, directed by Lara Juliette Sanders, Germany, 2009, 78 min. In English and German with English subtitles
CELEBRATION OF FLIGHT touchingly profiles Daniel Rundström, a pilot who flew sheiks and kings like Haille Selassie and the king of Yemen. At the age of 78, Rundström dreams of building his own plane on an island paradise in the Caribbean. He develops a unique friendship with a 16-year-old native boy from the Caribbean who shares his sacrifice of everything in order to develop and build their very own aircraft for a designer air show in Florida.

IN PERSON, Lara Juliette Sanders and Daniel Rundström

4:00 pm – DAVID WANTS TO FLY, directed by David Sieveking, Austria/Germany/ Switzerland, 2010, 95 min. In English, German, Hindi with English subtitles.
To meet his favorite director David Lynch, aspiring filmmaker David Sieveking flies to the United States to hear Lynch speak about his passion for Transcendental Meditation (TM). Sieveking is granted an interview with Lynch, who encourages him to try meditation for himself. It seems to work: he gets the funding for his film, but then his girlfriend moves away to New York. And as Sieveking delves deeper into TM's organization after the death of the Maharishi, he witnesses an ugly power struggle. Sieveking, director and protagonist, mixes personal discovery with investigative journalism and comes up with an odd, fully-engaging and wonderfully entertaining quest.

IN PERSON David Sieveking

6:30 pm – MOUNTAIN BLOOD (Bergblut), directed by Philipp J. Pamer, Germany, 2010, 122 min. In German with English subtitles.
In the tradition of German mountain films, Philipp Pamer's drama tells the story of love and war, loyalty and betrayal, suspicion and jealousy. In 1809, Katharina follows her husband from Augsburg to Tyrol to fight with Andreas Hofer for South Tyrol's independence against France and Bavaria. Katharina has to adjust to a harsh life on a small farm where she is not only an outsider but an outcast. Shot on location in South Tyrol, MOUNTAIN BLOOD is Philipp Pamer's impressive graduation film.

IN PERSON Katrin Reichwald (Editor), Sami Hammy (Composer)

9:00 pm DISENCHANTMENTS (Entzauberungen), directed by Andreas Pieper, Germany, 2010, 100 min. In German with English subtitles.
Aleks participates in an experiment about civil war in former Yugoslavia. Sarah tries to escape loneliness by investigating a murder. Bastian cannot accept his father's decision to die. Anna teaches German to a foreigner who only wants to dance with her. Shot in black and white, the four stories of Andreas Pieper's graduation film deal with questions of truth and honesty, power and change.

Preceded by ACHTUNG BERLIN's Short Feature Award 2010

For more information, visit www.germangems.com, or call (415) 695-0864, or purchase advance tickets through www.brownpapertickets.com.