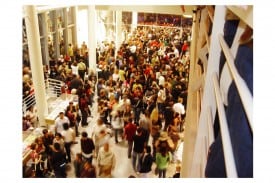 Yerba Buena Center for the Arts announced that they will hold the sixth edition of its signature triennial event, Bay Area Now, a celebration of local artists across an array of disciplines—from performance to visual art, film/video and community engagement.
Bay Area Now (BAN6) will follow an expanded format in 2011 centered around YBCA's commitment to exploring art and ideas and designed to encourage dialogue among artists across disciplines. BAN6 recognizes that the Bay Area is a thought leader in many aspects of contemporary culture: ideas and innovations that originate here often spread across the country and the globe. The Bay Area's unique concentration of intellectual curiosity and creative energy has fueled significant experimentation and innovation in a number of fields, including Environmentalism, Food, Futurism, Community Activism, Radical Identities, and Technology.
Beginning in February, YBCA will host a monthly conversation with participating BAN6 artists around a particular aspect of each of these six topics. Invited speakers will present at each event, but the core of the dialogue will be a group of about 30-35 Bay Area artists. These conversations will be free and open to the public and, in addition, will be recorded and podcast. These monthly events aim to convene artists from all fields and to give them an opportunity to converse around current Bay Area ideas and trends.
In the second half of 2011, beginning in July and running through October, BAN6 will spotlight the diverse set of performances, films, and visual art exhibitions produced by the participating artists who have been participating in the conversations. While there is no expectation that artists will produce work directly related to the six main themes they will have been discussing, YBCA's intent is that the conversations enlarge the context for audiences to appreciate the work of the BAN6 artists. YBCA will also host a series of public programs designed to continue the conversations from the first half of the year.
"A spirit of experimentation and innovation is at the heart of the Bay Area's identity, and it is at the heart of YBCA, as well," says Executive Director Kenneth Foster. "BAN6 aims to assert YBCA's role as a gathering place for art and ideas—connecting some of the area's most powerful and provocative thinkers with similarly engaged artists. Through a series of dialogues, exhibitions, films, and performances, YBCA seeks to uncover and share what is most innovative and timely in the world of art and ideas here in the Bay Area."
In its 2010_11 season YBCA continues to present a diverse group of art-makers through the lens of four Big Ideas: ENCOUNTER: Engaging the social context; SOAR: The search for meaning; REFLECT: Considering the personal; and DARE: Innovations in art, action, audience. These ideas, which encompass art from all disciplines, are designed to focus an investigation of contemporary art and its relationship to the larger world.
BAN6 CONVERSATIONS

"From Produce to Production: New Traditions in Bay Area Food Culture"
February 19, 2011
In the Bay Area, the idea of "preservation" is more than just canned goods and dried fruits. Our cultural traditions and culinary practices intersect with issues of politics, health, the environment, and community outreach. This event sets out to explore the new practices which are changing the way we grow, prepare, and shop for food. YBCA invites local food activists and luminaries Bryant Terry and Novella Carpenter to participate in this conversation.

"Upward Spirals: New Economic Models for a Thrivable Future"
March 5, 2011
Life coach and organization consultant Jean Russell coined the phrase "thrivable future," referring to the importance of reprioritizing environmental sustainability and the good of individuals over and above the capitalist model of mindless consumption. This event will discuss a variety of new economic models that promise the possibility of more equitable and meaningful networks of exchange.

"From Grassroots to Netroots"
April 2, 2011
This event aims to explore and predict our future political topography by examining the Bay Area's turbulent present and past. From territorial battles between Spanish soldiers and the indigenous Ohlone in the late-18th century to simmering tensions around gentrification and marriage equality today, San Francisco has demonstrated its position as a hub of progressive consciousness. What's more, many political and cultural issues within the Bay Area have percolated into virtually every national jurisdiction. Unlike any other American city, the Bay Area has become America's default proving ground for the most hot-button and divisive issues.

"The Customizable Body: The Present/Future of Identity"
April 23, 2011
The Bay Area is teeming with alternative lifestyles and radical identities. From vegan marxist gamers to Berkeley hippy millionaires to polyamorous decompressed burners, we keep it weird for the rest of the country. What is in the local water that promotes radical identities and alternative lifestyles? How are social networking tools and second life changing the way we conceive of our identities? YBCA Executive Director Ken Foster leads a conversation with trans-cultural activists and second life experts on the nature of identity, flesh, and the virtual.

"Engaging a Billion People: The Birth of a New Green"
May 7, 2011
Is the environmentalist movement as we know it outdated? Should environmental goals be linked with other broad social and economic goals? How can each of us change the way we behave in order to reach a harmonious relationship with the natural living world? This conversation will examine the new ideas from Bay Area leaders which are shaping the direction of the green revolution.

"Hype, Hope or Hell: Cyber-Skepticism and Technotopia"
June 11, 2011
It's impossible to discuss the extraordinary qualities of the Bay Area without including digital technology. It now permeates every aspect of our public and private lives. But as the dialogue becomes increasingly fanatical and we race to embrace all things new, there are concerns that we may be eliminating our history and possibly even our humanity. This conversation seeks to outline the different sides of the debate as it plays out here in the Bay Area, one of the world's centers for technological innovation.

The following is a partial list of participating artists organized by discipline.

PERFORMING ARTS

Chris Brown, composer, pianist, and electronic musician, teaches electronic music and composition at Mills College in Oakland, where he is Co-Director of the Center for Contemporary Music.

Carla Kihlstedt, originally from Oakland, violinist, vocalist, multi-instrumentalist, and a founding member of Tin hat Trio will perform the San Francisco premiere of her 9 song cycle, Necessary Monster.

Maria Márquez, jazz vocalist originally from Caracas, Venezuela, but based in the Bay Area since the early 80s, will perform songs from her forthcoming CD, backed by a 10-piece orchestra & special guests.

Hafez Modirzadeh, saxophonist/theorist and Professor of World Cultures in Music at San Francisco State University, credited with pioneering the "chromodal" concept in music, a cross-cultural approach developed from American jazz and Iranian Dastgah heritages. He will perform with ETHEL, a New York-based string quartet performing music from the last four decades.

Marc Bamuthi Joseph, educator, performer, and the artistic director of The Living Word Project, a theater company dedicated to the aesthetics of post-hip hop performance, will perform a new work.

VISUAL ARTS

Mauricio Ancalmo is an installation artist who uses discarded objects, such as sewing machines, word processors, and turntables, in conjunction with 16mm film loops to create camera-less films.

Amy Balkin utilizes critique and cross-disciplinary research in projects that consider how humans create, interact with, and impact the social and material landscapes they inhabit.

Tammy Rae Carland explores questions of memory, affect and objecthood in photography, experimental video and limited-edition artist publications.

Chris Fraser creates real-time light installations, investigating the aesthetic consequences of small actions

David Huffman is a figurative painter known for his intricate landscapes, futuristic dreamscapes, and humor.

Suzanne Husky's sculptures and installations are investigations into specific human gestures for connecting deeply with nature.

Tony Labat is a performance and video installation artist whose work frequently comments on displacement and marginalization.

Sean McFarland is a photographer who uses experimental, labor-intensive processes to create otherworldly images of nature.

Robert Minervini is a painter working at the intersection of nature and culture, drawing from 19th century heroic landscape painting and contemporary urban culture.

Ranu Mukherjee is a multi-disciplinary artist making mesmerizing hybrid films, drawings, and prints with a cosmopolitan bent.

Brion Nuda-Rosch is a multi-media artist who works mostly with found objects and images, questioning his own relationship to something that exists in the world already.

Allison Smith works in sculpture, installation, and interactive public events invoking the aesthetics of the American colonial period

Chris Sollars creates mixed media video installations that revolve around the reclamation and subversion of public space through urban interventions.

Sam Strand & Kirby McKenzie are conceptual artists. Together they co-founded Rio Babe International, an art brand intended as an experiment in cultural collision.

Weston Teruya, works primarily in drawing and sculpture He reconfigures the arrangements of images and objects from the built environment to examine how they shape social relationship in order to imagine the potential for their transformation.

Ben Venom creates screenprints, quilts, and other objects that comment on the culture of the American South.

Richard T. Walker constructs video pieces with spoken dialogue, text, and original music compositions that investigate the relationship between man and the natural environment.