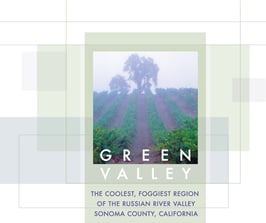 Iron Horse Vineyards announced that Ted Turner will be the keynote speaker at the fifth annual Celebrate Earth Day with Green Valley awareness and fundraising event to be held at Iron Horse Vineyards Sunday April 17, 2011.
There will be a walk around food and wine tasting, showcasing the spring releases from the aptly named Green Valley, represented by DeLoach Vineyards, Dutton-Goldfield, Freeman Vineyard & Winery, Hartford Family Winery, Iron Horse, Marimar Estate as well as Sequana, and others who source Chardonnay and Pinot Noir from the region, and because Ted Turner owns 50,000 head of bison across 12 ranches, the main food station is sure to be grilled buffalo.
Each year this "Eat, Drink and Be Green" event has highlighted a different key world issue. Last year, Iron Horse partnered with National Geographic to focus on ocean conservation, bringing together chefs who fish and chefs who surf with the wines of Green Valley to call attention to the pivotal role the ocean plays in our climate, both locally and globally.
Iron Horse followed up with a special Sparkling Wine called Ocean Reserve, a limited production, vintage Blanc de Blanc, to help restore the health and abundance of the ocean. $4 of every bottled purchased goes to National Geographic's Ocean Initiative, establishing marine protected areas and supporting sustainable fishing practices around the globe. Launched in September, the winery estimates the full 1000 cases of the first vintage will be sold out by New Year's with a second release anticipated in June.
The National Geographic Society has been a partner in Celebrate Earth Day with Green Valley since the inception and is on board for 2011.
In 2009, in keeping with the economic climate, the event theme was "Low Key, Low Impact" with a one day exhibit in our bottling cellar of re-cycled art, made from re-claimed, re-purposed, re-imagined materials along with a Sparkling Wine and exotic salts tasting. The year prior, National Geographic Chairman Gil Grosvenor was guest speaker; the Tesla roadster was on display and there was dancing to a solar powered reggae band. The main attraction in 2007 was a raffle for $4,000 in free energy from PG&E.
"As you might imagine, it is impossible to tie Ted Turner down to just one concern. He wants to tackle them all and has chosen as his subject nothing less than The Future," says Joy Sterling, partner and CEO of Iron Horse, her family's winery.
Ted Turner is perhaps best known as the founder of CNN and for his billion dollar gift to the United Nations. He is the largest land holder in North America with approximately two million acres. He has five active foundations addressing some of the world's most pressing issues – from improving air and water quality and developing sustainable energy solutions to his Captain Planet Foundation, which educates children on how they can make a positive impact and the Nuclear Threat Initiative launched in 2001, which works to reduce nuclear dangers. Ted won the America's Cup in 1977. He drives a Prius with a bumper sticker that says "Save the Humans."
Green Valley lies entirely within the Russian River Valley. Just 13 miles from the coast, it is distinguished as the coolest, foggiest part of the Russian River area. Most people grasp it as a sub-appellation," says Sterling, "but it is its own federally recognized American Viticultural Area (AVA)", known for clean, crisp, bright, focused Chardonnays and Pinot Noirs.
Iron Horse is a pioneer of the Green Valley appellation, best known for its Sparkling wines that have been served at the White House for five consecutive presidential administrations, beginning with the historic Reagan-Gorbachev Summit Meetings in 1985, which ended the Cold War.
General Admission tickets will be $65. A one hour VIP meet-and-greet with Ted, limited to 100 guests, with Iron Horse Sparkling Wines and sustainably farmed California caviar, is $300. Tax-deductible contributions go to The Green Valley Foundation, a 501 c (3) non-profit organization. Net proceeds will benefit the Captain Planet Foundation.