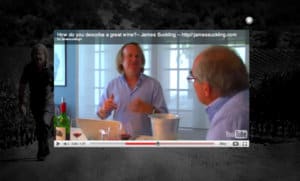 James Suckling, the respected journalist and wine critic who spent close to 30 years as Wine Spectator's European bureau chief, has partnered with Hollywood producer, director, and writer James Orr to launch JamesSuckling.com, an all-access pass to the wine world.
The new site which launches in December (an exact date was not provided) will focus on "delivering wine information in a cutting-edge style—relying on high-quality video, with Suckling giving subscribers a visual guide to wine tasting that goes beyond simple ratings to include tasting notes, vintner interviews, and rare access to wineries around the world."
With Orr behind the camera, James Suckling will bring his wine knowledge to life in exclusive video content, bringing viewers a firsthand account on all aspects of the wine industry.
The focus of the website we're told is to report on many of the best wines of the world through tastings in vineyards and in cellars with winemakers, vintners, and owners, which allows viewers to see through their own eyes the place, the people, and the rating process. The site will reportedly deliver viewers a new video every day of the year.
"The launch of JamesSuckling.com fills a niche that has been missing in the wine media landscape—merging new media with Suckling's extensive wine knowledge and industry contacts into an approachable format so subscribers can gain access to wine information like never before," Orr says. "The site focuses entirely on outstanding quality wines, regardless of price or origin."
The site is a combination of free and paid content, with both subscribers and non-subscribers having access to written and video posts. Subscribers will have the ability to view premium videos, including exclusive wine ratings, tastings, interviews, and retail and winery visits. Subscriptions to the site are $14.99 per month or $143.90 per year. The site will air at least one new video everyday, 365 days a year. Non-subscribers will be able to read blogs, join discussions on the forum, and watch a selection of videos.
Teaser Video (aka "You're Where?")