The show must go on. But the actor is mute, the director is crying, the dancer is lazy – and the composer is dead! What to do then? If you're the Berkeley Repertory Theatre then you add more performances and hope that the mystery will eventually be solved.
Indeed, the The Composer lives on!
Today, Berkeley Rep announced irreverent holiday show – Lemony Snicket's The Composer is Dead (see Theater Review: All hell breaks loose at Berkeley Rep's 'Composer is Dead')– has proven so popular that the Tony Award-winning nonprofit has added performances in January. Now this unusual and silly new show will continue entertaining local audiences through January 16.
Families in particular have reportedly embraced The Composer, so Berkeley Rep has added matinees on the final weekend: tickets are now on sale for 2 PM performances on January 15 and 16.
Lemony Snicket's The Composer is Dead features text by bestselling author Lemony Snicket and a score by (living) composer Nathaniel Stookey. It's a new theatrical adaptation of this wildly popular piece.
Tony Taccone's raucous production unleashes laughs through classic clowning and plenty of uppity puppets from the pioneering Phantom Limb Company (Jessica Grindstaff and Erik Sanko, co-artistic directors). When Geoff Hoyle pops up as an outlandish inspector bent on solving a murderous riddle, the show crescendos into comic absurdity. To the delight of children and adults alike, The Composer is Dead comes alive on stage.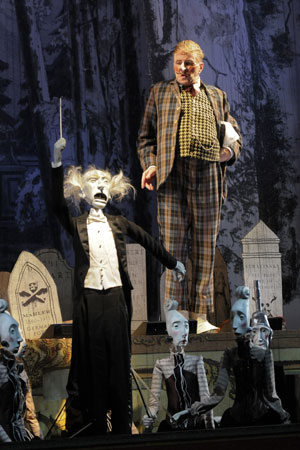 LEMONY SNICKET'S THE COMPOSER IS DEAD

WHO: Written by Lemony Snicket

Music by Nathaniel Stookey

Conceived for the stage by Lemony Snicket, Phantom Limb (Jessica Grindstaff and Erik Sanko, co-artistic directors), Tony Taccone, and Geoff Hoyle

Directed by Tony Taccone

WHAT: Lemony Snicket's The Composer is Dead, a deliciously silly world premiere for the holidays

WHERE: Berkeley Repertory Theatre
Roda Theatre, 2015 Addison Street @ Shattuck, Berkeley, CA 94704

WHEN: Now playing through January 16, 2011

Tuesdays and Fridays @ 8:00 PM
Wednesdays @ 7:00 PM
Thursdays @ 2:00 PM & 8:00 PM
Saturdays @ 2:00 PM & 8:00 PM
Sundays @ 2:00 PM & 7:00 PM

Special 4 PM matinee on Christmas Eve
No matinees during previews or on 12/2, 12/11, 12/16 & 12/30
No performances on 12/25, 1/7, 1/11, 1/12, 1/13, or 1/14

Special Events:

Pre-show docent talks: Tuesdays 12/21, 12/28 & 1/4 and Thursdays 12/23, 12/30 & 1/6 @ 7:00 PM

Post-play discussion: Tuesday 12/21 @ 8:00 PM

Free tastings: Saturday 1/8 (Semifreddi's) @ 7:00 PM and Sunday 1/9 (Almare Gelato) @ 6:00 PM

HOW MUCH:  $17 – $73

Section B    Section A      Premium

……………….. Tue 8 PM / Wed 7 PM / Thu 2 PM / Sat 2 PM … $34               $46             $54

……………….. Thu 8 PM / Sun 2 PM / Sun 7 PM………………… $39               $53             $59

……………….. Friday @ 4 PM & 8 PM……………………………… $47               $59             $65

……………….. Saturday @ 8 PM…………………………………….. $54               $65             $73

Discounts: • Half-price tickets available for anyone under 30 years of age

• $10 discount for students and seniors one hour before curtain