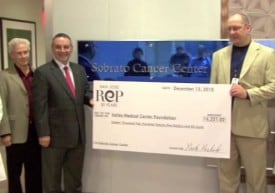 San Jose, CA — It's nice to see one nonprofit helping another one out!
During the Secret Order, the San Jose Repertory Theatre took a collection for the VMC Foundation and its effort to provide cancer screenings to low-income women. The campaign fit the theme of the play because of its theme around finding a cure for Cancer.
"When we realized it was the opportunity to raise funds for low income members of our community have access to cancer screenings we thought that was exactly what we wanted to support," said Rick Lombardo, artistic director for the Rep. "The actors and the artists got very excited."
The San Jose Rep announced that patrons stepped up and contributed more than $16,000 to the cause. Before each performance the Rep announced the collection and afterward, the actors and volunteers held collection bins for patrons to slip money into.
Last week, the Rep's artistic director Rick Lombardo and managing director Nick Nichols from the Rep presented the check to the VMC Foundation's Chris Wilder.