San Francisco Opera today announced details of Heart of a Soldier, a new opera by composer Christopher Theofanidis with a libretto by Donna DiNovelli, starring baritone Thomas Hampson, tenor William Burden and soprano Melody Moore.
Commissioned by San Francisco Opera, Heart of a Soldier is based on the critically acclaimed non-fiction book of the same name by Pulitzer Prize-winning journalist James B. Stewart and the life stories of Susan Rescorla, Rick Rescorla and Daniel J. Hill.
The announcement was made at a press conference by San Francisco Opera General Director David Gockley and members of the opera's creative team, including Christopher Theofanidis, Donna DiNovelli, Patrick Summers, Francesca Zambello, James B. Stewart and Susan Rescorla.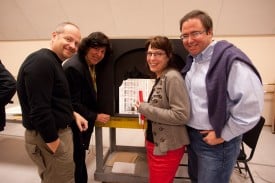 Heart of a Soldier will premiere on Saturday, September 10, 2011—the eve of the tenth anniversary of the World Trade Center attacks—as part of the Company's 2011–12 repertory season.  Six additional performances will be presented through September 30 at the historic War Memorial Opera House.  San Francisco Opera Artistic Adviser Francesca Zambello will direct this world premiere production and San Francisco Opera Principal Guest Conductor Patrick Summers will lead the San Francisco Opera Orchestra and Chorus.  The production team includes set designer Peter J. Davison, costume designer Jess Goldstein, lighting designer Mark McCullough, projection designer S. Katy Tucker, movement director Rick Sordelet and company chorus director Ian Robertson.
The world premiere of Heart of a Soldier is made possible, in part, by Company Sponsors John A. and Cynthia Fry Gunn. Additional support provided by an award from the National Endowment for the Arts.
A story of war, love, friendship and heroism, Heart of a Soldier reflects on the extraordinary true story of Rick Rescorla, a man trained to be a consummate warrior who gave up his own life saving thousands in the attacks on September 11, 2001.  Inspired by the American soldiers he saw as a boy in Cornwall, England preparing to launch the Normandy invasion on what became D-Day, and his adult friendship with American fighting man Dan Hill, whom he meets in war-torn Rhodesia, Rescorla emigrates to the United States in the early 1960s to become a soldier and a "Yank," ultimately becoming a decorated platoon leader during the Vietnam War.
On September 11, 2001, as head of security for Morgan Stanley at Two World Trade Center, Rescorla is thrown to the floor when United Airlines Flight 175 crashes into the South Tower.  Amidst the unimaginable chaos that ensues, Rescorla uses his commanding presence and booming voice to literally sing his colleagues down smoke-filled stairs and out of the building.  While he successfully evacuates all of his company's 2,700 employees from the South Tower before it collapses, Rescorla makes the ultimate sacrifice when he goes back into the building to search for stragglers.  Heart of a Soldier is an opera about a hero who disdains that very term, and about his deep friendship with an American soldier, so unlike him in approach and yet so similar in dedication and bravery.
"For nearly a decade I have been hoping to commission an opera from the brilliantly talented Christopher Theofanidis," stated David Gockley.  "When there finally was a window of opportunity at Houston Grand Opera, I changed jobs and preliminary plans for Heart of a Soldier had to be put on hold.  Once in San Francisco, I felt the opportunity to commission this work in observation of the tenth anniversary of the tragic events of 9/11—and the commitment of Tom Hampson to create the lead role—gave the project critical mass.  On the surface the piece is about what it takes to be a true hero, but what will drive the music is the passion, the suspense and the ultimate tragedy."
Heart of a Soldier features a traditional orchestra with added elements including electric guitar and synthesizer, as well as a large choral presence.  The score evokes contemporary idioms of American classical music along with Cornish ballads and 20th-century pop-rock influences.  According to Christopher Theofanidis:  "The tone is lyrical and has a great deal of humor woven throughout, which is part of the humanity these characters bring to the story.  There are hints of music from very different circumstances here that run below the surface—music from the 1940s, rock of the 1960s, Cornish folksong and Islamic calls to prayer (Dan Hill converts to Islam and goes to fight for the U.S. in Afghanistan).  However, the music stylistically strives to integrate and fuse these elements into the work."
Theofanidis continues:  "Donna and I have met with Dan Hill and Susan Rescorla (Rick Rescorla's widow) and we are honored to be involved with this project.  The fact that it is a true story has made it very personal for both of us.  This is fundamentally a deeply humanistic work, with an emphasis on Rick and Dan coming to understand who they are as people and then maximizing their potential.  The essence of this comes from a sense of service to others and duty—the heart of a soldier.  This nobility of spirit is transformed in the arc of the opera from Vietnam, where it kept Rick and Dan's troops together, to September 11th, when Rick went back into a building he knew was going to fall.  Another theme resonating throughout the opera is how we honor and remember the dead, how we incorporate them into our own hearts and come to grips with great loss."
"When I read James Stewart's true story of an unsung hero of 9/11, its epic themes of a warrior's code of honor, intense bonds of loyalty, late-found love and overwhelming tragedy struck me as extremely theatrical," said Francesca Zambello.  "It also takes up ideas and ideals, morals and morality in the context of modern American lives.  I have always wanted to create an opera based on a real life story and was very gratified when David Gockley agreed to develop this work with me."
Ancillary Events
In conjunction with the Heart of a Soldier world premiere, San Francisco Opera will offer an array of educational and enrichment programs both prior to and concurrently with the presentation of the new opera.  Recognizing the sensitivity of the subject matter, initial plans call for informative panel discussions and lectures with the opera's artistic team about the creation of the work in addition to a broader discussion with members of the community's emergency response teams, veterans of foreign wars, and religious and civic leaders.
Tickets & Information

Heart of a Soldier will be presented as part of San Francisco Opera's 2011-12 Season in seven performances on September 10, 13, 18, 21, 24, 27 and 30, 2011 at the War Memorial Opera House.  Complete details of San Francisco Opera's 2011–12 Season will be announced in January 2011.  Subscription tickets for the 2011–12 Season will go on sale to San Francisco Opera subscribers beginning January 2011; single tickets will go on sale in July 2011.