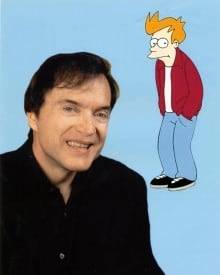 Voicetrax San Francisco announced today that voice actor extraordinaire, the remarkable Billy West will be a featured guest next month on Inside the Voice Actor's Studio. West has voiced some of the most iconic voices in entertainment history such as Bugs Bunny and Elmer Fudd (Space Jam,) Ren and Stimpy (Ren and Stimpy show,) both Fry and Farnsworth (Futurama) and the Honey Nut Cheerio Bee.
This Q&A will feature video and audio clips and will tell West's climbed to the top of the voice-over world, his current views on the industry, and much more.
"It's an honor and a privilege to have Billy West here," said Voicetrax Founder Samantha Paris. "We are very fortunate that Billy was able to find time to present this workshop at Voicetrax and share his experiences and passion with us. I encourage everyone who's ever had the slightest curiosity or interest in voice acting to attend this event. This is one night of incredible fun you will not want to miss."
Billy West's career spans over 20 years in the entertainment industry. Born in Detroit, Michigan in 1952, he got his first job during his college days at MIT's college radio station WMBR. He later moved to New York and spent 16 years working for shock jock radio host Howard Stern, voicing several bizarre send-ups and performing in the obscure world of unscripted radio comedy. Since then he has worked for networks such as Nickelodeon and has voiced the starring roles for "Doug" and the cult hit "Ren and Stimpy." His work also includes the voices of both Fry and Farnsworth in "Futurama," Bugs Bunny and Elmer Fudd in the animated movie "Space Jam" and as the Honey Nut Cheerio Bee. West continues doing hundreds of cartoon characters to date.
As well as a voice actor, West is also a guitarist and singer-songwriter for his band "Billy West and The Grief Counselors."
Inside the Voice Actor's Studio

Friday, January 7th at 7pm at Voicetrax (1207 D Bridgeway, Sausalito, 94965.) Tickets are $100 and reservations are required. For more information or to make a reservation call (415) 331 – 8800 or visit www.voicetraxsf.com
Pictured: Billy West, Voice of Fry in "Futurama"
Photo courtesy of Voicetrax