The San Francisco General Hospital Foundation (SFGHF) has announced the 14 artists who have created the 2011 series of Hearts in San Francisco – a public art exhibition in conjunction with the annual "Heroes & Hearts Luncheon."
Heart sculptures come in "table top" and "large" editions. The six "table top" hearts are designed by Linda Adreveno, Joan élan Davis, May M. Dris, Mark Paron, Melanie Piech and Julian Tomchin. The eight "large" heart artists are Julia di Biasi, Lawrence Noble, Hilary Pecis, Precita Eyes Mural Arts Association, Andrew Schoultz, Monika Steiner, Jeremy Sutton and Daniel Tousignant.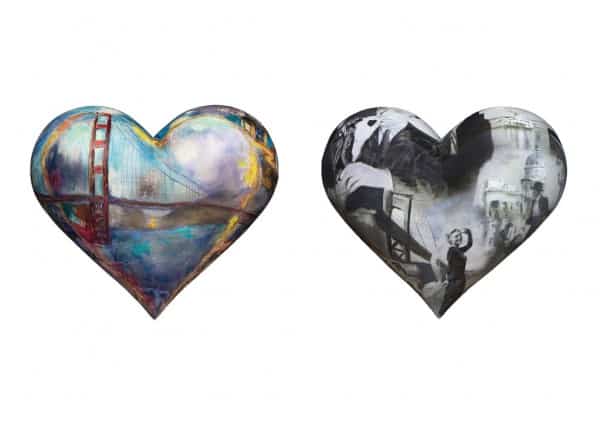 "Every year we're delighted to showcase the diverse talent of the Bay Area art scene, and our tremendous roster of artists for the 2011 series of Hearts in San Francisco is no exception," says SFGHF Board President Judy Guggenhime. "The works of these artists reflect the creativity that thrives in our communities. We're honored by their contribution to not only the Foundation, but also to the people of San Francisco."
The six "table top" hearts (standing 14.23″ x 17″ wide and 8″ thick 3D) will be unveiled at Macy's Union Square on Thursday, January 27, 2011. They will remain on public display until they are auctioned at the Sixth Annual "Heroes & Hearts Luncheon" in Union Square on Thursday, February 10, 2011 at 11:30 a.m. The eight "large" hearts (standing 5′ tall x 5'9″ wide and 3'3″ thick 3D) will be on display in Union Square and select city-wide locations after the Luncheon and through September 2011.
The Hearts in San Francisco artworks debuted in Union Square on Valentine's Day 2004 and, combined with the Heroes & Hearts benefits (2006, 2007, 2008, 2009 & 2010), have raised nearly $6 million for San Francisco General Hospital Foundation.
The "Heroes & Hearts Luncheon" is a benefit for SFGHF to celebrate local heroes who inspire others through exceptional community service. The 2011 Heroes will be announced in early January and honored at the luncheon on February 10, 2011.
Tickets for the "Heroes & Hearts Luncheon" range in price from $300 for single seats to $5,000 for event sponsorship. To purchase tickets or to find out more about sponsorship, call 415-206-4478 or visit sfghf.net/hh/index.html. Event sponsors as of December 14, 2010 include AT&T, Ashlyn Dyer Foundation, Bank of America, Intel, McKesson, Visa, Wells Fargo, Cummins West, Macy's, United Health Group, and Webcor Builders. Media sponsors include KGO Newstalk 810AM, NBC Bay Area, San Francisco Business Times, San Francisco magazine and Where magazine.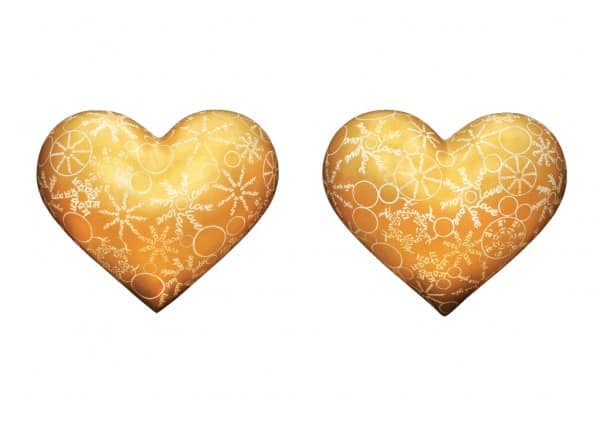 LINDA ADREVENO – Linda Adreveno has been creating art for several years and has participated in many exhibitions in the Bay Area as well as other parts of the country.  A native San Franciscan, she's inspired by the many cultures and communities that make up The City.  At her studio in Hunters Point she creates pieces using elements that people can easily relate to.  It's one of the reasons text often finds its way into her work.
JULIA DI BIASI – Julia di Biasi is a mixed-media San Francisco Bay Area artist, with her main studio in San Rafael, Calif.  She creates an eclectic array of work utilizing a variety of materials and treasures, including handmade and hand-painted one-of-a-kind ceramic tiles, mosaic, glass, mirror, textiles, altered art and found objects.  Her bold, colorful designs are both artistic and functional.  Di Biasi is also the founder of my Atlantis, LLC – a philanthropic organization focused on charitable public art.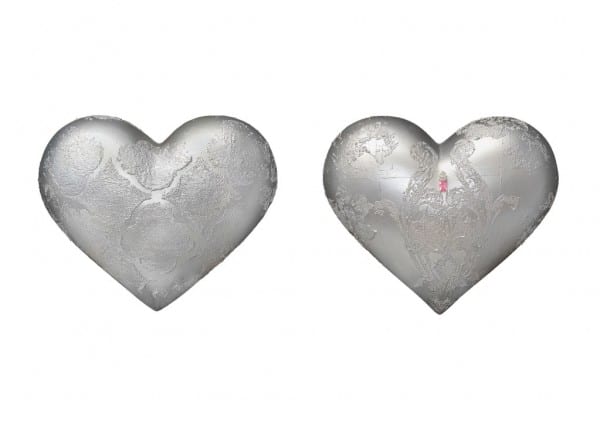 JOAN ÉLAN DAVIS – Joan élan Davis is an established artist with over 30 national museum and gallery exhibitions and numerous solo exhibitions. Her paintings have been included in good company with artists such as Bartlett, Cassat, Krasner, Matisse and Tamayo to name a few. In addition, her paintings are included in private and corporate collections throughout the world.  Formally trained in New York and Connecticut, Davis now resides in San Francisco and Lake Tahoe where her surroundings provide inspiration for many of her varying series.  She currently shows in New York City, Los Angeles, Palm Desert, Lake Tahoe and San Francisco as well as internationally.  She works out of two private studios in Lake Tahoe and San Francisco and exhibits at her own art showroom at the San Francisco Design Center.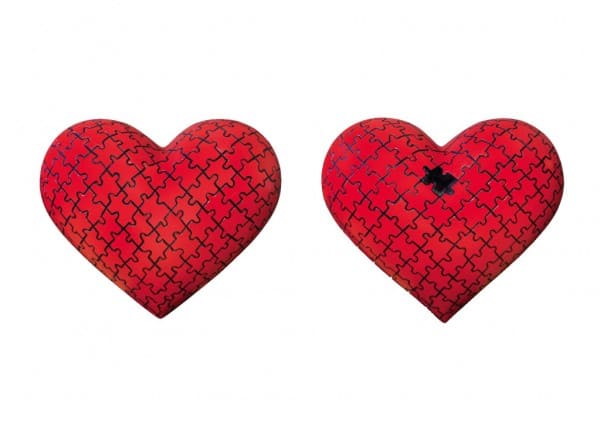 MAY M. DRIS – Originally from the Philippines, May M. Dris moved to the San Francisco Bay Area and began working as a graphic designer for Sanrio. Today she works for herself in freelance graphic design.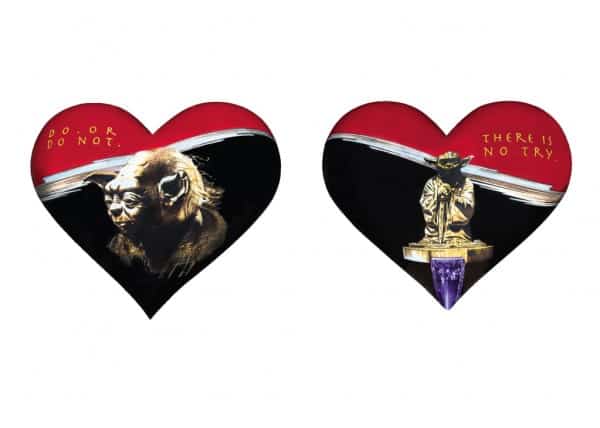 LAWRENCE NOBLE – Lawrence Noble, owner of Noble Studio, a 38  year-old company that specializes in  design and sculpture, resides in  Crestline, CA. His work includes the "California Firefighters' Memorial", located in Capitol Park in Sacramento, as well as many other Firefighter and Peace Officer Monuments  and Memorials statewide. The iconic "Yoda Fountain" and historic life-size bronzes of Eadweard  Muybridge, Willis O'Brien and  Philo T. Farnsworth grace the grounds of the Presidio of San Francisco and his 27′ tall "Spirit of Achievement" Monument stands in  Chino, CA. Noble's work has been featured in "American Artist" twice, covering both his illustration and sculpture career. He recently completed a life-size bronze statue of Indiana Jones for Lucasfilm and is currently working on Hampton, Virginia's 400th Anniversary Monument. Noble is a Fellow of the National Sculpture Society.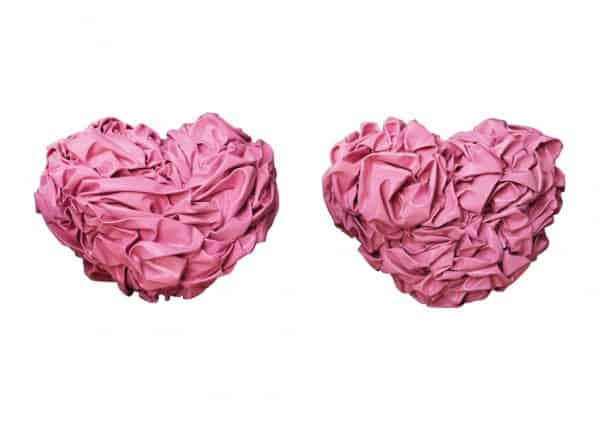 MARK PARON – Originally from Ann Arbor, Michigan, Mark Paron has lived in San Francisco since 1984.   His sculpture is abstract and conceptual – Inspired by micro biotic, organic and synthetic objects he encounters daily.  Paron works with a range of materials including fabric, metal, plastics, leather and found objects.  In 1995, he was selected for membership into the San Francisco Art Institute Artists' Committee.  His work is available at the San Francisco Museum of Modern Art Artist Gallery, The Reaves Gallery (New York) and the Toomey-Tourrell Gallery (San Francisco).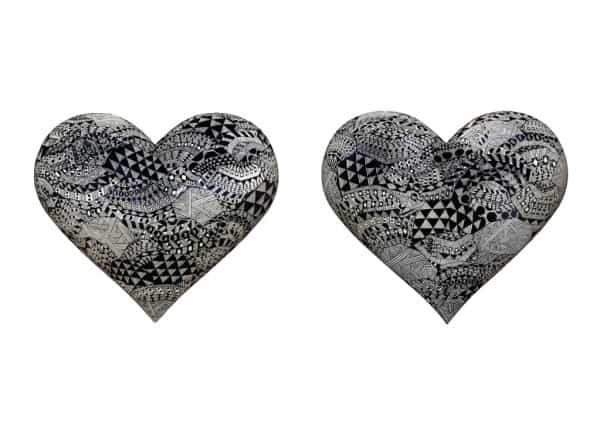 HILARY PECIS – A native Californian, Hilary Pecis lives and works in San Francisco, where she is a recent MFA graduate from California College of Fine Arts.  Pecis' work is a depiction of landscapes  influenced by Internet, television and other media sources.  With an interest and focus on the  interchangeability of images and the capability to perceive and ignore them, she draws attention to how we  are conditioned by the media's overwhelming supply of information.  She's the recent recipient of San Francisco Weekly's Mastermind Grant and San Francisco Arts Commission's Murphy and Cadogan Fellowship.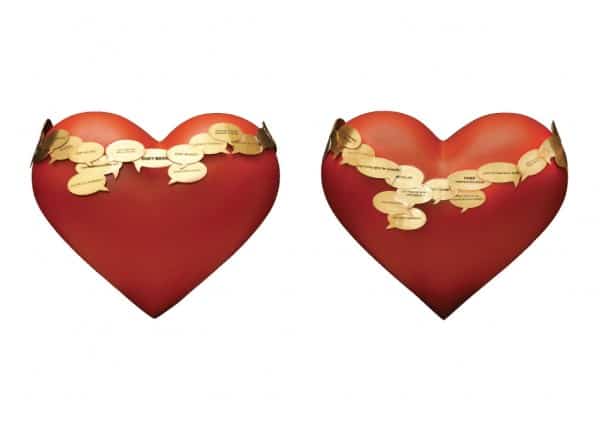 MELANIE PIECH – Born and raised in Los Angeles, Melanie Piech is a California native who has lived in  San Francisco for 20 years.  Originally a lawyer and partner at a major San Francisco law firm, motherhood and time away from work helped her realize her passion for creating art.  Currently a student at the San Francisco Art Institute (SFAI), Piech is studying sculpture and furniture making, using primarily wood and metal.   In March 2009, a chair she designed and built was featured at the Diego Rivera Gallery at SFAI.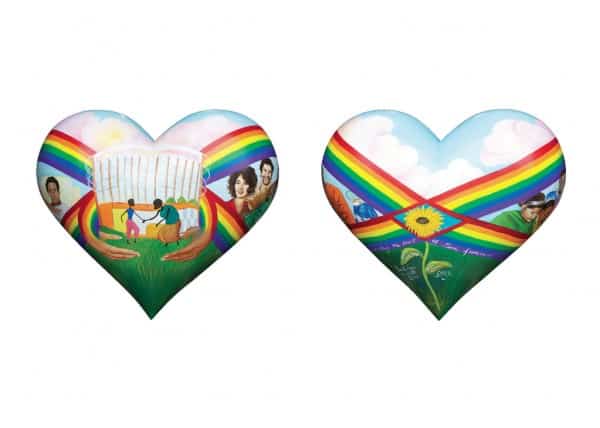 PRECITA EYES MURAL ARTS ASSOCIATION — Established in 1977, Precita Eyes Mural Arts  Association is located in San Francisco's Mission District and is a multipurpose community-based arts  organization that has played an integral role in the City's cultural heritage and arts education. One of only three community mural centers in the United States, the organization sponsors and implements ongoing mural projects throughout the Bay Area and internationally. In addition, it has a direct impact on arts education in the San Francisco Mission District by offering four weekly art classes for children and youth (18 months through 19 years) and other classes for adults. These classes and community mural projects enable children and youth to develop their individuality and confidence through creative activities and to experience unifying, positive social interaction through collaboration.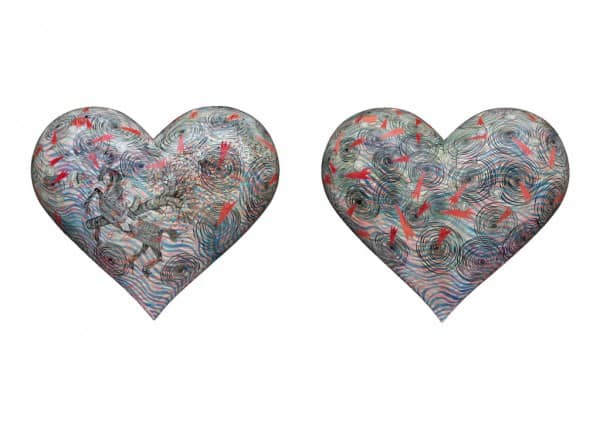 ANDREW SCHOULTZ – Originally from Milwaukee, Wisconsin, Andrew Schoultz now resides in San   Francisco where he earned his bachelor of fine arts degree from the  Academy of Art University.  His work combines meticulous rendering with imagery both familiar and fantastical.  Schoultz draws inspiration from current political and environmental events to create themes of chaos and destruction that take form in large-scale installations, murals, paintings, sculptures and works on paper.  He currently has work in the permanent collection at SFMOMA and is represented by Marx & Zavattero Gallery.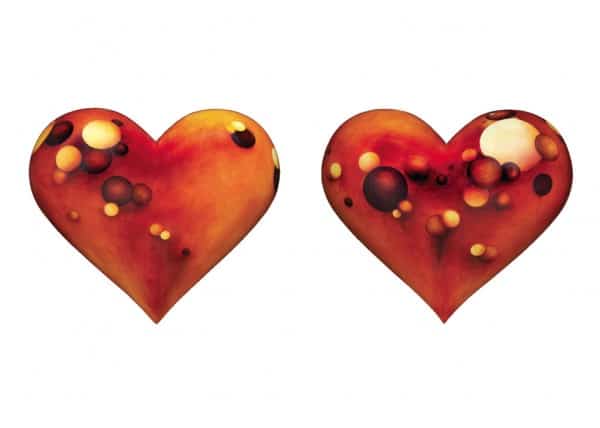 MONIKA STEINER – Born in Switzerland, Monika Steiner currently resides in the San Francisco Bay Area  where she received her Bachelor of Fine Arts degree from Sonoma State University.  Her work has been shown nationally and internationally in galleries, museums, and public exhibitions.  She is represented by Geras Tousignant Gallery in San Francisco, Erickson Fine Art in Healdsburg, Seattle Art Museum Gallery in Seattle and Marji Gallery in Santa Fe.  Monika paints and sculpts full time.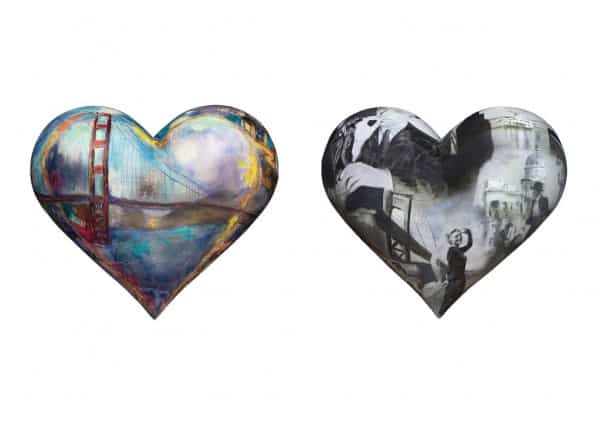 JEREMY SUTTON – Born in London, Jeremy Sutton's background combines science and art.  While earning a degree in Physics at Oxford University he also studied drawing, sculpture and print-making at the Ruskin School of Drawing and Fine Art.  He continued to study lithography and drawing at the Vrije Academie Werkplaats voor Beeldende Kunsten in The Hague, The Netherlands.  A recognized authority and pioneer in the field of digital painting, Jeremy has authored six books, produced instructional videos and DVDs, founded the online training website PaintboxJ.com, exhibited his artwork internationally and been a featured platform presenter at conferences around the world.  Jeremy's paintings are in public and private collections on three continents.  He currently lives in San Francisco and runs workshops in his San Francisco studios. You may have seen Jeremy when he performed as Edgar Degas and Vincent van Gogh at the de Young and Legion of Honor Museums in 2010 as part of their celebrations of their impressionist and post-impressionist exhibitions.
JULIAN TOMCHIN – Born in New York City, Julian Tomchin graduated from Syracuse University with a  bachelor of fine arts degree.  Winner of fashion awards from Vogue and COTY, Tomchin went on to become Wamsutta design director, Bloomindale's senior vice president, design director home and Macy's West senior vice president, design director home.  He retired in 2002 and currently resides in San Francisco.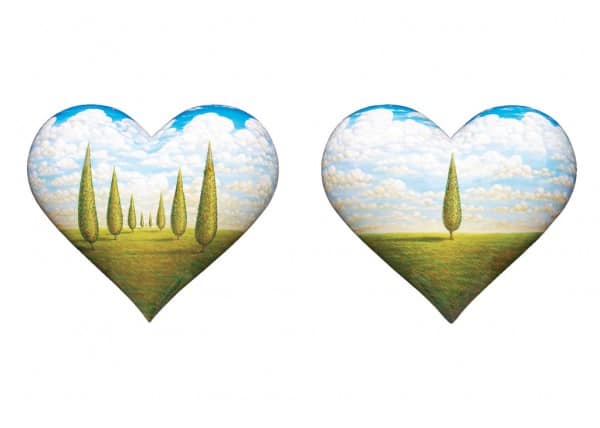 DANIEL TOUSIGNANT – Currently living in San Francisco, and raised on a dairy farm in Minnesota,  Daniel Tousignant started painting at the age of five. His work has been shown nationally and internationally. He is represented by the Geras Tousignant Gallery in San Francisco, Bergelli Gallery in Larkspur, the Copley Gallery in Boston, and the prestigious Safia gallery in Barcelona, Spain.  Tousignant currently has his 6th major public exhibition on display in the Transamerica building's annex lobby.  He has attended the University of Minnesota, Minneapolis College of Art and Design, Chicago Art Institute, Central School of Art in London, and the highly respected Royal Academy in London, England.