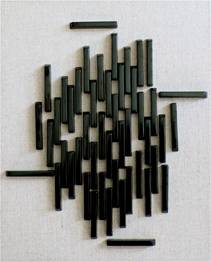 Yerba Buena Center for the Arts announced that Brooklyn-based artist Jennie C. Jones' exhibition Counterpoint will be featured in its 2010-11 season of Big Ideas. Described by the New York Times as tapping into "the very sound of Modernism itself," Jones playfully repurposes music equipment and sound in her abstract works.
Her new work at YBCA emphasizes the intersections of art history, music history, and African-American history, with a focus on influential composer/pianist John Lewis, a founding member of theModern Jazz Quartet (MJQ).
Inspired by a concert of the MJQ at the historic Blackhawk Jazz Club in San Francisco, Counterpoint looks to revise the definition of "West Coast Cool" through the sampling of 1950's songs and prints based on album covers.  Jones attempts to introduce a neo-modern, minimalist aesthetic into the act of listening, represented by sculptures of brushed steel LP record sleeves and re-configured piano sharps, as well as numerous works on paper.
Counterpoint marks Jones' first collaboration with a musician, Seattle-based cellist Paul Rucker, who will perform live interpretations from a rare book of scores written by Lewis of MJQ on February 3.  Rucker's work with these scores will provide a soundtrack to the exhibition, playing on an audio loop throughout the run.
Public programs around this new work include the Rucker performance, a conversation with Jones and Los Angeles County Museum of Art curator Rita Gonzalez on the concept of "West Coast Cool," and a rare screening of 1960's jazz film, featuring a Modern Jazz Quartetconcert in San Francisco.
Public Programs

Conversation with Jennie C. Jones and LACMA Curator Rita Gonzales

Sat, Jan 29, 2-4pm, Large Conference Room, FREE with gallery admission

Live performance by Paul Rucker

Thu, Feb 3, 6-8pm, Gallery 3, FREE with gallery admission

Rare film screening of 1960's Modern Jazz Quartet concert at Blackhawk Jazz Club in San Francisco

Sat, Feb 5, 2-4pm, Gallery 3, FREE with gallery admission

Counterpoint is presented as part of YBCA's Big Idea ENCOUNTER: Engaging the social context, highlighting art that aims to make us think more deeply about social justice and create a space for change.

Organized by visual arts adjunct curator Julio César Morales, the exhibition is presented as part of PAUSE: Practice and Exchange