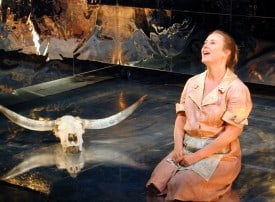 San Francisco's cutting-edge Cutting Ball Theater rings in the new year with Bone to Pick and Diadem from playwright Eugenie Chan. Bone to Pick, nominated for the 2008 Glickman Award for Best New Play, received its World Premiere in Cutting Ball's Avant GardARAMA!, and became a stand-out of the 2007-08 season.
Accompanying Bone to Pick is the World Premiere of a newly commissioned companion piece, also by Chan, entitled Diadem.
Rob Melrose directs Paige Rogers in these one-woman plays; Rogers reprises her role for this re-staging and accompanying new work.
"We initially commissioned Bone to Pick because of my obsession with the myths of Crete," says Cutting Ball Artistic Director Rob Melrose. "The success of Bone to Pick during our 2008 Avant GardARAMA! made us wonder if it could stand on its own as a single evening of theater. At the same time, we realized that not everyone was familiar with the Minotaur myth. We wondered if there was a creative way of sharing the myth with our audience, which led to commissioning Eugenie Chan to write a companion piece, or prequel, which explored the earlier parts of the myth; the result is Diadem." Continues Melrose, "Paige and I have known Eugenie for 10 years and have been collaborating with her for seven, doing her readings of Snakewoman and Kitchen Table, and commissioning her latest work Tontlawald. Her playful use of language and rich knowledge of the classics make her the perfect person to write these plays; she has a very sophisticated sense of what theater can be and she is the perfect playwright for Cutting Ball."
Bone to Pick re-imagines the myth of Ariadne, Theseus, and the Minotaur in a postmodern exploration of love, war, and complicity. Daughter of the cruel tyrant King Minos of Crete, Ariadne (Ria) betrays her father by helping Prince Theseus (Theo) escape an intricate Labyrinth after he kills her brother, the half-bull Minotaur. Once his task is complete, instead of marriage, however, Theo leaves Ria stranded in a diner at the end of a war-torn world. Accompanying this incendiary play is Diadem, a romantic re-telling of the earlier parts of Ariadne's myth, when she was a giggling teenage Minoan princess in love, dreaming of the return of her hero husband to Naxos. Together, these two original works convey the complete story of Ariadne's epic romance.
Paige Rogers returns to the Cutting Ball stage as Ria in both productions. Rogers is Associate Artistic Director and co-founder of the Cutting Ball Theater. She appeared last season in the company's hit production of The Bald Soprano, and was featured in Cutting Ball's productions of My Head Was a Sledgehammer, As You Like It, The Vomit Talk of Ghosts, Macbeth, and The Taming of the Shrew.
Eugenie Chan is Cutting Ball Theater's resident playwright. Her plays have been produced and workshopped across the country at venues including The Public Theater, Magic Theatre, Thick Description, Brava Theater, Mixed Blood, PlayLabs, Bay Area Playwrights Festival, and others.
Bone to Pick / Diadem

Cutting Ball Theatre, San Francisco

Back by popular demand, Cutting Ball Theater presents playwright Eugenie Chan's BONE TO PICK. Re-imagining the myth of Ariadne, Theseus, and the Minotaur in a postmodern exploration of love, war, and complicity, this incendiary play, nominated for the 2008 Glickman Award for Best New Play, received its World Premiere in Cutting Ball's Avant GardARAMA!, becoming a stand-out of the 2007-08 season. The San Francisco Chronicle called the production "richly rewarding right down to its marrow," noting Paige Rogers' performance as "riveting;" Rogers will reprise her tour de force role for this re-staging.

Accompanying BONE TO PICK is a newly commissioned companion piece, also by Chan, DIADEM, a classical retelling of the earlier parts of Ariadne's myth, when she was first in love. Together, these two original works tell the complete story of Ariadne's epic romance.

WHEN:

Previews: January 14, 15 at 8pm, January 16 at 5pm

Opens: January 20 at 8pm

Closes: February 13

All performances Thursday-Saturday at 8pm and Sunday at 5pm

WHERE:

The Cutting Ball Theater in residence at EXIT on Taylor, 277 Taylor St., San Francisco

TICKETS:

For tickets ($15-50) and more information, the public may visit cuttingball.com or call

800-838-3006; discounts available for students and seniors