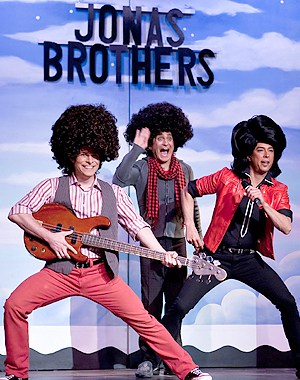 Here's a winning combination for the perfect evening of San Francisco entertainment!
Producer Jo Schuman Silver announced that Steve Silver's Beach Blanket Babylon, the world's longest running musical revue, will partner with three North Beach restaurants on special dinner and theatre package options this holiday season for all performances now through December 30, 2010.
The three participating North Beach restaurants include Caffe Delucchi, Rose Pistola and The Stinking Rose.
As part of the package, guests will have the option of a prix-fixe meal as well as tickets to Beach Blanket Babylon's Seasonal Extravaganza. Dinner options range in price from $19 – $35. Tickets range in price from $25 – $130.
Steve Silver's Beach Blanket Babylon follows Snow White as she takes a fast-paced journey around the world in search of her "Prince Charming." Along the way she encounters a star-studded, ever-changing line-up of hilarious pop-culture characters, including Jerry Brown & Meg Whitman, Lady Gaga, President Barack & Michelle Obama, Sarah Palin & Levi Johnston, Snooki (from "Jersey Shore"), Tiger Woods, Hillary Clinton and her husband Bill, Oprah Winfrey, Nancy Pelosi, Taylor Swift & Kanye West and Michael Jackson.
To book a dinner and theatre package, call the Beach Blanket Babylon Box Office (415-421-4222).
Beach Blanket Babylon Dinner & Theater

Restaurant options:

Holiday schedule: