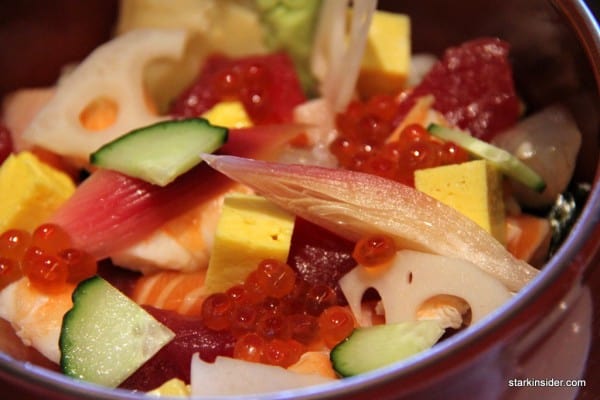 Ever since Chef Masaharu Morimoto appeared on the Iron Chef television show, I've salivated over his visually stunning creations, a fusion of Japanese tradition and American inventiveness. While some may wish for wider proliferation of 3D technology, I would sacrifice much of these advances in favor of 'Smell-o-vision' or 'Taste-vision.'
Naturally, when I finally found myself seated for lunch at Chef Morimoto's latest venture Morimoto Napa, it was no surprise to me or Clint. It was not a question of "if" I would ever visit, just a matter of "when." The Napa Film Festival preview which brought us once again into town was a perfect opportunity to scope out the new restaurant.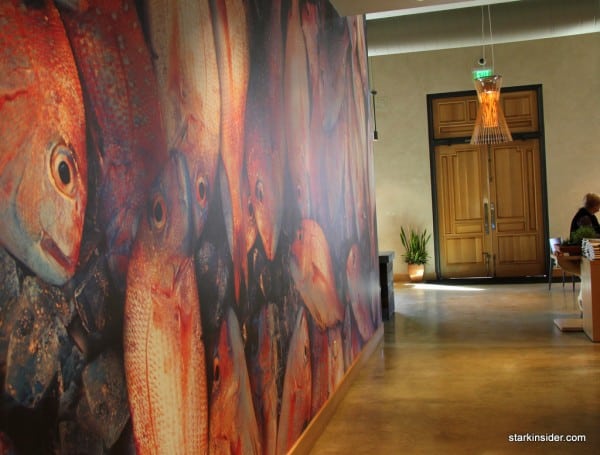 The decor is minimal with an emphasis on organic shapes.
To the left of the entrance is a stately wooden table that seems cut from a single cross section of a giant tree. The twisted grain of the wood, elegantly finished with a clear lacquer proclaimed purpose and presence. To the right are a collection of rectangular tables and matte black curved chairs that suggest a less formal affair. A quick bite perhaps? A few choice selections from the sushi bar?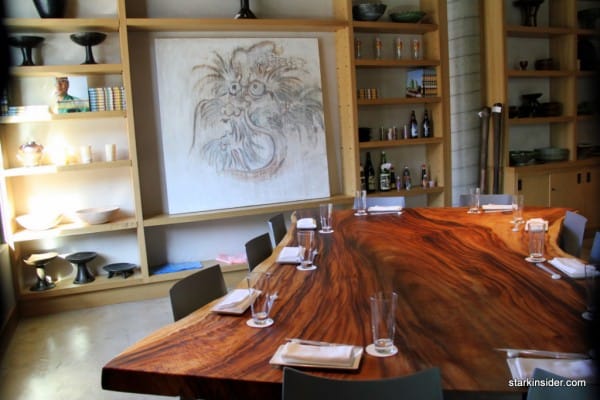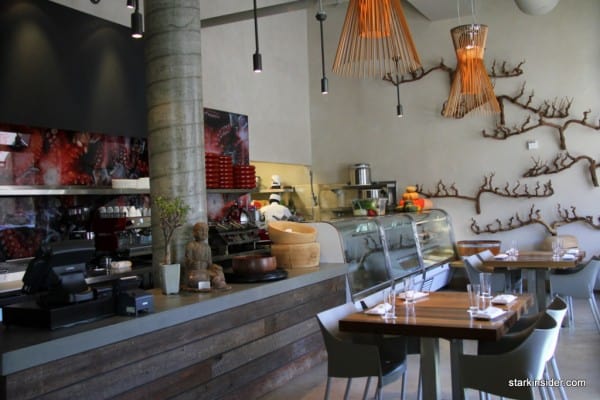 I followed the hostess past the warm bright wall of fish. There was no ambiguity surrounding the message: the restaurant selects its patrons. If you love fish, the wall is a visual oasis. Having fantasized many times about paddling out in a panga boat in the Sea of Cortez, catching hamachi and eating it up right there, this wall had me salivating.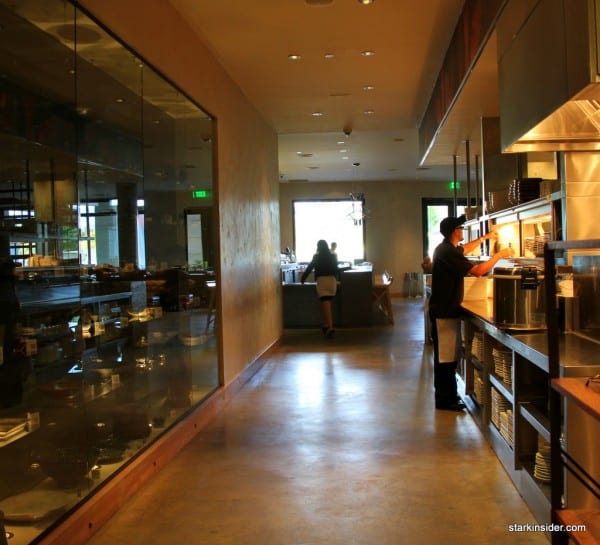 By the time I opened the menu, everything sounded sublimely delectable. I knew my ears and eyes were far more immense than my stomach. I finally settle on the Chirashi Sushi ($32), which is described as a Morimoto style chirashi composed of 10-12 different types of fish and vegatables, to start. This is followed by a soft shell crab roll which is a benchmark roll I like to order at sushi restaurants because it is difficult to make well. Finally, I thought lunch would end well with the pork kakuni lunch set ($25).
I thought this selection would give me enough variety for a decent snapshot of the cuisine at Morimoto Napa.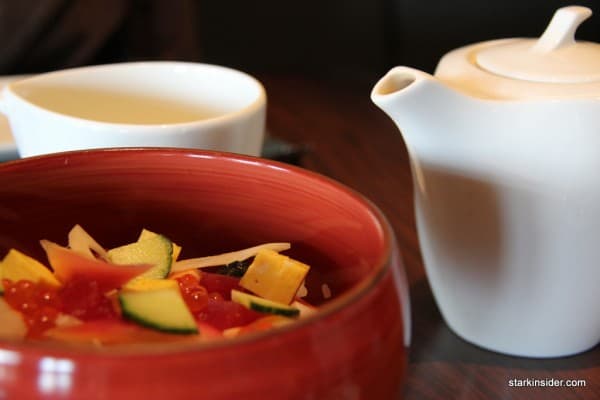 The Chirashi Sushi was presented in a beautiful, deep red bowl. A long metal spoon made it clear that one must dig in to truly enjoy this Morimoto style dish.
The chirashi was good, but when I see "Morimoto style" on the menu, I expect to be presented with something truly unforgettable.
There was considerable variety of fish and vegetables in this dish, however, each piece was so small it was hard to really savor the characteristics of each ingredient and they were laid out in a manner which didn't have a unifying style, just a tapestry of textures and colors. Perhaps, I thought, such a preparation was trying to highlight the culmination of flavors when pieces of different fish were combined with various root vegetables. Alas, the rice was not seasoned in a manner to be the element that unified the mosaic of raw fish and vegetables. At any other sushi restaurant, I would have been satisfied with this first course. At Morimoto Napa, my expectations were much higher.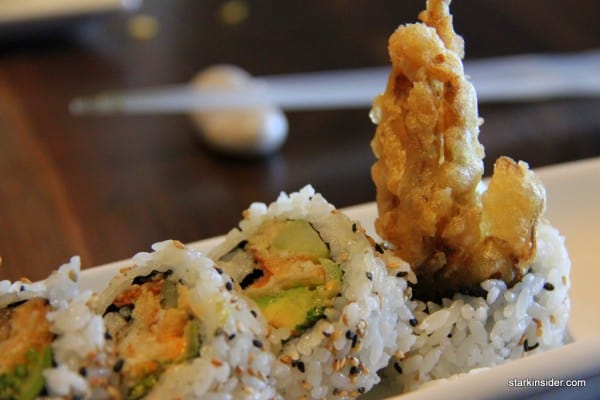 The second course arrived in the form of a soft shell crab roll. This is what I call my "benchmark sushi roll". Why? Because the path to a great soft shell crab roll is fraught with challenges. Crabs that are fresh with just the right exoskeleton formation (not too thin, not too thick) must be procured. The crust of tempura must be crisp and thin and the crab meat cooked, but still tender. Then, it must be paired well with other ingredients such as avocado in the right portion and finally…the sauce.
Unfortunately, I was most disappointed with this lunch course. The tempura was a little too thick and the sauce was overpowering and became the dominant flavor of the roll. Most importantly, parts of the soft shell crab were, unfortunately, still chewy.
When executed to perfection, all of the soft shell crab exoskeleton should be crunchy and this texture should be highlighted by a thin, golden aura of tempura contrasted with the creaminess of avocado and a sauce which highlights the delicate flavors of the crab meat.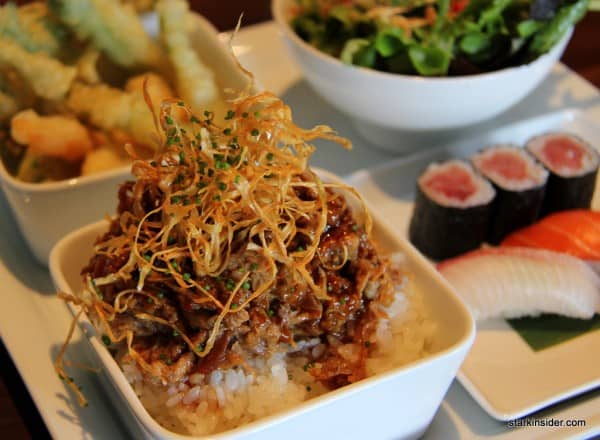 The surprising star of the meal came in the final course. The pork kakuni was delicious. The pork was tender, pulled into thin pieces and marinated in the ultimate rich and savory sauce that had complexity and depth. The combination of this with the tender morsels of rice below was finally what I expected from Morimoto. Each bite made me crave the next.
Another highlight was the salad which had playful sprinkles of pomegranate seeds. It again, exemplified the creativity I expect from a Morimoto dish.
One issue with this lunch set was the vegetable tempura which became soggy because it came already dipped in the bleu cheese sauce. Otherwise, the vegetable tempura was good, but not the best I have had.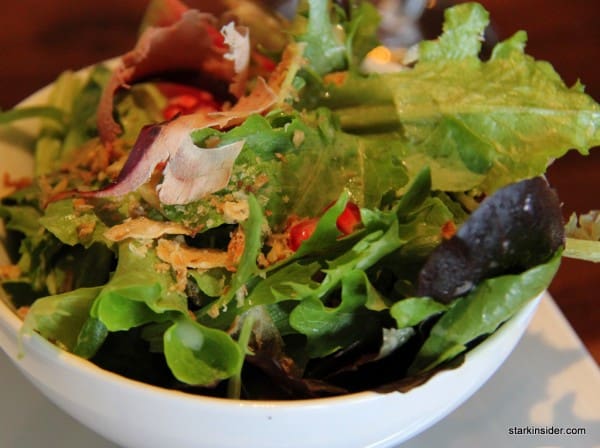 I'll admit, I had high expectations coming in. At any other restaurant, this would have been a fabulous lunch. At Morimoto Napa, the bar was set high and unfortunately, only the pork kakuni came close to the culinary mastery I imagined from Chef Masaharu Morimoto.
I arrived tantalized by fish and I left most satisfied with a pork dish. Perhaps, in this manner, Chef Morimoto surprised me.