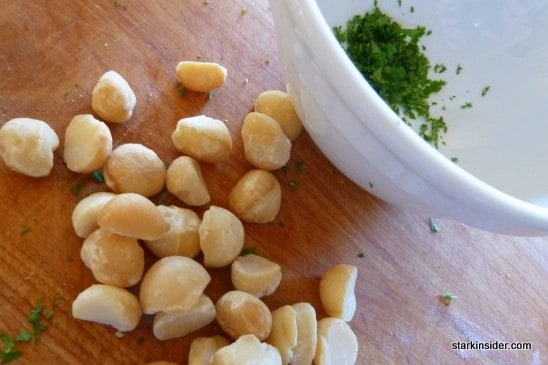 Wondering what to bring to a holiday potluck? Squeezed for time?
Here is an idea that turns a ho-hum cheese and cracker plate into creation that had one of my guests exclaiming, "How gourmet!"
First, procure a goat cheese log and instead of just unwrapping and placing on a cheese platter…pause and warm it to room temperature.
Grab a bag of macadamia nuts, hazelnuts, walnuts or any other favorite nut as long as it has a good crunch to it and toasts well. Place them in a plastic bag and use a roller to crush them into smaller pieces. You can also use a food processor to break down the nuts or if you are really looking for convenience, bug the nuts already crushed into little morsels.
Then place the nuts in the oven at 350 degrees Fahrenheit and toast until golden brown.
Next, cut some sprigs of parsley from your herb garden or from the local grocer. Chop finely and mix in the nuts (make sure they have cooled) in a small bowl.
Tear a large sheet of plastic wrap and lay it on the counter. Pour the nuts and herb mixture on the plastic wrap so it forms a thin coating. Place the goat cheese log on the layer of nuts and herbs and gently roll. Cover the entire surface of the goat cheese log generously with the crushed nuts and fresh herbs. Make sure none of the mixture goes wasted.
Use the plastic wrap to wrap the macadamia nut goat cheese log. This makes it easy to transport to a pot luck party or to store in the fridge. When you are ready to serve, unwrap the log, bring to room temperature and spread out your crackers.
You have transformed a plain Jane piece of goat cheese into a most special "How gourmet!" macadamia nut goat cheese log. Just in time for some holiday cheer.