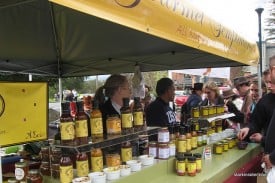 According to the Napa Valley Register, the annual Napa Mustard Festival may be on its last legs. Saddled with $200,000 debt the 17 year old event may have celebrated a champion mustard maker for the last time this past March.
"The Napa Valley Mustard Festival is underfunded, and we do not believe it is possible to move forward with Napa Riverwalk Epicurean Marketplace on the same weekend with another prominent food and wine festival," wrote the organizers Summers & McCann in a letter a few weeks back. ""The festival is in debt due to the economy and would require approximately $200,000 to regain a reasonable financial position and move forward."
Over the weekend at the Napa Truffle Festival, many veteran media and industry attendees felt that the event had become stale ("Napa is not a condiment!"), and did not reflect the increasingly contemporary new Napa — think Morimoto.
Some have suggested that the festival lacks a core, or an anchor for people to associate with, and the length (spread across 3 months) can also confuse potential attendees.
The Mustard Season offers a full palette of food, wine, art, entertainment, and cultural activities staged throughout the world-famous grape growing region of Napa Valley from approximately the end of January through the month of March each year.
(with Clinton Stark contributing in Napa)
[Source: Napa Valley Register, Future of Mustard Festival in doubt]