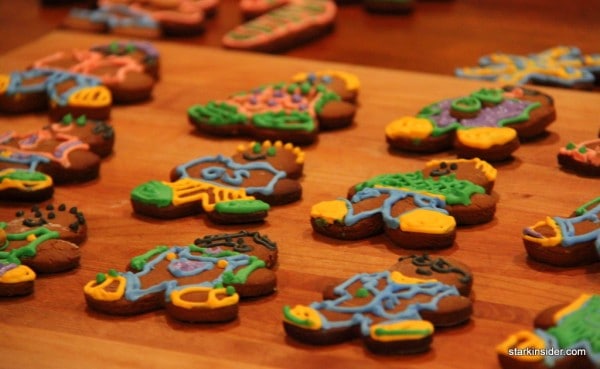 I love naked gingerbread men bathing in cold, creamy peppermint chocolate ice cream. However, after a while, an army of oven-tanned skin may look boring!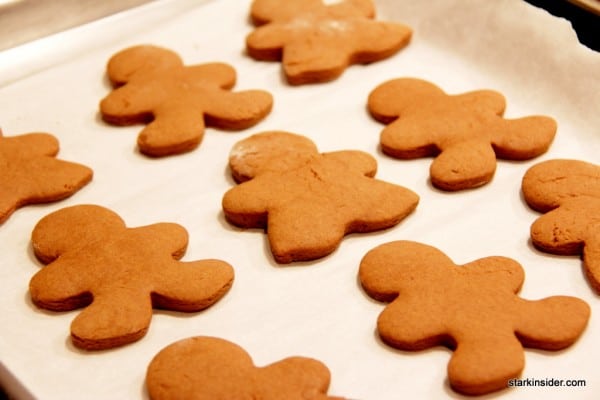 Here are some ideas for dressing up your gingerbread men.
You Let the creativity flow. No average Joes here!
To start, you will need to make a batch of classic Royal Icing. I used a simple recipe of 4 cups of sifted confectioners sugar, 4 egg white, and 1 teaspoon of lemon extract.I used my Kitchen Aid stand mixer to make sure the icing was smooth and consistent. Start by beating the egg white until it is white and foamy. Then gradually add in the sugar and lemon extract. I turn the mixer to "stir" while adding some sugar and then alternate to high to make sure it is fully incorporated before adding more sugar. Doing this slowly will make sure you have no lumps in your icing sugar which is important when putting it through a small tip during decorating.
The resultant icing should be white. I then put the icing into different bowls and add food coloring to it. I finally decided to purchase a pretty extensive Wilton decorating set. I figured I could collect the tools individually and probably end up spending more and not having all the tools fit nicely into a caddy that I can easily store.
If you get the equipment separately, I do recommend at the very least you will need:
food coloring
3 simple round, small tips
disposable decorating bags
tip coupler rings
Here is a more simple kit from Wilton which I also considered. Overall, it seems Wilton is the cake decorating industry standard. In the end, I decided on the more extensive 101 piece set so I would not desire another tool for a while in my decorating adventures.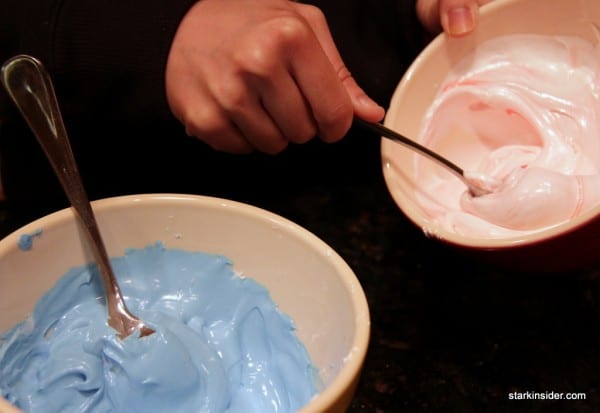 Initially, my sister Wendy and I thought we would only use two colors and voted on red/pink and blue. However, after we started decorating our gingerbread men, the possibilities seemed endless if we only expanded our color palette. In the end, we used 6 colors: blue, red, green, purple, black and yellow.
It was fairly simple having a medium size bowl of white Royal icing, scooping some of it out in a small bowl, adding food coloring and mixing. We only used two of the smaller round tips so we had to rotate in two colors at a time using disposable decorating bags. Be forewarned that a little bit of icing goes a long way and the first two colors, I mixed way too much icing.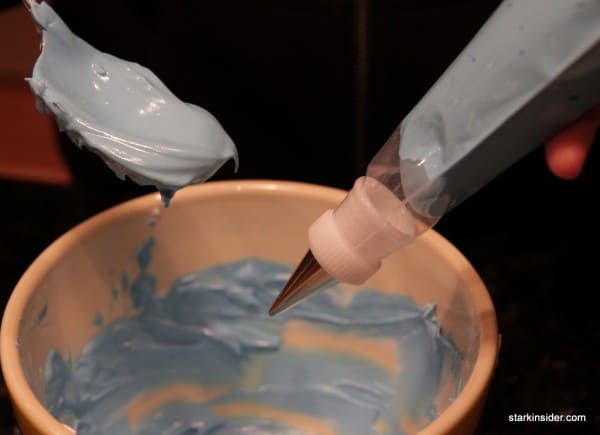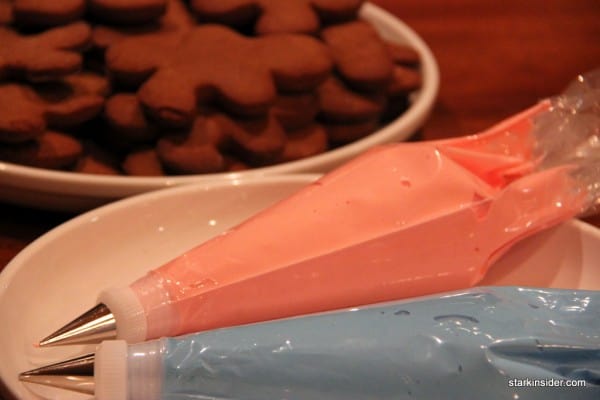 If you are going for the simple white icing look, more power to you. For this exercise, Wendy and I wanted to go all crazy with our gingerbread cookies. Below is a gallery of the results.
May they inspire you and your family to dress up your gingerbread man. Trust me, the decorating of these cookies are just as fun, if not more, than eating them.