Upholding its annual resolution to present provocative new plays by the Bay, Berkeley Repertory Theatre begins the new year by dishing up a pair of daring shows. The New York Times heralded Mike Daisey as "the master storyteller" and "one of the finest solo performers of his generation." His monologues, 15 and counting, have been seen across the country and around the globe. Now Daisey returns to Berkeley Rep for an incredible doubleheader: The Last Cargo Cult and The Agony and the Ecstasy of Steve Jobs.
These audacious new monologues are presented in repertory. After a preview on January 11, The Last Cargo Cult opens January 12. Then, following three previews that begin on January 20, The Agony and the Ecstasy of Steve Jobs opens January 23. After that, the two shows alternate weeks through February 27. The executive producer of this run is the Strauch Kulhanjian Family, with co-sponsorship from Wealth Management at the Mechanics Bank. BART and Wells Fargo have renewed their commitment as season sponsors at Berkeley Rep, and the 2010-11 season producer is Marjorie Randolph.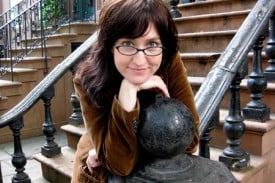 "Mike's prodigious gift for storytelling combines incisive humor with a brutally honest analysis of himself and the world around him," remarks Tony Taccone, Berkeley Rep's artistic director. "He has a running discourse with our audience about the state of the nation, and these new monologues promise to raise the stakes. This time, Mike turns his attention to two aspects of our economy that are both fascinating and revelatory: in The Last Cargo Cult, he examines our complicit participation in the religion of banking; with The Agony and the Ecstasy of Steve Jobs, he scrutinizes the cult of personality around our precious gadgets. It would be difficult to choose between these two penetrating shows, so we're presenting them side by side. It's a pleasure to welcome Mike back to Berkeley Rep."
"We've had a long and rich collaboration with Berkeley Rep," Daisey comments. "We're particularly thrilled to bring these two pieces to the Bay Area now. From the banking collapses that have only deepened the massive gulfs in our economy, to the inhuman conditions in China where workers throw themselves to their deaths, these are stories that matter. Some believe theatre in our time is not capable of grappling with breaking stories. These monologues aim to prove that the living forum of the theatre is the best place to have a human conversation about the values that define our age, a place where we can actually see each other face to face."
Mike Daisey enthralled audiences at Berkeley Rep with tales like Great Men of Genius, The Ugly American, and 21 Dog Years: Doing Time. Now he returns with two new monologues that examine our obsession with commerce. With his wry eye and eccentric intellect, Daisey delivers two adventure stories – presented on different days – that cut deep with hilarious social critique:
In The Agony and the Ecstasy of Steve Jobs, Daisey dives into the epic story of a real-life Willy Wonka. He examines how the CEO of Apple and his obsessions profoundly shape our everyday lives – and travels to China to investigate the factories where millions toil to make iPhones and iPods. This dangerous journey shines a brilliant light on our love affair with our devices and the human cost of creating them.
With The Last Cargo Cult, another improbably true story, Daisey visits a remote island in the South Pacific whose inhabitants worship America and its goods at the base of an erupting volcano. He witnesses their rituals as the world's financial system collapses, spurring a soul-searching assessment of what money means and who is paying the price.
"Mike Daisey has proven himself that rare theatrical creature: an entertaining performer with something valuable to say," Variety raves. "He can be everything from a hysterical drinking buddy to the most convincing town council member, and his shifting energy keeps his work alive." Time Out New York agrees: "Daisey has a masterful command of his art. Sitting alone at a simple desk, he is all-powerful for 100 minutes. When he wants you to laugh, you laugh; when he wants you to think, you think. Often, he can even get you to do both of these things at once… He doesn't draw you into the stories he tells – not exactly. Rather, he shows how, perhaps unawares, you have been part of them all along." And the Boston Phoenix boasts, "He takes seemingly incongruent topics and mixes them with personal experiences to create the dramatic equivalent of a classic cocktail: there's a balance of strong, sweet, and sour components and a few dashes of bitters. Each night the same story emerges differently; he could be a hip-hop artist freestyling, or a Baptist preacher."
Mike Daisey's groundbreaking monologues weave together autobiography, gonzo journalism, and unscripted performance to tell hilarious and heartbreaking stories that cut to the bone, exposing secret histories and unexpected connections. His monologues include the critically acclaimed If You See Something Say Something, the controversial How Theater Failed America, the six-hour epic Great Men of Genius, the unrepeatable series All Stories Are Fiction, and the international sensation 21 Dog Years. He has performed in venues on five continents, ranging from off Broadway at The Public Theater to remote islands in the South Pacific, from the Sydney Opera House to abandoned theatres in post-Communist Tajikistan. He's been a guest on the Late Show with David Letterman, as well as a commentator and contributor to the BBC, NPR, Salon, Slate, Wired, and Vanity Fair. His first film, Layover, was shown at the Cannes Film Festival this year, and a feature film of his monologue If You See Something Say Something is currently in post-production. His second book, Rough Magic, a collected anthology of his monologues, will be published next year. He has been nominated for two Drama League Awards and the Outer Critics Circle Award, and is the recipient of a MacDowell Fellowship, four Seattle Times Footlight Awards, and the Sloan Foundation's Galileo Prize.
Jean-Michele Gregory works as a director, editor, and dramaturg, focusing on extemporaneous theatrical works that live in the moment they are told. Working primarily with solo artists, for the last decade she has collaborated with monologist Mike Daisey, directing at venues across the globe including American Repertory Theatre, the Barrow Street Theatre, Berkeley Rep, Cherry Lane Theater, Intiman Theatre, Museum of Contemporary Art Chicago, the Noorderzon Festival, Performance Space 122, The Public Theater, the Spoleto Festival, the Sydney Opera House, the TBA Festival, the Under the Radar Festival, Woolly Mammoth Theatre Company, Yale Repertory Theatre, and many more. She has also directed New York storyteller Martin Dockery (The Surprise, Wanderlust) and the Seattle-based performer and writer Suzanne Morrison (Optimism, Yoga Bitch). Her productions have received four Seattle Times Footlight Awards (21 Dog Years, The Last Cargo Cult, Monopoly!, The Ugly American), the Bay Area Critics Circle Award (Great Men of Genius), and nominations from the Drama League and Outer Critics Circle (If You See Something Say Something). New York Magazine, TheaterMania, and Time Out New York ranked her shows among the best plays of 2009.
Tickets to each of Mike's monologues start at only $29. Additional savings are available for groups, seniors, students, and anyone under 30 years of age – meaning discounted tickets can be obtained for as little as $14.50. These prices make Berkeley Rep more affordable to people in the community who are just starting school, starting careers, and starting families – because lower prices are now available for every performance.

See both of Daisey's shows and save 20 percent! Berkeley Rep will also waive the $7 service charge. This special offer is only available by phone: call the box office at (510) 647-2949 between noon and 7:00 PM, Tuesday through Sunday. (Discounts are applied only to the full ticket price and are not available retroactively.)

This double bill continues a season of stunning scripts and stellar performers at Berkeley Rep. The Theatre ends 2010 with theworld premiere of Lemony Snicket's The Composer is Dead, and spring 2011 features the debut of Rita Moreno: Life without Makeup, Lynn Nottage's Pulitzer Prize-winning play Ruined, and a refreshing new translation of The Three Sisters from celebrated collaborators Sarah Ruhl and Les Waters.