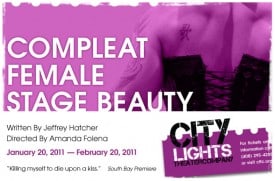 City Lights Theater Company in San Jose announced it will present the South Bay Premiere of Compleat Female Stage Beauty. Jeffrey Hatcher's historical drama embraces a period of British history that's ripe with gender and social intrigue based on the the story of Kynaston, an actor celebrated for playing female roles in 17th century London. When King Charles II changes the law to allow women to act on stage, Kynaston's livelihood is ruined. His journey to return to the spotlight leads him down a road of revenge and self-awareness as he attempts to reform himself into a male actor.
Compleat Female Stage Beauty was made into a film, Stage Beauty, in 2004 starring Billy Crudup and Claire Danes.
Jeffrey Hatcher has written a plethora of award winning plays that have been performed on and off Broadway. A small list of his plays are, Dr. Jekyll & Mr. Hyde, The Turn of the Screw, Tuesdays with Morrie, and of course Compleat Female Stage Beauty. He is a member and/or alumnus of The Playwrights Center, the Dramatists Guild, the Writers Guild, and New Dramatists.
Director Amanda Folena – Amanda has a B.A. in Theatre from the University of Southern California and an MFA in Acting from Purdue University. Special honors include the Jack Nicholson Award for Best Actress, the USC Dance Award for Best Choreography and the National Irene Ryan Award for Acting at the Kennedy Center ACTF National Competition in Washington, D.C. Amanda has worked with several Bay Area theatre companies such as San Jose Repertory, Center REPertory Company, Diablo Theatre Company, California Theatre Center, City Lights Theater Company, and Summer Repertory Theatre in Santa Rosa. Directing and choreography credits include The Producers, Kiss Me Kate, The Full Monty, Dead Man Walking and Annie. Amanda also has experience in television commercials and voice-overs. She is currently on the artistic staff at City Lights and works as a dance instructor at several fitness centers in the Bay Area.
THE CAST – Ned Kynaston, Thomas Gorrebeeck (Dead Man Walking, Much Ado About Nothing ),is 17th century London's most famous actor for an unconventional reason – his talent for playing female characters on stage. By royal decree women are banned from the stage until an enterprising young actress, Margaret Hughes played by Robyn Winslow (Anything Goes, Music Man), gains the attention of King Charles II, George Psarras is caught playing Desdemona one night at an illegal theatre. Enchanted by the novelty of a woman playing a woman's part, King Charles changes the law, allowing Kynaston's former hairdresser Maria, Kate McGrath (Noises off, Rabbit Hole) to replace him in the coveted role of Othello's Desdemona. King Charles' mistress and aspiring actress, Nell Gwynn, Therese Schneck (Rosencranz and Guildenstern, 4.48 Psychosis), overhears Kynaston criticizing the new law and convinces the King to ban him from the stage. Fallen from grace, Kynaston is shunned by society, including his lover, the Duke of Buckingham, Robert Campbell (Angels in America Part One, The Shape of Things). Recruited to assist Maria in preparing for the role of Desdemona, Kynaston must come to terms with his own identity to restore himself to his former glory. The cast is fleshed out by a host of other characters including Mistress Revels, Beth Boulay (Winter's Tale, Private Lives), Sir Charles Sedley, Dale Albright (Terminating, Heidi Chronicles), Miss Frayne/Mrs. Elizabeth Barry, Jenine Giusto (Of Corpse, Merchant of Venice), Thomas Betterton, Tom Gough (Santos & Santos, Private Lives), Samuel Pepys, Jonanthan Shue (The History Boys, As You Like It),and an assortment of Thugs, Ruffians and Courtiers, Adam MacGill (A Christmas Carol, Doctor Faustus), Anthony Aranda and Martin Gutfeldt (The 25th Annual Putnam County Spelling Bee, Words, Words, Words).
Compleat Female Stage Beauty

City Lights Theater Company

Directed by Amanda Folena
Written by Jeffrey Hatcher
January 20– February 20, 2011
Thursdays – Saturdays at 8 pm
Sunday evenings at 7:00 pm (Jan.30)
Sunday matinees at 2:00 pm (Feb. 6, 13, 20)

Run time: 2.5 hours
General Admission: $28
*Student/Educator: $15
*Senior: $25
*Group Discounts Available
Wheelchair Accessible.

City Lights Theater Company
529 South Second St.
San Jose, CA 95112