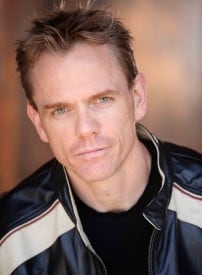 Edgier and more fearless than ever, comedian Christopher Titus will bring his brand new one-man show, Neverlution, to San Francisco's Marines' Memorial Theatre (609 Sutter St., 2nd floor) for five performances only – February 15 – 19, 2011.
After taking on family, Armageddon and, most recently, divorce, Titus is taking onsociety's complacence and offers solutions that only he could come up with. Interweaving his personal experiences, Titus calls for a revolution against technology, politics, racism, child worship and the prescription drug companies, a revolution he argues we will never have because we are fat, lazy and scared. In Neverlution, Titus promises to fix the world's problems, one hilarious rant at a time.
Employing what he's labeled "hard funny," Titus debuted his first show, Norman Rockwell is Bleeding, at the Hudson Theater in Los Angeles in 1998. It was from this performance that the dark comedy "Titus" was born on Fox. Called "TV's most original voice since Seinfeld" by Newsday, the show earned Titus an Emmy nomination as well as a Writer's Guild nomination.
Tackling such difficult issues as the Iraq war, racism, pedophilia and even his father's unconventional and ridiculous funeral – where he, with his brother and sister's help, spread his father's ashes in a casino – Titus' second show, The Fifth Annual End of the World Tour, premiered in 2007 to rave reviews.
Love Is Evol – Titus' third show – deconstructed relationships and waded into domestic violence, plastic surgery, custody and all aspects of the nightmare relationships that made him question the existence of God. The show premiered on "Comedy Central" on Valentine's Day in 2009 and will re-air on February 14, 2011. Both Norman Rockwell is Bleeding and The Fifth Annual End of the World Tour are still currently airing on "Comedy Central."
Neverlution

Marines' Memorial Theatre (609 Sutter St., 2nd floor), San Francisco

Five performances only – February 15 – 19, 2010! All performances begin at 8 p.m. Tickets are $42 and on sale now at the Marines' Memorial Theatre box office, by phone at 415-771-6900 and on the web at www.marinesmemorialtheatre.com.