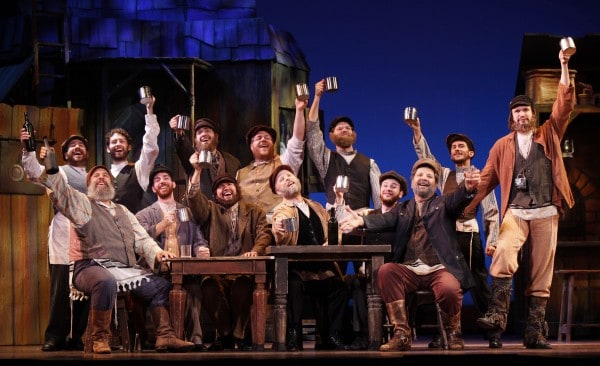 "Without our traditions, our lives would be as shaky as…as a fiddler on a roof," announces Tevye, a humble milkman from the Russian village of Anatevka. And so begins a tale of love and laughter, devotion and defiance…and changing traditions.
Fiddler on a Roof, the Tony Award winning musical that has captured the hearts of people all over the world with its universal appeal, continues its North American Tour with a stop in March here in San Jose.
In this acclaimed production, audiences will have a once in a lifetime opportunity to see Jerome Robbins' original Broadway direction and choreography, starring veteran actor John Preece.
Tevye's wrestling with the new customs of a younger generation is punctuated by an unforgettable score that weaves the haunting strains of "Sunrise, Sunset" and the rousing "If I Were A Rich Man" with the exuberant "Matchmaker, Matchmaker" and triumphant "Tradition." When his daughters choose suitors who defy his idea of a proper match, Tevye comes to realize, through a series of incidents that are at once comic and bittersweet, that his children will begin traditions of their own. At the story's close, the villagers of Anatevka are forced to leave their homes and even the sturdy mores that have guided everyday life begin to crumble. Paradoxically, it is the enforced loss of the rigid traditions and home life that Tevye has tried so tenaciously to preserve that leads the family to reconcile and draw closer still.
A perennial hit since it first opened in 1964, Fiddler on a Roof has enjoyed critical acclaim for bringing to the stage a poignant story about the enduring bonds of the family. Now, the National Touring production of this timeless musical brings the wit and wisdom of Tevye and his family to audiences throughout the United States.
Mr. Preece has performed in Fiddler on a Roof over 3,100 times, 1,500 of which were in the role of Tevye the milkman. This production marks Mr. Preece's 9th national tour of Fiddler on a Roof.
Fiddler on a Roof

WHEN: March 15-20, 2010

SHOWS: 7:30 pm Tuesday – Thursday
8pm Friday
2pm and 8pm Saturday
1pm and 6pm Sunday

WHERE: San Jose Center for the Performing Arts
255 Almaden Blvd, San Jose

TICKETS: Single tickets ($20-$79) can be purchased by calling (408) 792-4111 or visiting www.sjtix.com.