For the fifth consecutive year, star of stage and Bay Area favorite James Carpenter (seen in an interview below with Stark Insider TV) will play the iconic Ebenezer Scrooge in Charles Dickens classic A Christmas Carol. Now playing at A.C.T. here in San Francisco, the show is adapted for the stage by Carey Perloff and Paul Walsh and continues to entertain holiday theater-goers year-after-year with a wildly entertaining and festive set, and ever popular songs.
"This will be my fifth year playing Ebenezer Scrooge, Dickens's classic skinflint," writes Carpenter. "And once again I am surprised by the pleasure I experience in performing the role."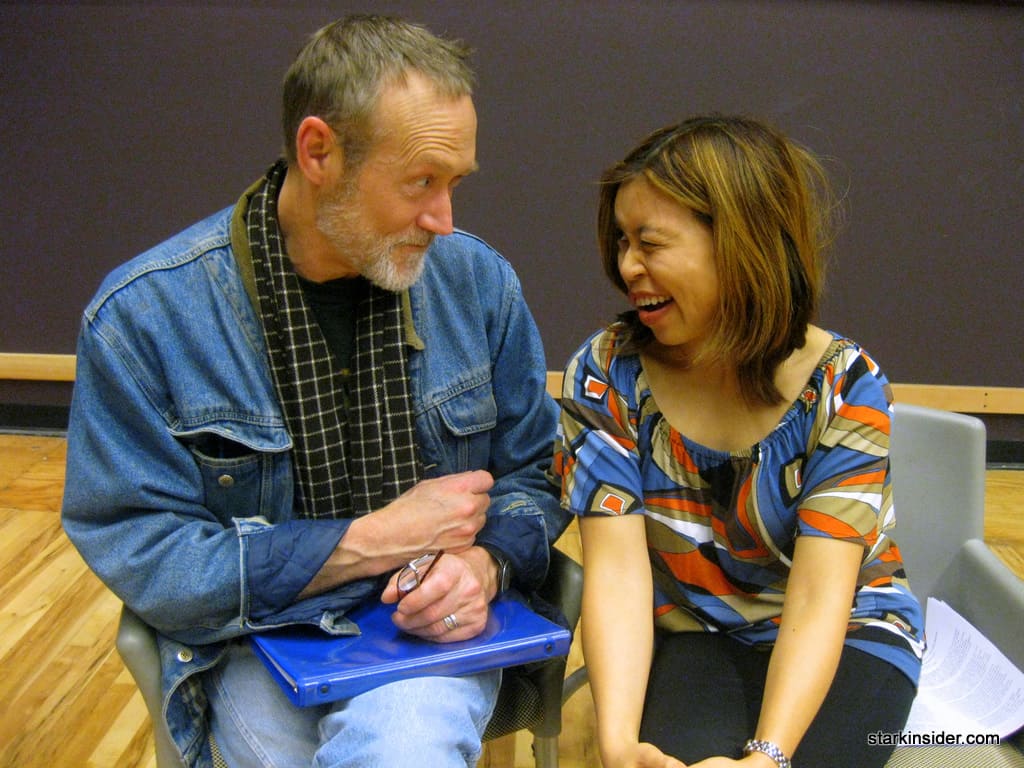 Performed to date nearly 1,000 times to a collective audience of more than 800,000, A Christmas Carol has employed nearly 1,000 actors and 600 backstage staff.
"Dramatizations of A Christmas Carol have become an important American family ritual at holiday time, regardless of individual religious background or faith. Parents and grandparents have told us that the Carol experience is more important than ever," says A.C.T. Artistic Director Carey Perloff. "With everyone tightening their belts at this time, we are so proud that A.C.T. can continue to be a part of Bay Area families' holiday traditions."
Each of the four ghosts that haunt the miser Ebenezer Scrooge and lead him to his transformation is theatrically staged: a children's favorite, Scrooge's former business partner, Jacob Marley (Willis), clad in chains, climbs out of Scrooge's bed; the Ghost of Christmas Present (A.C.T. favorite Steven Anthony Jones) is a Bacchic spirit of fecundity and abundance, robed in striated green velvet; the Ghost of Christmas Past (member of the A.C.T. M.F.A. Program class of 2011 Marisa Duchowny, in her A.C.T. mainstage debut) is a candle, "lit from within, emanating radiance, who descends on a swing," says Perloff; and the Ghost of Christmas Future is a giant black ghost puppet that takes over the entire stage of the American Conservatory Theater.
Directed by Domenique Lozano, the show is playing through December 24.
Time to get your scrooge on!
A Letter from James Carpenter

Dear Friend of A.C.T.,

This will be my fifth year playing Ebenezer Scrooge, Dickens's classic skinflint, and once again I am surprised by the pleasure I experience in performing the role.

That pleasure has many sources; there are many things that deepen my experience every time and make me all the richer for it. To begin with, every year some of the young company—the children in the show—come back, a little older, a little wiser. I've watched them grow up a snapshot at a time, and they are a delightful part of my Christmas Carol family.

Every year I also have the honor of sharing with A.C.T.'s graduating master of fine arts program class the joy of our profession and the delight it can bring to others. I set the bar as high as I can for them, and they always rise to meet it, sharing the joy I have in telling this timeless story. And every year I have the pleasure of watching them leave A.C.T. to make their way into the professional world, where they will perform at theaters around the Bay Area and beyond. I'm very proud of them and of the excellent work I've witnessed from them in this and other productions!

Every Christmas season this fine company breathes new life into me and into my performance—each group of students has a different dynamic, a different way of looking at the script and scenes, and these unique perspectives challenge me to reexamine my own choices, making the story fresh every year.

We have a splendid group of both Young Conservatory actors and graduating acting students this year, led by a fine core of professional actors—they are all focused, committed, passionate, and talented. Please join us as we present Dickens's traditional Christmas tale with love and with laughter, and may you all have a joyous holiday season!

Regards,
James Carpenter
(Ebenezer Scrooge)
A Christmas Carol

Scrooge is back, and he's meaner than ever in A.C.T.'s A Christmas Carol, the Bay Area's favorite holiday tradition. Featuring adorable Tiny Tim, those deliciously spooky Christmas ghosts, and a multigenerational cast of dozens, A Christmas Carol is a sparkling, music-infused celebration of goodwill that your family will never forget.

WHO:

by Charles Dickens
Adapted by Carey Perloff and Paul Walsh
Music by Karl Lundeberg
Choreography by Val Caniparoli
Directed by Domenique Lozano
Musical direction by Robert Rutt
Designed by John Arnone (scenic designer), Beaver Bauer (costume designer), Nancy Schertler
(lighting designer), Jake Rodriguez (sound designer)

WHERE:

American Conservatory Theater
415 Geary Street, San Francisco, CA 94108

WHEN:

December 2–24, 2010
7 p.m.: December 2, 3, 4, 7, 10, 11, 15, 16, 18, 20, 21, 22, 23
5:30 p.m.: December 5, 12, 19
2 p.m.: December 4, 8, 9, 11, 21, 22, 23, 24
1 p.m.: December 12, 19

HOW MUCH: $15–$102

VIP tickets for A Christmas Carol are available for all performances and include Premiere seating, a
souvenir book, access to the Carol Lounge during intermission, and intermission treats.

DISCOUNTS:

Family Four-Packs: Buy four tickets for the price of two for select performances. Offer ends December 1. Subject to availability.

Groups of 15 or more are eligible for discounts of up to 50%; please call Edward Budworth at 415.439.2473 to purchase or for more information.
Production photos by Kevin Berne (www.kevinberne.com).
(With Clinton Stark contributing from San Francisco.)