A tribute to Shakespeare's style or, a contemporary creation?
A play or, the act of conceiving a play?
A recounting of a sliver of playwright Alphra Behn's life or, the figment of playwright Liz Duffy Adams' imagination?
In Magic Theatre's west coast premiere of Or, we discover that this conjunction that so often divides two contrary choices, may open the door to a new reality; a state of being where the sum of opposing ideas may pave the way to fresh hopes and freedoms where "or" doesn't divide, but instead challenges us to envision new possibilities.
Or, is a play that conveys meaning through contrasts. Some subtle. Some stark.
The play opens in London circa 1667 with Aphra Behn (Natacha Roi), the first female poet of the stage, locked in prison for £150 in debts accumulated while in service as a spy for the crown.
The whimsical comedic mood of the play makes the sudden appearance of King Charles II in mask most curious, but not completely bizarre. It's just as intriguing perhaps as Aphra's situation, a spy who once free from her debts and prison, sets out to shed her undercover ways and become a famous playwright.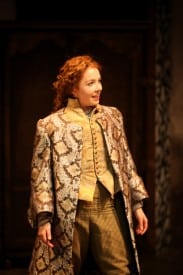 Natacha Roi, who plays Aphra Behn, spends much of the 85-minute production juggling her steadfast ambition to complete a play for Lady Davenport (Maggie Mason), the first professional female theatre producer in history, and entertaining the company of Charles II, a starlet and William Scott, a past lover and spy.
Is actor Ben the King of England, Charles II, or, a treasonous spy William Scott? Is actress Maggie the jailer, Nell Gwynne the theater star, Maria the servant…or Lady Davenant the theater producer?
The whirlwind costume changes and character transformations in this play are astounding and amusing; bound together in continuity by the steadfast presence of Natacha Roi as Aphra Behn on stage.
Is the character of Aphra Behn a glimpse into the life of a historical female figure, or, the product of playwright Liz Duffy Adams' frame of mind during a two week intensive workshop (Playtime) at New Dramatists where this piece was written?
Similar to Alphra's predicament in Or, Liz didn't have a new play completed for rehearsal at the start of the workshop and had to write like crazy to complete the first draft in a little over a week. Each day, Liz would emerge from the attic of the old church where the New Dramatists was located with a few new pages. One cannot help but wonder if Alphra's frantic need to complete the play was Liz's in reality.
The set is minimal. The limited props and costumes used were purposeful, creating a sumptuous aura that is not too literal.
Layer upon layer of characters and motives are piled up, until we reach a dramatic conclusion… or is it just the beginning?
Once again, Magic Theatre stages a gem of a play.
Or,
Magic Theatre, San Francisco
4 out of 5 stars
By Liz Duffy Adams
Starring Natacha Roi, Ben Huber and Maggie Mason
Through December 5, 2010