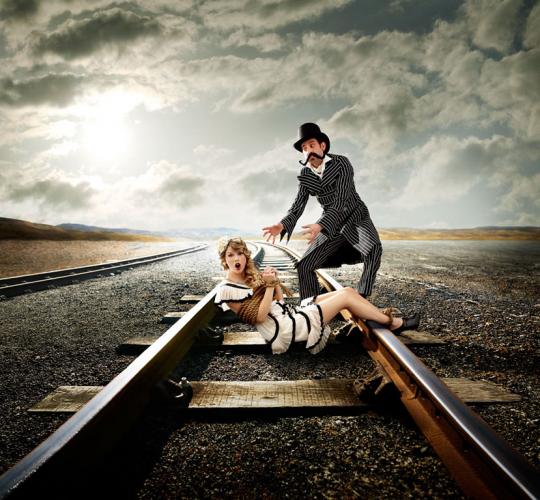 Taylor Swift announced today that she will tour the world in 2011 in support of her blockbuster Speak Now album, which shattered sales records with over a million copies sold in its first week of release.
Taylor is currently slated to play 87 shows in 19 countries spanning four continents on the Taylor Swift Speak Now World Tour 2011, which kicks off February 9th in Singapore.
The 2011 dates will include six stadium shows – Foxborough, MA's Gillette Stadium, Detroit's Ford Field, Pittsburgh's Heinz Field, Philadelphia's Lincoln Financial Field, Kansas City's Arrowhead Stadium, and Dallas's Cowboys Stadium. Taylor's 15-month, 107-date Fearless 2009 / 2010 Tour sold out arenas and stadiums in 88 cities in five countries.
Taylor will play shows throughout Asia and Europe during the first quarter of 2011, before kicking off her North American tour on May 27th in Omaha, Neb. Speak Now tour dates are planned for later in the year in Australia and New Zealand.
The Speak Now World Tour 2011 is one of the most-anticipated musical experiences of the year, as Taylor's live show is renowned for her incredibly high-energy theatrical presentation of graphics, sets and visual elements, all conceptualized by Taylor herself. During the course of her show, Taylor plays a variety of instruments and has multiple wardrobe changes. Each show, Taylor performs hit after hit from her three Big Machine Records albums, including the chart-topping "Mine," "Love Story," "You Belong With Me," "Our Song," and "Fifteen."
"Swift's fans don't just believe in her savvy songwriting and gracious, magnetic stage presence. They trust her as a peer," raved the Los Angeles Times. "And if the unerring pleasures of her set – and the crowd's Beatles-sized reactions – were any indication, they'll be trusting her for a long time." The (Phoenix) Arizona Republic wrote: "Swift shoots to superstardom. Her two-hour set at the sold-out arena showed a level of creativity – and more important, sincerity – which many other acts don't reach for decades, if ever. There is a new master of the stage in pop music moving quickly up the ladder."
"I'm so excited to go back out on tour again in 2011!" says Taylor. "The Fearless Tour was so much fun and even more unforgettable than I ever imagined, and I can't wait to get back out and play my new music from Speak Now! The fans have been so amazing, and I'm thrilled to play in new cities around the world and meet even more of my fans in 2011!"
Taylor Swift is a four-time Grammy winner, the top-selling digital artist in music history, has had singles top both the Country and Pop radio charts, and had the #1 best-selling album in any genre of music in 2009. With 1,046,718 copies sold in the US in the first week of release, last month her Speak Now album scored SoundScan's biggest single-week sales total since 2005 and is the biggest debuting country studio album in history. With the release of Speak Now, Taylor made history on the Billboard Hot 100, charting a record-breaking 11 songs from one album in a single week.
Taylor, who writes all of her own songs, has career record sales now in excess of 17 million albums and 31 million song downloads.